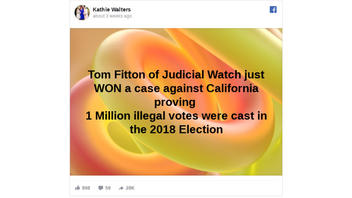 Did a legal settlement between Judicial Watch and California election officials prove that one million illegal votes were cast in the 2018 elections in California? No, that's not true: The settlement agreement in Judicial Watch's latest California voter registration case did not confirm one million illegal votes were cast and Judicial Watch never claimed it did. California's Secretary of State Alex Padilla slapped down similar allegations dating back to the 2016 election, calling them "corrosive lies." A Judicial Watch spokeswoman distanced the conservative group from the meme that made the debunked claim.
The claim was made in a Facebook post (archived here) that was published by Kathie Walters, who describes herself as a pastor, author and speaker, on April 8, 2020. It read:
Tom Fitton of Judicial Watch just WON a case against California proving 1 Million illegal votes were cast in the 2018 Election"
This is what the post looked like on Facebook at the time of writing:
Walters' post got more than 28,000 shares and plenty of followers weighed in with praise. "Yay! Praise The Lord," wrote one person. "It seems like we are in a snowball effect. I think so much will start coming out, it will make our head spin," said another. "Well, if nothing else, this lock-down has the attention to getting things cleaned up," wrote a third.
But there were also some who raised questions and challenged the claim. "Kathie Walters can you post the article about the 1 million illegal votes?" asked one person. [Walters' response: "look on google."] "Where is this verified? I can't find it online anywhere," said another. "You know this is a lie, right? Of course you do. And here I thought Christians were supposed to be beacons of righteousness. Instead, they seem to enjoy spreading lies," added a third.
A close look at the Judicial Watch website doesn't offer any material boasting of a recent win that proved there were 1 million illegal votes in 2018. On a page dedicated to "illegal voting," the last news release to touch on the topic was from January 27, 2017. It was titled, "Judicial Watch: Fitton Weighs in on Illegal Alien Voting," and referenced a Breitbart article in which Fitton "weighs in on the burgeoning debate over whether illegal aliens voted in the 2016 presidential election."
Included in the release and article were these comments from Fitton:
Are we supposed to be so naive as to think that tens of millions of people are here, present in the United States, and none of them are illegally voting? In states where you don't have voter ID, in states where most voter registration, you're not required to certify citizenship, other than signing and saying you're a citizen? ...

So you have many non-citizens voting in elections, and they vote in large numbers in a way to sway elections."
Not included in the article or news release was any proof; Fitton's statements were speculation.
So, Lead Stories reached out to the group directly, giving the spokeswoman, Jill Farrell, repeated opportunities to either confirm or deny the claim circulating on social media. She passed along a couple of links (only one related to California) that did not answer the inquiry.
The only statement she offered by email was this:
JW should not/cannot be held responsible for the posts of unafilliated individuals."
For transparency, below are our attempts to get answers to the question through the spokeswoman.
"It seems like a fair request to simply ask if what she's saying is true or not," we wrote in one message.
After that got no response, we tried once more:
If what she's saying is true, I'd think you'd want people to know about this and I'd be happy to share the truth. But if what she's saying is not true, I'd think you'd also be interested in setting the record straight. So I guess I'm just really confused -- and a bit disappointed about any reluctance to help."
That note, too, was ignored.
The one link Farrell provided in the beginning of the email exchange was a news release from June 19, 2019, titled, "California Begins Massive Voter Roll Clean-Up -- Notifies Up to 1.5 Million 'Inactive' Voters as Part of Judicial Watch Lawsuit Settlement." The release started this way:
Judicial Watch announced today that it has been informed that Los Angeles County has sent notices to as many as 1.5 million inactive voters on its voter rolls. This mailing is a step toward removing the names of voters who have moved, died, or are otherwise ineligible to vote. The massive mailing is the result of a settlement agreement with Judicial Watch requiring the county to remove as many as 1.5 million inactive registrations. In addition, the California secretary of state has alerted other California counties to clean up their voter registration lists to comply with the federal National Voter Registration Act (NVRA), as the secretary promised to do in that same settlement agreement."
Nowhere in this release about cleaning up inactive voter registrations is there mention that 1 million illegal votes had, in fact, been cast.
RealClearPolitics published a story the day after the press release went out from Judicial Watch. The story, "Calif. Begins Removing 5 Million Inactive Voters on Its Rolls," began this way:
Los Angeles County has started the process of removing from its registration rolls an estimated 1.5 million inactive voters who have moved, died or become ineligible to cast a ballot, an effort to comply with federal election law and a court settlement with Judicial Watch, a conservative watchdog."
The June 20, 2019, article makes mention of a Los Angeles Times investigation uncovering glitches in a new system allowing people to automtacially register to vote while at the Calfornia Department of Motor Vehicles. The RealClearPolitics article summarized the findings this way, saying the system was:
responsible for upwards of 100,000 inaccurate voter-registration records, including wrong party preferences, voters incorrectly being designated as wanting to vote by mail and at least 1,500 noncitizens wrongly allowed to register to vote."
Whether the more than 1,500 noncitizens who were allowed to register to vote actually voted is unknown. But even if they did, 1,500 is a far cry from the 1 million claimed in the Facebook post.
Lead Stories reached out the California secretary of state's office to see if it could offer clarification on this matter. We did not hear back before publication, but we will update the story when we do.
We did find a news release from Secretary of State Alex Padilla that was dated January 24, 2017, days after Trump stepped into office. It was issued in response to ongoing claims by Trump that California had purposefully engaged in voter fraud.
Here are Trump's tweets about the issue on consecutive days in November 2016:
In addition to winning the Electoral College in a landslide, I won the popular vote if you deduct the millions of people who voted illegally

-- Donald J. Trump (@realDonaldTrump) November 27, 2016
Serious voter fraud in Virginia, New Hampshire and California - so why isn't the media reporting on this? Serious bias - big problem!

-- Donald J. Trump (@realDonaldTrump) November 28, 2016
Here's what Padilla said a couple months later, in response to Trump's repeated claims:
By repeating false and unsubstantiated voter fraud allegations as the cause for losing the popular vote, President Trump is dangerously attacking the legitimacy of free and fair elections and taking a jackhammer to the foundation of our democracy. These are not "alternative facts." They are corrosive lies without any evidence. Even leaders in the President's own party agree there is no evidence to support his claims since they were irresponsibly made back in November. Rather than continue to deliberately deceive the American people about his nearly 3 million popular vote loss, the President should focus on addressing the substantiated threats reported by our intelligence community."
Other fact-checking outlets have debunked Trump's revisited allegations about massive voter fraud, including FactCheck.org and PolitiFact.
In fact, in a court filing, Trump's own attorneys seemed to rebut the idea that there was any voter fraud in 2016. The Washington Post reported on January 25, 2017, that: