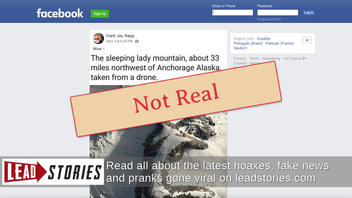 Did a drone really capture an image of Mt. Susitna, Alaska's "Sleeping Lady"? No, that's not true: The image that is sweeping the Internet was created by a digital artist using Photoshop or other sophisticated software. Users are sharing it and claiming it was taken from a drone, but the original artist is not mentioned or credited.
The claim appeared in several Facebook posts, including one (archived here) by Clark Jay Rapp on April 3, 2020. It opened:
The sleeping lady mountain, about 33 miles northwest of Anchorage Alaska, taken from a drone.
Users on social media only saw this:
The post has received thousands of shares, comments and engagements, but the picture is not real.
The photo was created by Jean-Michel Bihorel, a digital artist, and is titled "Winter Sleep." You can see the original work on his online portfolio, as well as a gallery site in which the artist has interacted with commenters.
The image was not really captured by a drone flying above Mt. Susitna in Alaska. Alaska.org, a travel resource for the 49th U.S. state, explains how the mountain got its famous nickname:
Often called "The Sleeping Lady," if you look to the west, you will see the woman at rest across the inlet. Native stories say that the lady was engaged to a man who was off to protect their village before they wed. On the day her fiancé left, she promised to wait in the exact spot where he bade farewell.

After many nights, she fell into a deep sleep waiting for him. Word came back to the village that the men were killed. Seeing how peacefully she was sleeping, the villagers couldn't bare to wake her up so she lay there, asleep and waiting for her love to return.
Users on social media commented on the suggestion that a drone captured the image:

The image may be beautiful, but it's the work of a digital artist, not a drone.