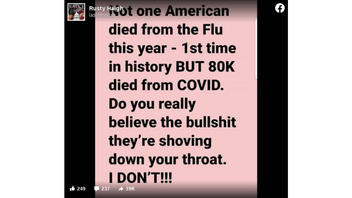 Is it true that for the first time in history "not one American died from the flu this year"? No, sadly, that's not true: Influenza continues to take lives. According to the mortality surveillance data culled by the National Center for Health Statistics, at least 8,048 deaths in the United States have been attributed to the flu in 2020.
The claim that there have been no flu deaths appeared in a Facebook post (archived here) which published on May 18, 2020. It read:
Not one American died from the Flu this year - 1st time in history BUT 80K died from COVID. Do you really believe the bullshit they're shoving down your throat. I DON'T!!!
This is what the post looked like on Facebook at the time of writing:
Determining the number of flu deaths, and really flu cases in general, is not an exact science, according to the Centers for Disease Control and Prevention. This is for a few reasons. For one, people who contract the flu may not go to the doctor. If they do, most will not be tested because the results don't affect treatment plans. Second, tests are most likely to detect the flu early after onset and will not work if someone seeks medical attention later in the illness. And then, third, related specifically to deaths, the CDC reports that states:
are not required to report to CDC individual seasonal flu cases or hospitalizations for people of any age; and are only required to report deaths only for children less than 18 years of age. Additionally many seasonal flu-related deaths occur one or two weeks after a person's initial infection, either because the person may develop a secondary bacterial co-infection (such as bacterial pneumonia) or because seasonal flu can aggravate an existing chronic illness (such as congestive heart failure or chronic obstructive pulmonary disease). Therefore, seasonal flu is infrequently listed on death certificates of people who die from flu-related complications."
For all of these reasons, the CDC can only give best estimates when it comes to the seasonal flu's toll on Americans. The "2019-2020 U.S. Flu Season: Preliminary Burden Estimates," puts the number of deaths -- between October 1, 2019, and April 4, 2020 -- at anywhere from 24,000 to 62,000 deaths.
There's no way to easily prove those numbers, but the Weekly U.S. Influenza Surveillance Report, which is compiled by the CDC's influenza division, offers insights to minimally disprove the claim that no one has died as a result of the flu this year. The National Center for Health Statistics compiles mortality data for pneumonia and influenza, providing the number of deaths attributed to each of these causes that have appeared on death certificates. And according to that data, in the first 20 weeks of 2020, 8,048 deaths have been caused by influenza in America.
Flu deaths are part of our reality, just as now COVID-19 deaths are, too. The latest death count in America from coronavirus, at the time of this story's publication, is more than 98,000, according to Johns Hopkins University & Medicine.