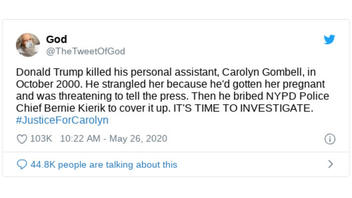 Is Donald Trump really a suspect in the murder of a personal assistant in 2000, while he was still a New York-based real estate mogul? No, that's not true: the #JusticeForCarolyn tweet that claims Trump "strangled her because he'd gotten her pregnant and was threatening to tell the press" was posted by a pardody account as a response to the president's tweets suggesting TV host Joe Scarborough killed a staffer in 2001.

The claim originated in a tweet (archived here) posted by the @TheTweetOfGod Twitter account on May 26, 2020. It read:
"Donald Trump killed his personal assistant, Carolyn Gombell, in October 2000. He strangled her because he'd gotten her pregnant and was threatening to tell the press. Then he bribed NYPD Police Chief Bernie Kierik to cover it up. IT'S TIME TO INVESTIGATE. #JusticeForCarolyn"
This is what the post looked like on Twitter at the time of writing:
First, no one named Carolyn Gombell was found strangled to death in New York City, where Trump allegedly bribed the police chief to cover up her murder. She is not real.
There is a very real woman whose death is at the center of this controversey. Lori Klausutis died in the summer of 2001 in the Fort Walton Beach, Florida, regional office of then-Congressman Joe Scarborough. The medical examiner concluded the 28-year-old woman fainted and hit her head, causing her death.
Dr. Michael Berkland wrote his conclusion of the cause of death at the top of the Klausutis autopsy report:
acute subdural hematoma from closed head trauma sustained in a fall which was precipitated by complications of floppy mitral valve disease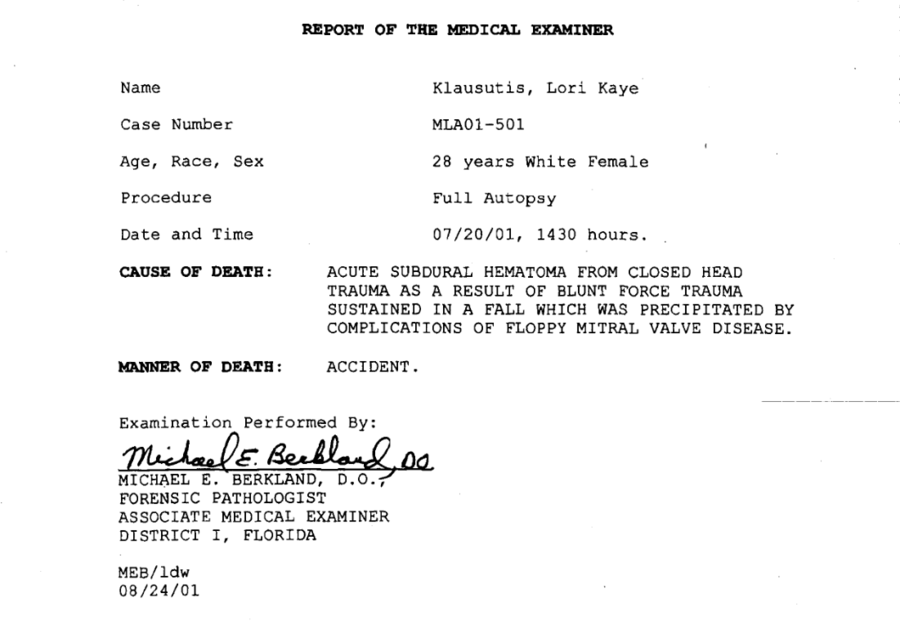 In other words, a heart condition caused the woman to faint, which was followed by a fatal blow to her head when she fell in Scarborough's office. Read the full autopsy here
Despite the lack of facts supporting his claim, President Trump has waged an ongoing Twitter campaign to accuse Scarborough -- who was a Republican member of Congress but is now a harsh critic of the president on his "Morning Joe" show -- of murder. Klausutis's widower and her family have called on Trump to stop the tweets and they've demanded that Twitter take them down.
Timothy Klausutis, the husband of the late Lori Klausutis, wrote to Twitter's CEO, Jack Dorsey, who responded. That exchange can be read at The New York Times.
Twitter has refused and Trump continued with this tweet on Wednesday, May 27, 2020:
Psycho Joe Scarborough is rattled, not only by his bad ratings but all of the things and facts that are coming out on the internet about opening a Cold Case. He knows what is happening!

-- Donald J. Trump (@realDonaldTrump) May 27, 2020
The #JusticeForCarolyn parody tweets began on May 26, 2020, to counter Trump's Klausutis tweets: