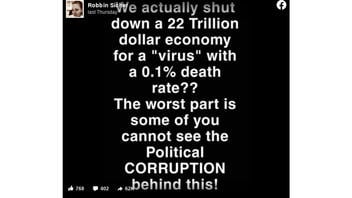 Is the COVID-19 death rate a mere '0.1%'? No, that's not true: The novel coronavirus death rate is about 1.3 percent, according to the most recent estimate by University of Washington researchers. It is much deadlier than the seasonal flu, which does have a 0.1 percent death rate, those researchers said.
The claim appeared in a meme shared on Facebook on May 24, 2020, (archived here) with following text:
We actually shut down a 22 trillion dollar economy for a "virus" with a 0.1% death rate?? The worst part of it is some of you cannot see the political corruption behind this.
This is what the post looked like on Facebook at the time of writing:
This fact check is dealing specifically with the case death rate, which is the percentage of people who were confirmed to have the illness who died. We are not calculating the mortality rate which is calculated annually based on a population.
The number of people killed by COVID-19 neared 100,000 as of May 27, 2020, with about 1,720,000 confirmed cases in the United States. This translates into 5.8 percent of every confirmed patient dying. However, it is believed that the number of actual cases is much higher since a large percentage of people who get the virus in their bodies are able to defeat it without obvious symptoms. Testing of those asymptomatic people is also low across the United States. This makes determining an accurate case fatality rate challenging and takes expertise such as that at the University of Washington. Here is what they concluded in their study titled Estimating The Infection Fatality Rate Among Symptomatic COVID-19 Cases In The United States published on May 7, 2020:
Using data through April 20, 2020, we fit a statistical model to COVID-19 case fatality rates over time at the US county level to estimate the COVID-19 IFR among symptomatic cases (IFR-S) as time goes to infinity. The IFR-S in the US was estimated to be 1.3% (95% central credible interval: 0.6% to 2.1%). County-specific rates varied from 0.5% to 3.6%. The overall IFR for COVID-19 should be lower when we account for cases that remain and recover without symptoms.
IFR-S is the infection fatality rate among symptomatic cases.
The University of Washington news release summarized it:
The national rate of death among people infected with the novel coronavirus -- SARS-CoV-2 -- that causes COVID-19 and who show symptoms is 1.3%, the study found. The comparable rate of death for the seasonal flu is 0.1%.

"COVID-19 infection is deadlier than flu -- we can put that debate to rest," said study author Anirban Basu, professor of health economics and Stergachis Family Endowed Director of the CHOICE Institute at the UW School of Pharmacy.
This is not an estimate of a mortality rate based on the national population and calculated over an entire year. We would have to wait until a full year to know that number.
The 0.1 percent death rate used in the meme may come from a scientifically flawed and possibly scandalous pair of studies that were never reviewed by doctors, one of which may have used frozen blood and which were allegedly funded by David Neeleman, JetBlue Airways founder. He is a vocal proponent of the idea that the pandemic isn't serious enough to justify air travel lockdowns. He reportedly paid Stanford University researchers, according to a complaint that a whistleblower filed with the university, obtained by BuzzFeed News and commented on by four highly regarded doctors in The Washington Post.
Their article debunking the 0.1% death rate, titled "Beware of studies claiming Covid-19 death rates are lower than they are," was written by George Q. Daley, dean of Harvard Medical School; Stephen Elledege, professor at Brigham and Women's Hospital; Galit Alter, professor and researcher at Massachusetts General Hospital; and Michael Springer, associate professor at Harvard Medical School.
BuzzFeed laid out the proposition that the Stanford whistleblower complaint about the flawed COVID-19 experiments cited dozens of emails, including exchanges with the airline executive, while the study was being conducted. The study, released on April 7, 2020, without review by other doctors or epidemic specialists, made headlines around the world with a dramatic finding. Based on antibodies in thousands of Silicon Valley residents' blood samples, some obtained from frozen pre-pandemic stock, the number of coronavirus infections was reported to be up to 85 times higher than believed. This "true infection count" was so high that it drove down the virus's fatality rate by comparison to 0.12%-0.2% -- far closer to the known death rate for the flu.
One of the two papers written at Stanford appeared without a warning to doctors that it hadn't been evaluated, and the other one, no longer available online, was summarized in a news release.
The Washington Post article noted:
First, both studies used a commercial diagnostic test known to yield false positive results (detecting the presence of antibodies to the virus where there were none.
Also, researchers used different types of blood to establish the accuracy of the diagnostic test than used for the volunteers. They compared frozen pre-pandemic processed blood samples with the fresh blood of volunteers obtained via finger pricks. But not all blood is the same; the biochemical differences between frozen and fresh blood could interfere with the accuracy of the reading.
Also read these fact checks concerning COVID-19 death rate claims:
Fact Check: U.S. Survival Rate From COVID-19 Is NOT 99.983 Percent
Fact Check: Coronavirus Mortality Rate NOT Proven To Be 0.03% By Bakersfield Doctors