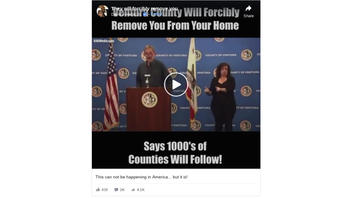 Did the Ventura County public health director say that the California county will be forcibly moving people infected with COVID-19 out of their homes into quarantine? No, that's not true. The video of Public Health DirectorDr. Robert Levin giving details about the county's contact tracing program went viral but he did not say they were going to force infected people to move out of their homes. The Department of Health confirmed to LeadStories.com that viral reaction to the comments were a "misunderstanding" about the process to offer people in need separate house and stated it was voluntary, not forced.
The story continued to go viral with a post (archived here) published on Facebook on May 8, 2020, under the title "Ventura County Will Forcibly Remove You From Your Home." It opened:
They will forcibly remove you
This can not be happening in America... but it is!
This is what the post looked like on Facebook at the time of writing:
The video shows Ventura County Public Health Department Health Director Dr. Robert Levin on May 5, 2020, explaining the details of the new program to fight coronavirus in the county directly north of Los Angeles, which is home to approximately 850,000 people.
A warning chyron on the video reads: "Ventura County Will Forcibly Remove You From Your Home. Says 1000's of Counties Will Follow!" and the clip racked up over more than 374,000 views.
The controversy began with Levin's comments about expanding the contact tracing program amid the coronavirus outbreak in the United States and specifically in Ventura County:
As we do more testing, we will find more and more people who have COVID-19 and again, we will isolate every one of them and we will find every one of their contacts and we will make sure that they stay quarantined. And we will check in with them every day."
Levin continued explaining how the county planned to deal with people their contact tracers found to be infected with COVID-19.
We will be giving intensive training to these people. Training not only for identifying and finding contacts but also in term as of how to be sensitive. We also realize that as we find more contacts some of the people, we find are going to have trouble being isolated.

For instance, if they live in a home where there is only one bathroom and there are three or four other people living there and those people don't have COVID infection, we're not going to be able to keep the person in that home.

Every person who we are isolating for instance needs has to have their own bathroom.
And so, we will be moving people like this into other kinds of housing that we have available

They'll also have other needs perhaps. Food. Whatever it is going to be, the county will be there to back them up and support them."
Here is the video of Levin's remarks on May 5.
Outrage began circulating quickly, with critics claiming the county was going to forcibly remove people who were infected with COVID-19 and who didn't have the ability to isolate in a manner approved by the county in their own home.
Commenters decried the takeover of rights by the government on the Facebook page of the post.
Brenda Robinson Nickelson Old Benjamin Franklin was right when he said: he who sacrifices his FREEDOM for safety, deserves neither!


Dennis Fischer The question now is . Who will have the courage to stand up to these tyrants? Will you stand with your father, mother, neighbor to defend your rights under the Constitution? Or will you cower in your home, and hope you're not next?
The Ventura County Public Health Department clarified the remarks to LeadStories.com on Friday, May 8, 2020, calling it a "misunderstanding."
We can assure you that is not what is going to happen," a county spokesperson explained. "They are not going to be forcibly taking people out of their homes. The County has places available to quarantine but that is up to them."
The department clarified that the places the county has available would be "hotels or motels" and there would be no cost to the people that choose to leave their homes and quarantine at an outside location.
"That is part of the process that the county is providing."
The department issued a clarification on its Facebook page on Friday afternoon.
Doctor Levin's recent comments have gone viral and he wants to set the record straight. The County of Ventura is not removing people from their homes. We have alternative options if needed. Here's a statement from Doctor Levin.

What I would like to say to those people who interpreted what I said as forcibly pulling people from their homes if they become COVID positive is that if I conveyed that, it was a mistake on my part and I apologize for that. I am sensitive to that as well. We have no intention of taking people from the environments they feel safe and comfortable in. To demonstrate our past actions, because they speak louder than words, we have managed over 600 people in our county with COVID-19 and we have not forcibly removed anyone from their home or wherever they wanted to be. We have removed about 7 of our seniors who were living in Long Term Care Facilities (LTCF) and had them admitted to one of our hospitals. This was to protect the other seniors and to observe those hospitalized for worsening of their symptoms. If COVID establishes itself in a LTCF (a nursing home), it can kill dozens as it did in Washington State. We also placed two homeless people who were COVID positive in a motel because they wanted to return to a crowded camp in the river bottom. Virtually everyone wants to stay in their home. It is safest when such a person can have their own room and bathroom but many of our COVID cases have not been so fortunate. When that is the case, our Communicable Disease nurses find ways of keeping them in their home such that it is still safe for the others who are there." - Doctor Robert Levin, Public Health Officer County of Ventura.
Here is video of Levin apologizing on the next day at a press conference.
"I either misspoke or was misinterpreted -- I'll take the blame of having misspoken," he said on May 6, 2020. "Yesterday, at this conference, at the Board of Supervisors, and I gave people the impression that if you were isolated, you would be taken out of your home and put into a hotel room or a motel room or sequestered in some other way.
"If I did do that, I am very sorry," he said. "That is an option. That is possible. If you become infected, you don't want to stay in your home, you're afraid that you're going to expose other people, we'll work with you to find a place to stay. And, it's likely to be a hotel or a motel. We will desire for you to have your own room in your place of residence and a bathroom that can be dedicated to just you. Now, not everyone is fortunate enough to have more than one bathroom, so we'll work with you on this.
"We have had 600 or so cases in our county and I'd say only in very, very unusual circumstances, we've had to put someone up in a hotel or motel and this was for reasons which have nothing to do with your choice of staying in your household."
Here is more of what Levin said during his remarks clarifying the earlier comments.
"Yesterday, yes, at the Board of Supervisors, I spoke to issues related to isolation and quarantine, and how we were going to step up our program. We were going to increase by 10, 20, maybe 50 people to help us locate people and make sure they're in quarantine or make sure they're in isolation.
"If you have the illness and you stay in your own quarters or in your hospital room, that's called isolation," he continued. "If you don't have the illness, but you were exposed to someone who did, but we want to watch you for the period of incubation, where you might come down with the illness and might be contagious and give it to someone else, that's called quarantine."
"We're looking to not only isolate everyone, but we're looking to quarantine the contacts of the isolates we have who have COVID disease. Now, we're going to get - because of increased manpower and because of increased testing - more and more meticulous in our ability to do this," Levin said.
"And, what we anticipate that's going to happen as a result of this, is that we're going to drive our numbers way down and that's what we want to see."
As of May 8, 2020 Ventura County had 631 total cases of coronavirus and 19 deaths according to Worldometers.com.