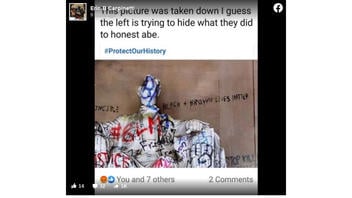 Did protesters tag "Honest Abe" at the Lincoln Memorial with "Black Lives Matter" graffiti? No, that's not true: The image showing a chunk of Lincoln's head missing and the rest of him covered with words and names drawn in blue, red, black, yellow and green paint was digitally created. The giant statute of Lincoln sitting was untouched and well-protected by a platoon of National Guard troops during the June 2020 protests in Washington, D.C.
The claim appeared in a meme (archived here) shared on Facebook on June 5, 2020. Text at the top of the meme read:
This picture was taken down I guess the left is trying to hide what they did to honest abe
This is what the post looked like on Facebook at the time of writing:
(Source: Facebook screenshot taken on Fri Jun 5 23:18:46 2020 UTC)
The first major clue that this image is fake comes from a close examination of the purported graffiti. The writing does not follow the contours of the sculpture. For example, look at "Freddie" across the abdomen.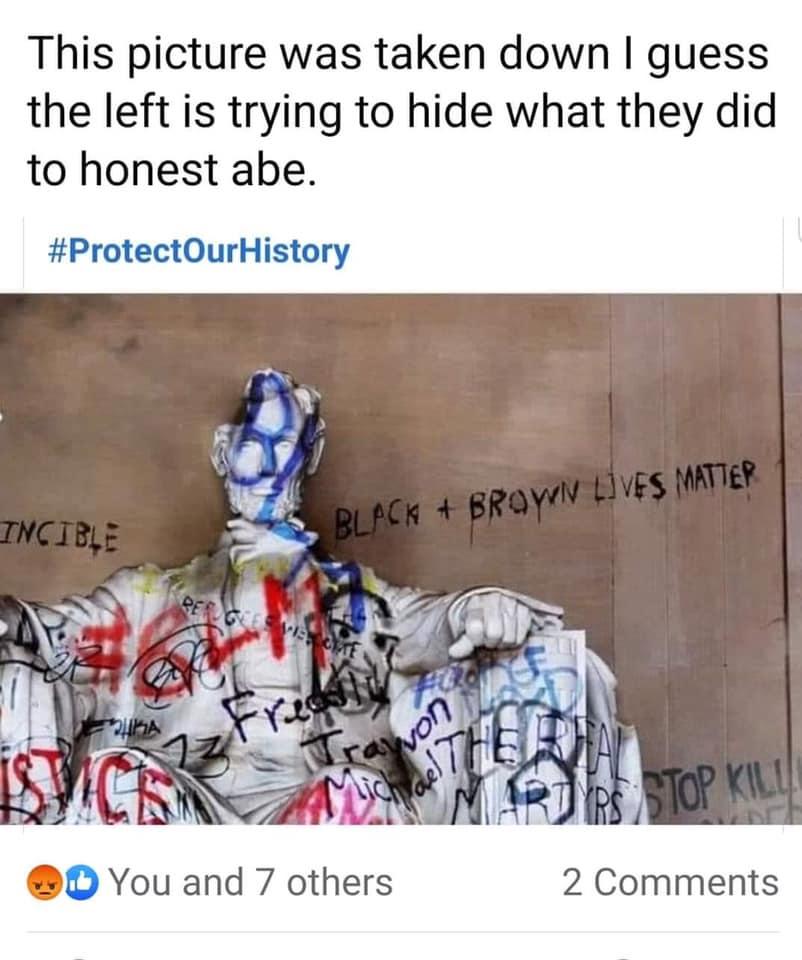 The best evidence is from recent photos of the memorial. Presidential historian Michael Beschloss tweeted a photo showing dozens of National Guard troops positioned on the memorial steps, protecting the Lincoln statue.
Lincoln Memorial tonight, photographed by @MarthaRaddatz : pic.twitter.com/LON4bo6R23

-- Michael Beschloss (@BeschlossDC) June 3, 2020
While the number of soldiers protecting the memorial is higher during the protests, other images show troops remained in place afterward.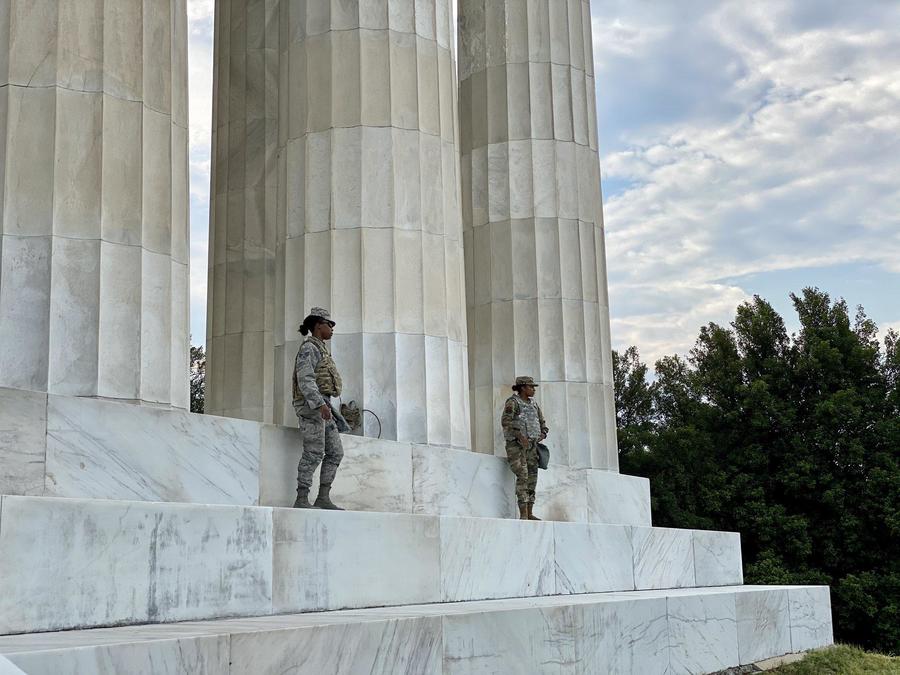 Another series of misleading posts include two real photos of vandalism at the Lincoln Memorial, although these images are from years earlier and are unrelated to the 2020 protests. This is an example:
HOW ARE YOU GOING TO VADALIZE THE LINCOLN MEMORIAL!??! THIS MAN LITERALLY FREED THE SLAVES. HE DID MORE FOR THIS CAUSE THAN ANYONE ELSE IN AMERICAN HISTORY AND HIS MEMORIAL GETS VANDALIZED.

IF ANYTHING WE SHOULD BE PUTTING FLOWERS BY HIS STATUE.

IM SPEECHLESS pic.twitter.com/soHVTD8bva

-- Derek (@DerekStenson) June 3, 2020
The photo of the red writing on a white column is from vandalism in April, 2017, as reported by ABC News in a story titled Lincoln Memorial vandalized with explicit graffiti.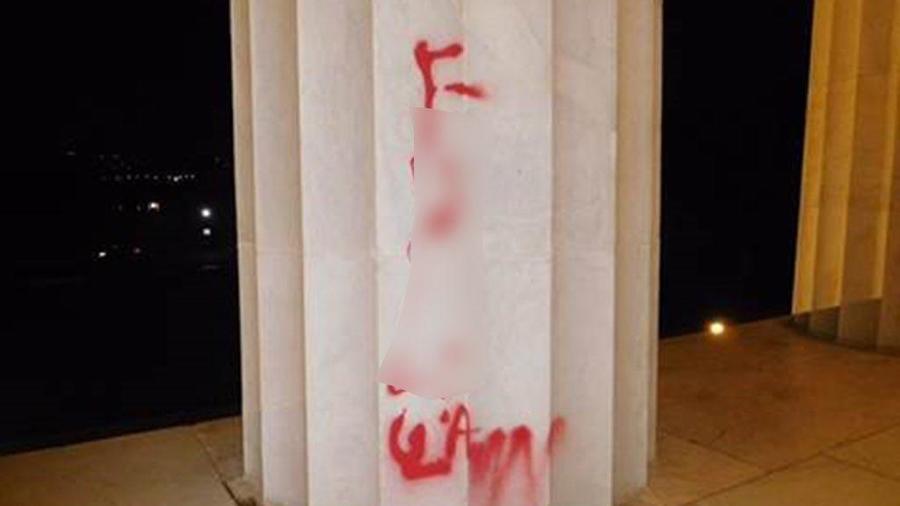 The photo of green paint splashed on Lincoln is from July, 2013, according a local NBC report.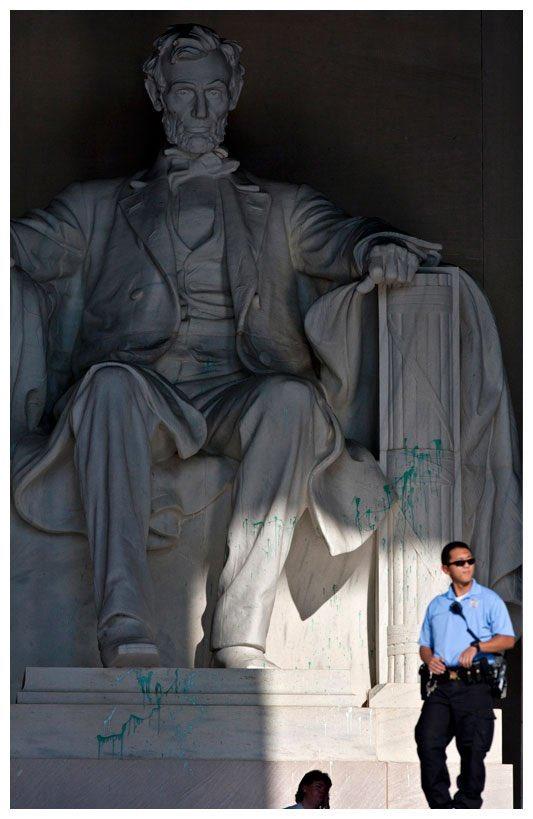 However, the third photo showing the "Yall not tired yet?" message is from around May 31, 2020, according to a local TV report titled Protesters deface World War II Memorial and other National Mall monuments.