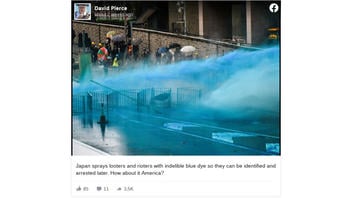 Did Japan spray looters and rioters with blue dye to identify and arrest them later? No, that's not true: A photo used to make that claim was taken at a pro-democracy protest in Hong Kong in August of 2019. Dyed blue water was not used against those protesters who objected to changes imposed by China. Looting is remarkably rare in Japan and we could find no documented instances of Japanese police spraying looters or rioters with colored dye.
The claim appeared in a post (archived here) shared on Facebook on June 10, 2020. It featured the photo from Hong Kong with text that read:
Japan sprays looters and rioters with indelible blue dye so they can be identified and arrested later. How about it America?
This is what the post looked like on Facebook at the time of writing:
(Source: Facebook screenshot taken on Wed Jun 24 20:03:20 2020 UTC)
Tagging protesters with dyed water is not just a tactic that's used in Hong Kong, it has been used during protests in India, Hungary, Indonesia, and Israel.
Water cannons, with or without dyed water, has not commonly been used in the United States since it became associated with efforts to suppress civil rights demonstrators in the 1960s. When young people marched in the streets of Birmingham, Alabama, in 1963, the city's public safety commissioner Eugene "Bull" Connor ordered firefighters to blasts them with fire hoses.
Japan is not known for having a looting problem. When a magnitude 9 earthquake hit Japan in 2011, journalists wrote about how remarkable the absence of looting was in Japan. Some observers credit that to cultural precedents and a legal system that rewards honesty more than most.
Thousands of people did protest in the streets of Japan after the George Floyd killing, but they remained peaceful and dry.
The photo that appears in the false Facebook post was taken in Hong Kong by Agence France-Presse's photographer, Anthony Wallace, and can be found in this news story.