STORY UPDATED: check for updates below.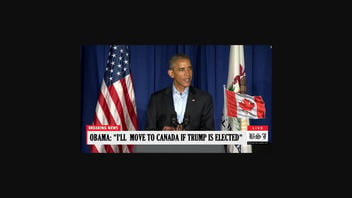 Did former President Barack Obama declare that he would move his family to Canada if Donald Trump wins re-election in November? No, that's not true: Obama has made no such statement. The claim is completely made up and originated on a satire website.
The claim appears in an article (archived here) where it was published by Politico Daily News under the title "Obama Declares His Family Will Move To Canada If Trump Is Elected." The story was published on June 22, 2020, but copied the 2016 article from the satirical website Burrard Street Journal. It opened:
PRESIDENT Obama has admitted for the first time, that he and his family are "seriously considering" moving to Canada if Donald Trump is elected the 46th president of the United States. The news comes after Obama launched a scathing attack on Trump, calling him "woefully unprepared" and "unfit to be president".

The current U.S. president was speaking to the White House press corps when he expressed his "deep disappointment" with the republican party's nominee, leading him and the First Lady to explore other options. "It's something Michelle, the kids and I have discussed as a potential solution to the Donald," he said. "I have also spoken with Prime Minister Trudeau who outlined Canada's generous immigration policy for wealthy individuals, so we'll see."
Here is a screenshot of how the online post appeared: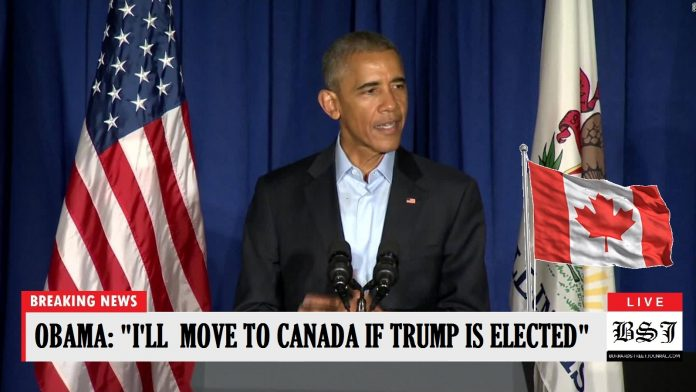 The site Politico Daily News uses a name that plays off the real Politico news outlet. Further, its URL is breitbart24.tumblr.com, a play on the conservative, and real, site Breitbart. Obama has never said he would leave the country he ran for two terms as the 44th president of the United States.
At the time when The Burrard Street Journal published the original story they had a disclaimer page that explained:
Burrard Street Journal Disclaimer

All burrardstreetjournal.com, FM News or FM Football News articles are satirical and entirely fabricated.

Any resemblance to the truth is purely coincidental, except for all references to sports personalities and/or celebrities, in which case they are based on real people, but still based almost entirely in fiction.

Please feel free to copy and paste this disclaimer into you facebook comment to "prove this site's bullshit".

This site is a source of parody, satire, and humor and is for entertainment purposes only.
At the time of writing (June 2020) the disclaimer page is still online but it appears to be mostly blank.
Here is the rest of the fabricated story:
The Obama's had been expected to stay in Washington DC at least until daughter Sasha had graduated from high school. However in the event Trump's elected, Obama told reporters that his family will likely move directly to Canada. "Their education system is clearly a lot better than ours anyway," he accepted, shaking his head. "Canadians would never elect someone as buffoonish and incompetent as Donald Trump, at least outside Toronto."

However a potential "President Trump" is not the Obama family's only reason for considering the move north of the border. According to the outgoing president, "Canada is clearly a much safer place for a black person, especially one who's surrounded by police 24/7."

With him seemingly ruling out a move to Toronto, Obama also dismissed suggestions he could be tempted to move to Vancouver. "Honestly, I don't really think we can afford to buy a place in Vancouver on a former U.S. president's salary."

Red Deer and Abbotsford appear to be the President's top choices at present, but Obama insisted St. John's "couldn't be ruled out" at this stage.
Not only is the Obama story fake, but the image of Obama used in it has apparently been lifted from this October 2016 video -- found on CNN through a reverse image search -- in which Obama said Trump's "lewd" and "degrading" comments about women, minorities, immigrants, veterans and the disabled were "disturbing."
A Canadian flag was added to the screenshot of Obama talking before reporters. At the time, Obama was campaigning for Tammy Duckworth, a Chicago Democratic House member, for the U.S. Senate. An Illinois flag is clearly seen in the background.
2020-06-24T10:16:39Z

2020-06-24T10:16:39Z

Added notice about satirical nature of The Burrard Street Journal and their (currently missing) satire disclaimer.