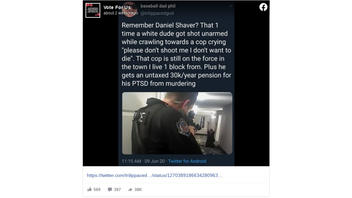 Is a former Arizona police officer who in 2016 shot and killed a Texas man as the man was crawling toward the officer, asking the officer not to shoot, still on the police force in Mesa, Arizona? No, that is not true. The officer, Philip Brailsford, who killed Daniel Shaver in the hallway of a La Quinta Inn, was briefly rehired by the City of Mesa -- but not the city's police department -- so he could collect a medical pension. A media relations detective from the Mesa Police Department told Lead Stories on July 1 in an email that, "No he is not on the force."
The claim that he was still an active officer appeared in a post published to Facebook on June 15, 2020, by a page named "Vote For Us" (archived here) with following text:
Remember Daniel Shaver? That 1 time a white dude got shot unarmed while crawling towards a cop crying 'please don't shoot me I don't want to die.' That cop is still on the force in the town I live 1 block from. Plus he gets an untaxed 30k/year pension for his PTSD from murdering."
This is what the post looked like on Facebook at the time of writing:
(Source: Facebook screenshot taken on Fri Jun 26 16:26:53 2020 UTC)
The post is a screenshot of a Twitter post by "baseball dad phil" (@trilippacedgod), who limits who can see his posts. But the screenshot of the tweet is below: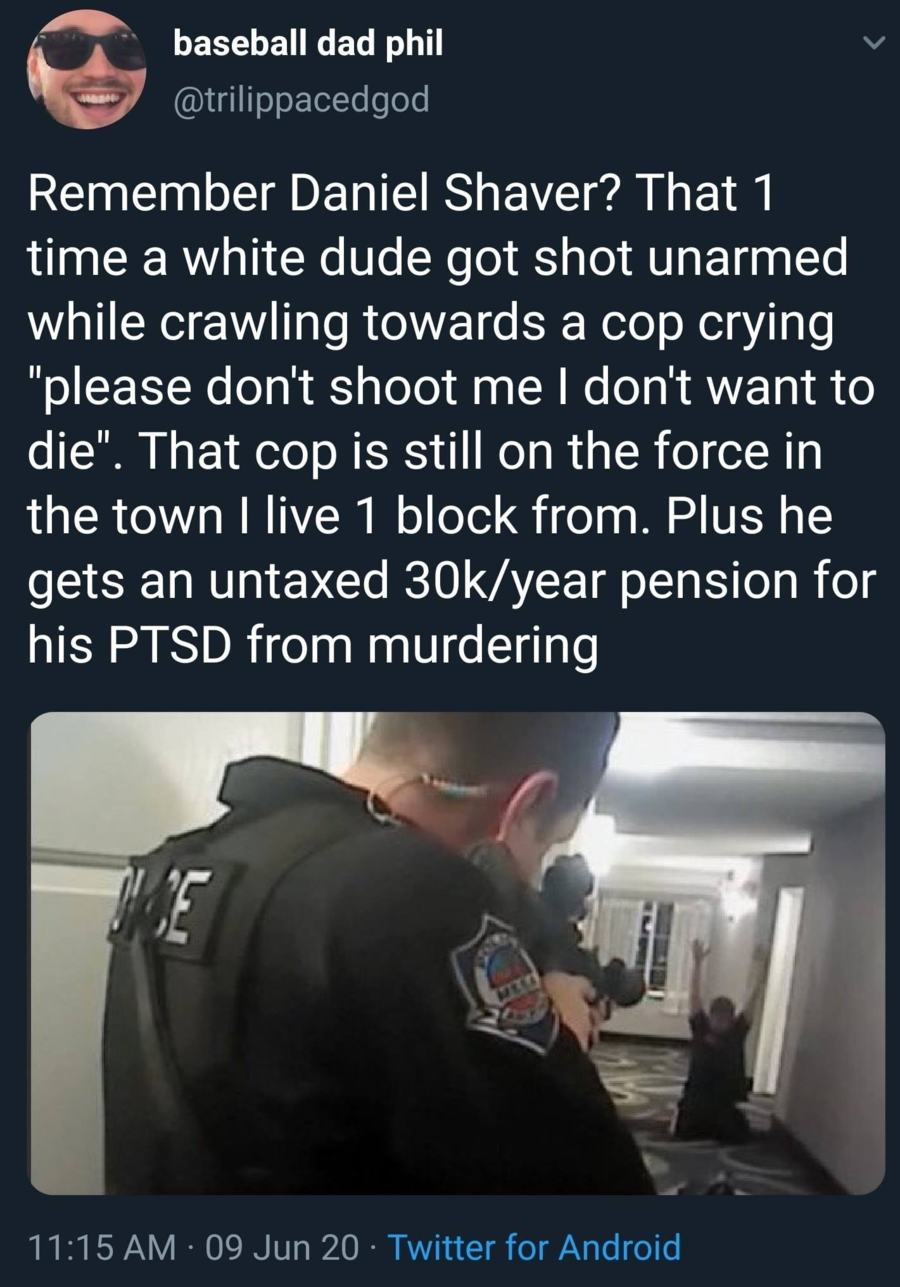 The Twitter and Facebook images show the moments before Shaver was shot and killed. Brailsford, the officer who fired the fatal shots, was acquitted in 2017 of murder and manslaughter charges.
Brailsford, along with five other officers, responded on January 18, 2016, to reports of a man with a gun standing in the window of a room at a La Quinta Inn and Suites, according to The New York Times. According to the video released to a jury during Brailsford's trial, the two-year Mesa police veteran, whose bodycam captured the incident, "trained an AR-15" on Shaver and a woman who appeared in the hotel's fifth-floor hallway.
According to The Arizona Republic's trial coverage from December 7, 2017, Brailsford fired five shots from the weapon:
A Maricopa County jury on Thursday found former Mesa police Officer Philip "Mitch" Brailsford not guilty of second-degree murder charges in the 2016 shooting of an unarmed Texas man who was on his knees begging for his life.

Jurors deliberated for less than six hours over two days, finishing Thursday afternoon. The eight-member jury also found Brailsford not guilty of the lesser charge of reckless manslaughter...

Brailsford's acquittal came after impassioned closing arguments that offered contrasting narratives of why Brailsford shot and killed 26-year-old Daniel Shaver in a hotel hallway two years ago.

Shaver was kneeling, crying and begging not to be shot after he was confronted by six Mesa police officers in a La Quinta Inn & Suites hallway Jan. 18, 2016. Brailsford, who was fired two months after the shooting, testified that he fired his AR-15 rifle five times because it appeared Shaver was reaching for a gun.
The confusion about whether Brailsford is still a cop seems to stem from the accurate reports that he was briefly rehired by the City of Mesa to collect a pension paying $30,000-plus annually. The mistake that he was temporarily rehired by the police department can be found in a story -- since corrected -- in the Phoenix New Times, which originally reported incorrectly that Brailsford was rehired by the police department to collect the pension. Here is the correction that outlet ran:
(Correction: This article previously stated Brailsford was reinstated by Mesa police. The city reinstated him.)"
On July 1, Mesa police Media Relations Detective Nik Rasheta sent a brief email answer to Lead Stories' query about whether Brailsford was actually still on the job: "No he is not on the force," the email read.
On the issue of the pension being tax-free,
here is a report
from the Phoenix NBC affiliate: