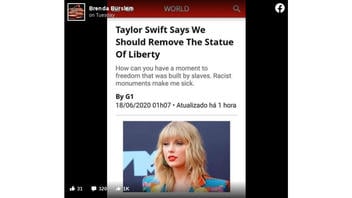 Did Grammy Award-winning singer-songwriter Taylor Swift say that the Statue of Liberty should be taken down in an article posted by a site named G1? No, that's not true: a screenshot with headline making that claim is bogus and was not really published by Brazil's Globo News.
The headline appeared in a viral image and it read "Taylor Swift Says We Should Remove The Statue of Liberty" above a subhead that read "How can you have a monument to freedom that was built by slaves. Racist monuments make me sick." According to the screenshot the story was published "By G1" on "18/06/2020 0h07".
An example of the fake viral screenshot appeared in this Facebook post:
(Source: Facebook screenshot taken on Thu Jul 2 19:44:13 2020 UTC)
The screenshot looks like it is from g1.globo.com, a news website from Brazil. But that site does not publish articles in English and there appears to be no recent article on the site mentioning Taylor Swift and the Statue of Liberty.
Using Google Chrome's "Inspect Element" feature, Lead Stories was able to create a similar bogus screenshot in under five minutes by changing some text and removing some elements from a story about Taylor Swift that did actually appear on the site: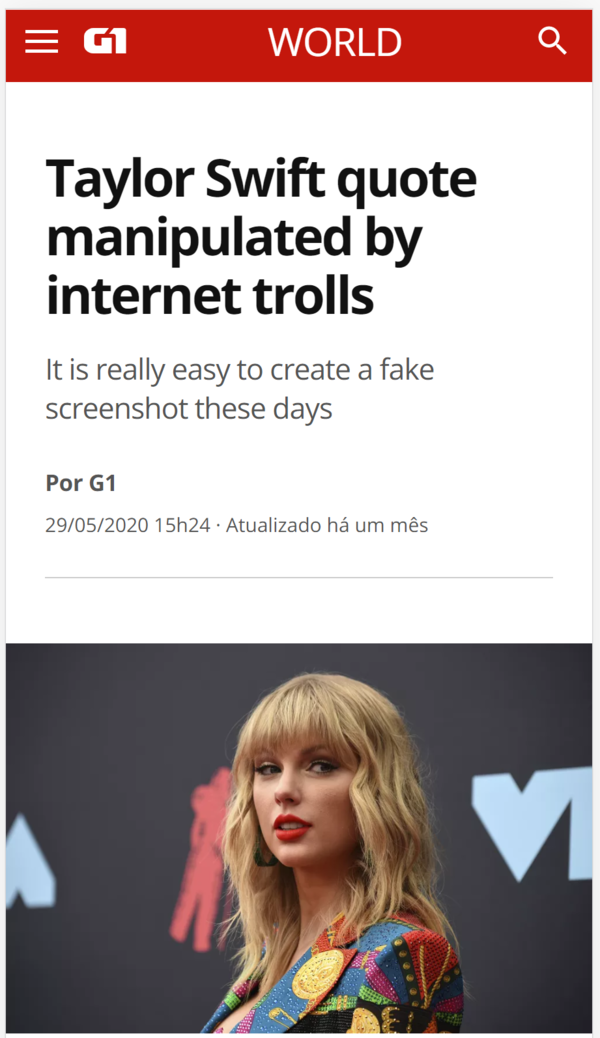 (Bogus screenshot created by Lead Stories on July 2, 2020)
Swift did speak out against Confederate monuments on Twitter recently, but she never mentioned the Statue of Liberty:
As a Tennessean, it makes me sick that there are monuments standing in our state that celebrate racist historical figures who did evil things. Edward Carmack and Nathan Bedford Forrest were DESPICABLE figures in our state history and should be treated as such.

-- Taylor Swift (@taylorswift13) June 12, 2020
Lead Stories reached out to Swift's management for comment, this article will be updated when we hear from them.