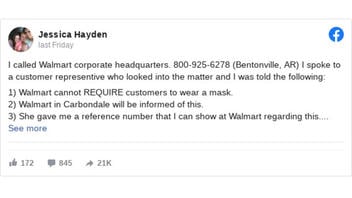 Can a shopper at Walmart opt out of wearing a protective face mask by presenting a numbered reference code at the door? No. The nation's largest retailer and its affiliate, Sam's Club, on July 15, 2020, issued a "masks-on" rule for all shoppers and employees. The "reference number" posted on social media that would purportedly allow you to opt out won't work.
The claim appeared as a post (archived here) that was published on Facebook on July 11, 2020. It said:
I called Walmart corporate headquarters. 800-925-6278 (Bentonville, AR) I spoke to a customer representive who looked into the matter and I was told the following:

1) Walmart cannot REQUIRE customers to wear a mask.

2) Walmart in Carbondale will be informed of this.

3) She gave me a reference number that I can show at Walmart regarding this.

4) I asked her if I can share this reference number and she said yes. So, here it is: 200710-051109
This is what the post looked like on Facebook at the time of writing:
(Source: Facebook screenshot taken on Thu Jul 16 16:45:37 2020 UTC)
It is true that company policy in the days before the change was "to encourage" shoppers to wear masks and require employees to wear them, according to a CNBC report. But there's no Walmart-approved number that a shopper can show at a store to opt out.
Rebecca Thomason, senior manager of corporate communications for Walmart, told Lead Stories via email on July 16, 2020:
Using a number to opt out of our mask policy is purely rumor."
The new rule, issued July 15, is universal. Walmart announced it will require shoppers to wear a face covering starting on July 20 in all stores and clubs across the U.S. The Hill reported:
"The move by the nation's largest retailer comes as coronavirus cases have surged in various states including Texas, California and Florida. Walmart noted that currently about 65 percent of its more than 5,000 stores and clubs are located in areas where there is some form of government mandate on face coverings. The new policy is in place to help bring consistency," the company said.
Dacona Smith, Walmart U.S. chief operating officer, and Lance de la Rosa, Sam's Club chief operating officer, wrote in a press release published on Walmart's corporate website on July 15:
While we're certainly not the first business to require face coverings, we know this is a simple step everyone can take for their safety and the safety of others in our facilities.

We know it may not be possible for everyone to wear a face covering. Our associates will be trained on those exceptions to help reduce friction for the shopper and make the process as easy as possible for everyone,"
A store recording on July 16, 2020, informed the caller that Walmart requires masks of all customers. It says:
We know some people have differing opinions on this topic. We also recognize the role we can play to help protect the health and well-being of our communities we serve by following the evolving guidance of our officials."