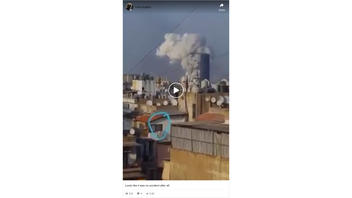 Does a slowed-down video of the Beirut explosion show an incoming bomb or guided missile, proving it was an attack and not an accident? No, the video does not prove an attack. The blurry, slowed-down version of footage from the explosion was posted with the implication that an object in the sky is a projectile that caused the blast. Hany Farid, professor at the University of California, Berkeley, who focuses on digital forensics, told Lead Stories it "does not appear to be that of a ballistic object (e.g., a missile) and is more consistent with a bird or insect."
The claim appeared as a post (archived here), published on Facebook on August 5, 2020. It opened:
Looks like it was no accident after all.
This is what the post looked like on Facebook at the time of writing:
(Source: Facebook screenshot taken on Thu Aug 6 22:03:20 2020 UTC)

The video on Facebook is slowed down and does not have sound. It appears to be a copy of this video on Twitter of footage from the August 4, 2020, explosion:
Video show a black object fly toward the site of explosion just before the explosion in #Beirut #Lebanon .
It may be a bomb , it may be a guided missile and it may be a black bird ( but size of bird can't be that big as compared to the buildings ) pic.twitter.com/nd074jbD52

-- M IMRAN ARAIN (@imranarainppp) August 4, 2020
Claims have gone viral that the image circled in red in the slowed-down version is a missile or a bomb but the original footage is not slowed down and just shows an object of some kind quickly flying through the air.
The video camera is a substantial distance from the blast site, judging from structures in the frame, and that raises the matter of perspective.
Farid explained his observations that the object is not a missle to Lead Stories:
It is a bit difficult to say for sure what is happening here. There is an inherent scale/distance ambiguity that is difficult to resolve in this type of low-res video. In particular, we could be seeing a small object close to the camera or a large object far from the camera. At this low-resolution and quality it is hard to say what the object is, but the motion does not appear to be that of a ballistic object (e.g., a missile) and is more consistent with a bird or insect.

... it is not clear if this video is fake or real and being mis-interpreted."
The source of the hand-drawn blue circle on the video is unknown.
U.S. Defense Secretary Mike Esper said on August 5 that "most believe" the explosion "was an accident, as reported," according to CNN.
Esper was speaking at the annual Aspen Security Forum, and said he discussed the blast with Secretary of State Mike Pompeo Wednesday morning.
He said they were "still getting information on what happened." CNN also reported US defense officials denied the explosion was an attack.
The explosion that took place in Beirut, Lebanon, on August 4, 2020, killed at least 130 people and wounded more than 5,000.
Lead Stories previously debunked these claims about the origins of the Beirut blast:
Fact Check: Blast in Beirut Was NOT A Nuclear Explosion
Fact Check: 'Crude Fake' Video Does NOT Show A Missile Incoming Before Beirut Explosion