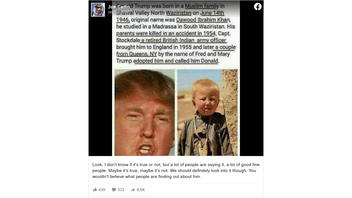 Was President Donald Trump actually born in Pakistan as Dawood Ibrahim Khan and then adopted by the Trump family nine years later? No, that's not true: Donald Trump was born in Queens, New York, and an image of his birth certificate exists to prove it. This baseless claim has been circulating for about four years, but is likely gaining steam again because of the recent birther accusations against Kamala Harris.
The claim appeared in a Facebook post (archived here) published on August 15, 2020. The caption that accompanied the meme read in part, "Maybe it's true, maybe it's not. We should definitely look into it though. You wouldn't believe what people are finding out about him." The meme that claims Trump wasn't born in the U.S. began:
Donald Trump was born in a Muslim family in Shawal Valley North Waziristan on June 14th 1946, original name was Dawood Ibrahim Khan, he studied in a Madrassa in South Waziristan. His parents were killed in an accident in 1954, Capt. Stockdale a retired British Indian army officer brough him to England in 1955 and later a couple form Queens, NY by the name of Fred and Mary Trump adopted him and called him Donald.
This is what the post looked like on Facebook at the time of writing:
(Source: Facebook screenshot taken on Mon Aug 17 17:07:16 2020 UTC)
This is Trump's birth certificate that includes his full name, Donald John Trump, and place of birth, Queens, New York: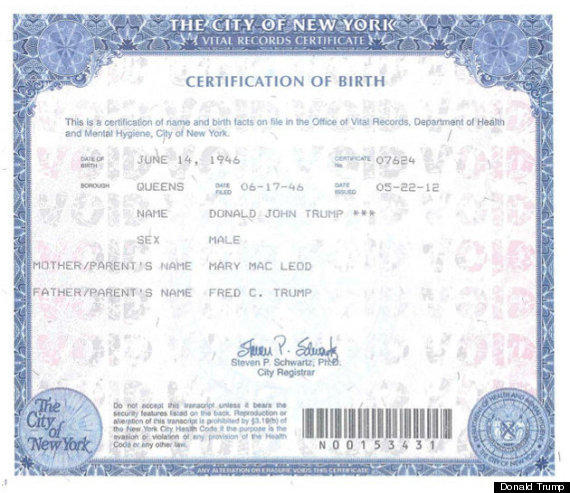 A Pakistani news channel, Neo News, quickly picked up this misinformation and aired it as fact.
The photo of the young boy in the meme is not Trump as a child. This photo was taken in Afghanistan in 2009 by Pulitzer Prize-winning photographer Massoud Hossaini. In 2016, when Neo News claimed the photo was Trump, Hossaini tweeted:
Some of Pakistani media use a photo taken by myself to prove that #Trumps is originally from #Pakistan!!!! This is a joke!?

-- Massoud Hossaini (@Massoud151) November 16, 2016
Hossaini then replied to a Twitter user in the same thread:
it's really stupid journalism! I took that pic in Samangan pro #Afghanistan after an earthquake!

-- Massoud Hossaini (@Massoud151) November 16, 2016
The resurgence of the claim that Trump was not born in the U.S. comes as Kamala Harris has become the newest target of birther accusations after being named Joe Biden's running mate.
Lead Stories debunked accusations against Harris' birthplace and heritage previously:
Fact Check: Senator Kamala Harris IS A United States Citizen And IS Eligible To Be President
Fact Check: Photo Is NOT Kamala Harris With Her Parents And Is NOT Evidence She Is Not A Black American