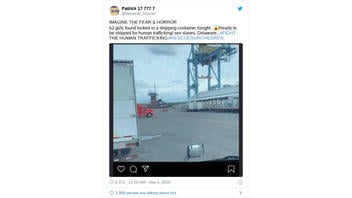 Were 62 girls found locked in a shipping container at a Delaware port in "ready to be shipped" as sex slaves? No, that's not true: The U.S. Customs and Border Patrol said it found "zero evidence" to support the claim.
The claim appeared in a tweet (archived here) posted on September 4, 2020 titled. It read:
"IMAGINE THE FEAR & HORROR 62 girls found locked in a shipping container tonight. ????Ready to be shipped for human trafficking/ sex slaves. Delaware... #FIGHT THE HUMAN TRAFFICKING. #RESCUEOURCHILDREN"
This is what the post looked like on Twitter at the time of writing:
(Source: Twitter screenshot taken on Mon Sep 7 12:26:23 2020 UTC)
U.S. Customs and Border Patrol spokesman Steve Sapp told Lead Stories in an email:
Customs and Border Protection thoroughly investigated and found zero evidence to substantiate this false rumor of a human smuggling event through the Port of Wilmington, Del.
There is nothing in the photo to indicate that a large number of girls were being held captive in a shipping container.
The claim in this tweet is tied to one of QAnon's hallmark conspiracy theories, #SaveTheChildren. The #SaveTheChildren conspiracy claims that there is a ring of prominent Democratic politicians and celebrities trafficking and molesting children. Although this tweet does not include the save the children hashtag, it does include #RESCUEOURCHILDREN, another hashtag that often accompanies these claims about the state of child trafficking in the U.S.
The people who believe and pedal these conspiratorial claims often inflate the numbers of children actually being trafficked in the U.S. and around the world, and they've started to co-opt the authentic humanitarian effort by the Save The Children organization. The Save The Children organization reports that children account for 27% of the total human trafficking victims worldwide, and two out of every three children are girls.