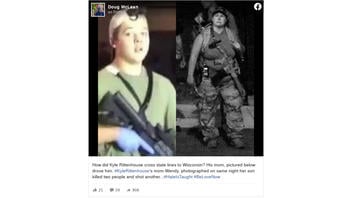 Does a photo show Kyle Rittenhouse's mother dressed in militia gear and carrying an AR-15 rifle at the Kenosha protest the same night her son allegedly killed two men and wounded a third? No, that's not true: The image used in a meme claiming Wendy Rittenhouse drover her son the 20 miles to Kenosha, Wisconsin, from his home in Antioch, Illinois, is from a photo taken at a Madison, Wisconsin, protest on a different night and there is no evidence she was at that event. As for how the teen got to the Kenosha protest, police have not released that information as of September 7, 2020.
The claim appeared in a post (archived here) on Facebook from Aug. 28, 2020, with following text:
How did Kyle Rittenhouse cross state lines to Wisconsin? His mom, pictured below drove him.

#

KyleRittenhouse

's mom Wendy, photographed on same night her son killed two people and shot another...

#

HateIsTaught

#

BeLoveNow

"
This is what the post looked like on Facebook at the time of writing:
(Source: Facebook screenshot taken on Tue Sep 1 11:47:29 2020 UTC)
Rittenhouse is accused of killing two men and seriously injuring a third during protests in Kenosha on Aug. 25, 2020, following the Aug. 23, 2020, police shooting of Jacob Blake, 29, who is paralyzed from the waist down after being shot seven times in the back.
The photo offered as proof Wendy Rittenhouse was on the scene in Kenosha apparently was cropped from this post on Aug. 26, 2020, about a protest in Madison, Wisconsin, 114 miles from Kenosha and two days earlier.
Here is the photo from which the image of the woman in camouflage has been snipped at the right edge of the group of people. No proof has been offered to establish that the woman in the photo is Wendy Rittenhouse.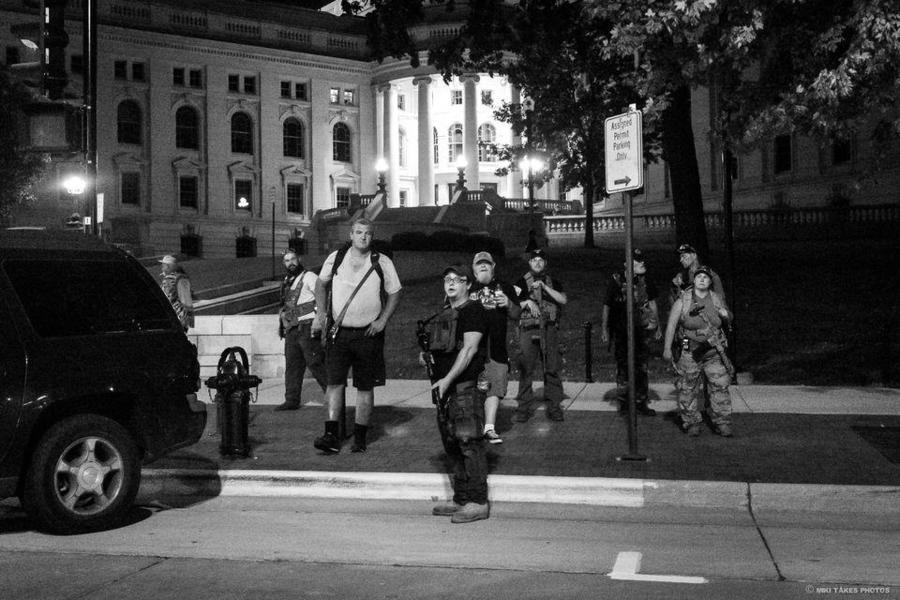 Even the original photographer of the picture allegedly showing Wendy Rittenhouse with a group of armed civilians takes issue with the posts going around social media claiming it is her.
People are sharing a photo I took of folks with guns at a protest in Madison & saying a woman in the photo is the mom of the shooter in Kenosha. This is highly unlikely. Why would she be in Madison? And they don't really look that much alike. Please don't spread misinformation. pic.twitter.com/nlO3TSNk2X

-- Miki Takes Photos (@MikiTakesPhotos) August 27, 2020
The post offers no evidence in support of the claim and no links to documentation. Lead Stories has reviewed the information released to date, and investigators have neither spoken about nor documented Wendy Rittenhouse's role, if any.
A statement released by Kyle Rittenhouse's attorney, John Pierce, summarizes the events from Rittenhouse's point of view, but does not say how the 17-year-old got to Kenosha.
In fact, the statement claims that Kyle and a "friend," as well as the weapons they carried that night, were already in the Kenosha area. The statement, from Aug. 28, reads in part:
After Kyle finished his work that day as a community lifeguard in Kenosha, he wanted to help clean up some of the damage, so he and a friend went to the local public high school to remove graffiti by rioters. Later in the day, they received information about a call for help from a local business owner, whose downtown Kenosha auto dealership was largely destroyed by mob violence. The business owner needed help to protect what he had left of his life's work, including two nearby mechanic's shops. Kyle and a friend armed themselves with rifles due to the deadly violence gripping Kenosha and many other American cities, and headed to the business premises. The weapons were in Wisconsin and never crossed state lines."
Lead Stories called investigators from the Kenosha Police Department, the Kenosha County district attorney and the Wisconsin Department of Justice Division of Criminal Investigation to check the claim. This report will be updated, if appropriate, when they respond.
According to media reports, Wendy Rittenhouse is a nurse's assistant, a single mother who lived with Kyle in an apartment in Antioch -- about a 30-minute drive from Kenosha. Here is a picture from The U.S. Sun of her and her son, who supports the Blue Lives Matter cause and was a police cadet: