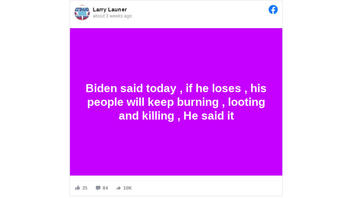 Did Joe Biden say that if he loses the presidential election, his people would keep burning, looting, and killing? No, that's not true: A post claimed the Democratic presidential nominee made that statement on August 31, 2020, which is the day Biden delivered a major address on public safety and law enforcement in Pittsburgh. Lead Stories examined the video and transcript of that speech and found Biden said exactly the opposite, condemning looting and violence as "wrong in every way."
The claim appeared in a post (archived here) shared on Facebook on August 31, 2020. It read:
Biden said today, if he loses, his people will keep burning, looting and killing, He said it
This is what the post looked like on Facebook at the time of writing:
(Source: Facebook screenshot taken on Fri Sep 25 00:17:15 2020 UTC)
This is a screenshot of the post: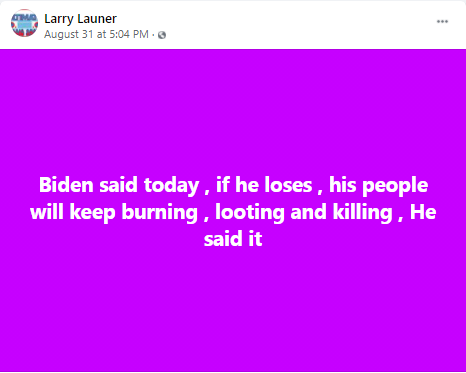 In fact, Biden said exactly the opposite in his speech on law enforcement and public safety delivered in Pittsburgh on August 31, 2020, the day the post claims he called for rioting and looting. This quote is about two minutes into the speech:
I want to make it absolutely clear, so I'm going to be very clear about all of this, rioting is not protesting. Looting is not protesting. Setting fires is not protesting. None of this is protesting. It's lawlessness, plain and simple. And those who do it should be prosecuted. Violence will not bring change, it will only bring destruction. It's wrong in every way. It divides instead of unites, destroys businesses, only hurts the working families that serve the community. It makes things worse across the board, not better.
Red the full transcript at this link and watch the full speech on C-SPAN: