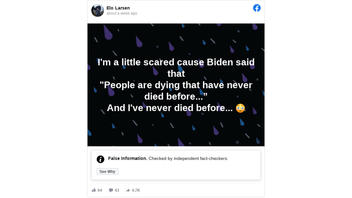 Did Vice President Joe Biden make the nonsensical statement: "People are dying that have never died before?" No, that's not true. A search of press coverage of Biden's remarks and databases of speeches turns up no version of the quote. The same exact quote was falsely attributed to President Donald Trump in March of 2020. The words closely track a quip attributed to the 20th century American novelist Ernest Hemingway.
The claim reappeared as a post (archived here) where it was published on Facebook on August 24, 2020. It opened:
I'm a little scared cause Biden said that
"People are dying that have never died before..."
And I've never died before...
This is what the post looked like on Facebook at the time of writing:
(Source: Facebook screenshot taken on Thu Sep 3 17:42:22 2020 UTC)
Memes with versions of the same quote falsely attributed to Biden circulated in early 2020 but were debunked by Reuters and PolitiFact at the time.
Now they've resurfaced again, but Biden has still not said, "People are dying that have never died before."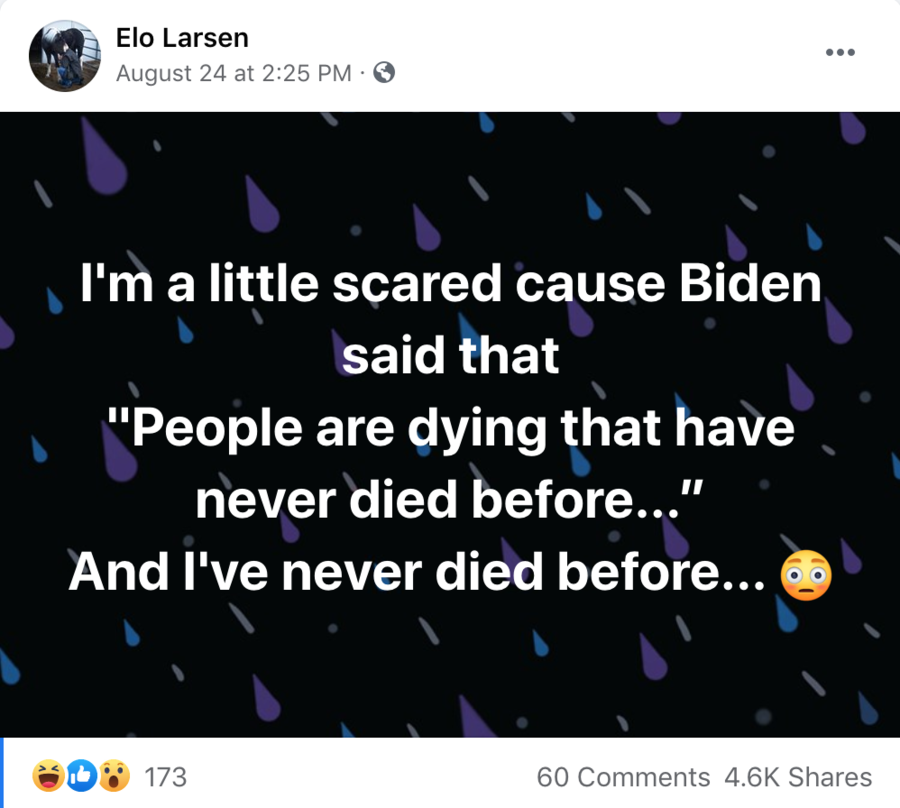 Searches of Biden's speeches since the debunks earlier in the year also do not turn up the phrase.
New Google searches and searches of Biden's recent speeches do not reveal the comment.
A search on AboutTrump.org, a database of verified comments by and about both Trump and Biden returned no matches for the phrase. The database is a public service project of the A Mark Foundation, a non-profit 501(c)(3) Private Foundation established in 1997.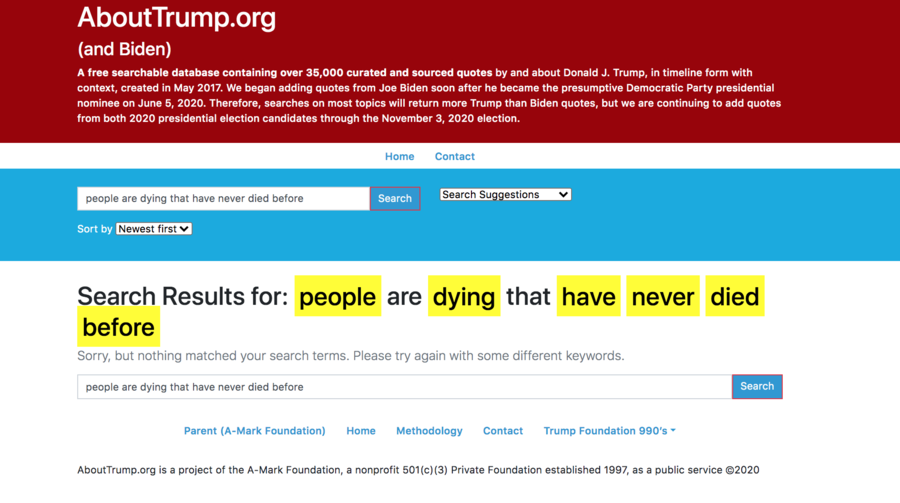 When the quote was falsely attributed to Trump in March, Lead Stories debunked it at that time in this report: Fact Check: Trump Did NOT Say 'People Are Dying Who Have Never Died Before'
The quote is a version of a phrase made popular by Ernest Hemingway, who is quoted as having responded to the death of some luminary by saying "Men are dying this year who have never died before." It's a phrase he also used in a 1930 letter to a friend named Henry Strater.