STORY UPDATED: check for updates below.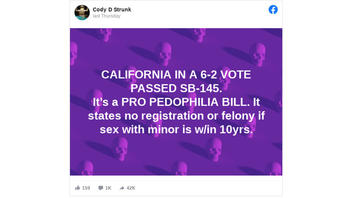 Did California pass a "pro pedophilia bill" that would make it legal to have sex with children? No, that's not true. A meme claims California Senate Bill 145 passed in a 6-2 vote and "no registration or felony if sex with minor is w/in 10 years." The bill is intended to protect LGBTQ+ minors from discriminatory laws, not to be "pro pedophilia" and it only applies to people who are convicted so it doesn't make things legal that were illegal before. The new law allows judges to use their discretion to place people on the sex offender registry if they are convicted of having un-forced oral or anal sex with a minor 14-17, and are within a 10 year age range. Judges previously only had this discretion if the unforced sex act was penile and vaginal.
The claim appeared as a post published August 28, 2020 on Facebook (archived here) with following text:
CALIFORNIA IN A 6-2 VOTE PASSED SB-145. It's a PRO PEDOPHILIA BILL. It states no registration or felony if sex with minor is w/in 10yrs.
This is what the post looked like on Facebook at the time of writing:
(Source: Facebook screenshot taken on Tue Sep 1 20:59:09 2020 UTC)
The Facebook post claimed a 6-2 vote passed SB 145 on August 28, 2020. That was posted after the bill left the Assembly Public Safety Committee with a vote of 6-2 in 2019. The bill was passed in both the Assembly and Senate in California on August 31, 2020. The bill will be sent to Governor Gavin Newsom to be signed. He has not stated publicly if he will sign the bill.
The bill was introduced to "end discrimination against young people engaged in voluntary sexual activity by allowing a judge to have discretion to sentence a person to be entered on the sex offenders registry," Catie Stewart, Senator Scott Wiener's spokesperson told Lead Stories. Wiener sponsored the bill along with the Los Angeles County District Attorney's office and the organization Equality California.
"We don't want to criminalize teens or LGBTQ+ teens if sex is consensual and within the appropriate age range. We are introducing parity so all types are treated equally," Stewart said.
The law has nothing to do with "felony" sex with a minor. Sex, forced or non-forced, with minors is still illegal in California and is still a felony. The age of consent in California is 18, the Wallin & Klarich law firm reported.

This law is for teens 14-17 who are in a consensual relationship with someone 18 and older, with 10 years of their age. If their case is taken to court and the person is found guilty of having non-forced sexual relations with a minor who is between 14-17, if they have vaginal sex the judge can consider not placing the offender on the sex offender registry. If the sex is anal or oral the judge was not allowed to consider NOT placing the offender on the sex offender registry, it was mandatory that they were placed on the list. This bill changed that law, allowing the judge to consider not placing the person on the sex offender registry list if the sex was anal or oral.
"This bill brings much-needed parity to California's sexual offender registration law," Los Angeles County District Attorney Jackie Lacey told Lead Stories. "This bill allows judges and prosecutors to evaluate cases involving consensual sex acts between young people, regardless of their sexual orientation, on an individual basis. I drafted this bill because I believe the law must be applied equally to ensure justice for all Californians."
Samuel Garrett-Pate, Communications Director for Equality California, the nation's largest statewide LGBTQ+ civil rights organization, shared the organization's press release with Lead Stories, addressing what the law was aiming to change.
This distinction in the law -- which is irrational, at best, as it treats oral and anal sex as "worse" than penile-vaginal sex -- is a relic of times when all forms of sexual intercourse other than vaginal intercourse were illegal (anti-sodomy laws). Although California's anti-sodomy laws were repealed more than 40 years ago, this discriminatory relic of the past remains and is harming young people."
Garrett-Pate explained to Lead Stories with a specific example:
If a straight high school couple has penile-vaginal sex and the man is 18 and the girlfriend is 17, he is guilty of a crime. But the judge is not required to place him on the sex offender registry. The judge has the discretion to make the decision. If a gay high school couple has anal or oral sex and one of them is 18 and the other is 17, the 18-year-old is guilty of a crime. Previously, the judge had to place that person on the sex offender registry, purely because of the nature of the sex act. This law changes that discrimination."
According to Equity California:
SB 145 does not legalize any kind of sex with a minor and does not change the potential sentence for having sex with an underage person. Rather, the bill simply gives judges the ability to evaluate whether or not to require registration as a sex offender. To be clear, this judicial discretion for sex offender registration is *already* the law for penile-vaginal intercourse when the minor is aged between 14 to 17 years old and the offender is within 10 years of age of the minor. SB 145 simply extends that same discretion to other forms of intercourse. A judge will maintain the authority to place someone on the registry if the behavior at issue was predatory or otherwise egregious. This change will treat straight and LGBTQ+ youth equally, end the discrimination against LGBTQ+ people, and ensure that California stops stigmatizing specific sexual acts."
2020-09-07T10:25:57Z

2020-09-07T10:25:57Z

Updated title of this story to better reflect the claims being made about SB-145. The previous headline only said people claimed the bill was "pro pedophilia", it is more accurate to say people are claiming it makes pedophilia legal by removing felony status. As you can read above this is not actually true.