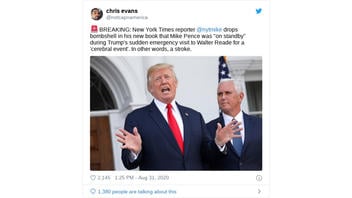 Does an upcoming book on President Donald Trump report he suffered a mini-stroke or other cerebral event when he unexpectedly went to Walter Reed National Military Medical Center in November of 2019? No, that's not true: Posting on Sept. 1, 2020 in response to the claim, the book's author -- New York Times reporter Michael Schmidt -- wrote that he does not make that assertion in the book.
The claim appeared in a tweet (archived here) where it was published Aug. 31, 2020 on the on the @notcapnamerica Twitter account under the title "BREAKING".
It opened:
New York Times reporter @nytmike drops bombshell in his new book that Mike Pence was "on standby" during Trump's sudden emergency visit to Walter Reade for a 'cerebral event'. In other words, a stroke.
This is what the post looked like on Twitter at the time of writing:
(Source: Twitter screenshot taken on Tue Sep 1 23:25:35 2020 UTC)
The speculation that Trump may have had a stroke, a transient ischemic attack or other cerebral event intensified after Schmidt released excerpts from "Donald Trump v. The United States." In the book, Schmidt makes an unattributed claim that Vice President Mike Pence was put on standby to assume the presidency if Trump had to be anesthetized while at Walter Reed.
Speculation about President Trump's health started in 2019 after the unannounced trip to the U.S. military's medical center, where Presidents are often treated. The White House Press Pool is typically apprised of significant events on the President's schedule. At the time, The White House said Trump had some free time and decided to have part of his regular physical checkup done, but some observers said the unannounced trip to the doctor was out of the ordinary.
When the @notcapnamerica post went viral, President Trump and the White House physician both made public statements denying the president had a stroke, transient ischemic attack or any other type of cerebral issue.
Trump took to Twitter on Sept. 1, 2020 to blast the media for speculation , speculation which has never been reported on mainstream news outlets.
It never ends! Now they are trying to say that your favorite President, me, went to Walter Reed Medical Center, having suffered a series of mini-strokes. Never happened to THIS candidate - FAKE NEWS. Perhaps they are referring to another candidate from another Party!

-- Donald J. Trump (@realDonaldTrump) September 1, 2020
In response, Schmidt Tweeted that the book did not mention mini-strokes.
The book says nothing about a "cerebral event." It just says that Pence was on standby if they needed to anesthetize Trump for a procedure.

-- Michael S. Schmidt (@nytmike) August 31, 2020
To further tamp down speculation, White House physician Dr. Sean P. Conley addressed the the public comments about his patient's health. Conley said in a statement that was then published on Twitter:
I can confirm that President Trump has not experienced nor been evaluated for a cerebrovascular accident (stroke), transient ischemic attack (mini stroke), or any acute cardiovascular emergencies, as have been incorrectly reported in the media...
The doctor said Trump remains healthy and the physician expects the president will remain fit to execute the duties of his office.