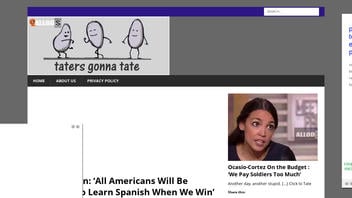 Did Jill Biden say all Americans will be required to learn Spanish if her husband, Joe Biden, wins the presidency November? No, that's not true: This is a satirical article. Jill Biden, who holds a doctorate in education from the University of Delaware, frequently talks about her love for teaching. As Second Lady, she taught at a community college in Northern Virigina, and has said that she plans to continue to teach if she becomes the First Lady in November. Requiring all Americans to learn Spanish is not part of this plan.
The claim originated from an article (archived here) published on August 20, 2020 by the known satire website, tatersgonnatate.com. It's titled "Dr. Jill Biden: 'All Americans Will Be Required to Learn Spanish When We Win'" and it opened:
Dr. Jill Biden, former English teacher, and wife of Presidential hopeful Joe Biden, appears to be counting her huevos before they hatch.

Her only initiative as First Lady will be to require all Americans to learn Spanish. As everyone knows, there's only one language that we speak in the United States and that is English.
Users on social media only saw this title, description and thumbnail:
Not in our America!
Tatersgonnatate.com is part of the "America's Last Line of Defense" network of satire websites run by self-professed liberal troll Christopher Blair from Maine along with a loose confederation of friends and allies. He runs several websites and Facebook pages with visible satire disclaimers everywhere. They mostly publish made-up stories with headlines specifically created to trigger Republicans, conservatives and evangelical Christians into angrily sharing or commenting on the story on Facebook without actually reading the full article, exposing them to mockery and ridicule by fans of the sites and pages.
Every site in the network has an about page that reads (in part):
About Satire
Before you complain and decide satire is synonymous with "comedy":

sat·ire
ˈsaˌtī(ə)r
noun
The use of humor, irony, exaggeration, or ridicule to expose and criticize people's stupidity or vices, particularly in the context of contemporary politics and other topical issues.

Everything on this website is fiction. It is not a lie and it is not fake news because it is not real. If you believe that it is real, you should have your head examined. Any similarities between this site's pure fantasy and actual people, places, and events are purely coincidental and all images should be considered altered and satirical. See above if you're still having an issue with that satire thing.
Articles from Blair's sites frequently get copied by "real" fake news sites who omit the satire disclaimer and other hints the stories are fake. One of the most persistent networks of such sites is run by a man from Pakistan named Kashif Shahzad Khokhar (aka "DashiKashi") who has spammed hundreds of such stolen stories into conservative and right-wing Facebook pages in order to profit from the ad revenue.
NewsGuard, a company that uses trained journalist to rank the reliability of websites, describes tatersgonnatate.com as:
A network of sites that publish false stories and hoaxes that are often mistaken for real news, run by hoax perpetrator Christopher Blair.
According to NewsGuard the site does not maintain basic standards of accuracy and accountability. Read their full assessment here.