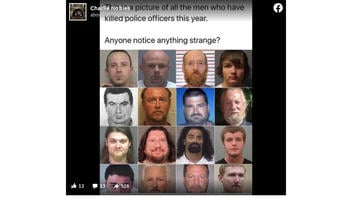 Did all of the people pictured in this meme kill police officers this year? No, this is an old meme from 2016. That caption is undated and the phrasing is unclear. The 16 people pictured were eventually found guilty of killing one or more law enforcement officers, or they died at the scene, but they do not represent all of the people who killed police officers in 2016. Further, the meme's caption implies that only white men killed police officers, which was not the case.
The old 2016 meme reappeared in a post (archived here) on Facebook on September 16, 2020. The text of the meme reads:
This is a picture of all the men who have killed police officers this year.
Anyone notice anything strange?
This is what the post looked like on Facebook at the time of writing:
(Source: Facebook screenshot taken on Wed Sep 23 16:41:58 2020 UTC)
This collection of mugshots and the identical caption was posted as a tweet (archived here) on December 14, 2016, by an account called FergusonActivist.
A picture of all of the men who have killed police officers this year.

Anyone notice anything strange? @search4swag #Ferguson pic.twitter.com/DEUATWckPg

-- FergusonActivist (@Doge4ferguson) December 14, 2016
The focus of this fact check is not any of the individual cases but the claim as a whole. Using reverse image search, Lead Stories confirmed that each of the 16 photos included in the meme are associated with people who killed law enforcement officers in 2016, or who were charged in those deaths. Image search results were associated with news reports that appear in a numbered list below.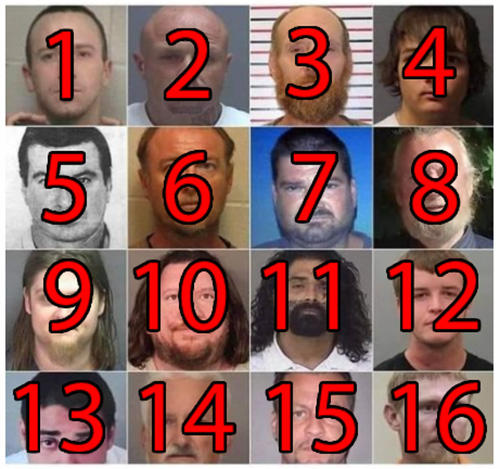 1. KNOX COUNTY, OH January 17, 2016
Jury trial date set for alleged cop killer
2. HOLLADAY, UT January 17, 2016
UDC: Multiple errors led to release of fugitive who killed Officer Doug Barney
3. SEASIDE, OR February 5, 2016
Seaside officer shot while attempting to arrest man has died, officials say
4. GRAND JUNCTION, CO February 11, 2016
Mesa County sheriff's deputy taken off life support two days after shooting
5. ABINGDON, MD February 10, 2016
He was declared dead, then killed two deputies. How?
6. FARGO, ND February 11, 2016
Suspected shooter in Fargo standoff was charged with murder in 1988
7. IUKA, MS February 21, 2016
Mom: Police didn't let me talk to son during standoff
8. BAILEY, CO February 25, 2016
Park County authorities, aware of Martin Wirth's threats, considered SWAT operation before deadly eviction
9. KOKOMO, IN March 20, 2016
Nine arrested on drug charges in Deputy Koontz shooting investigation
10. COLUMBUS, OH April 9, 2016
Columbus Officer Dies After Being Shot During Standoff
11. ALAMOGORDO, NM September 2, 2016
Officer gunned down in New Mexico by face-tattooed suspect
12. CLAYTON, MO October 6, 2016
Charges filed in murder of Officer Blake Snyder
13. PALM SPRINGS, CA October 9, 2016
Suspected gunman's dad knew he wanted to shoot police
14. PEACH COUNTY, GA November 6, 2016
Suspected gunman in slaying, shooting of deputies is father of young cop
15. ST. JOSEPH, MI July 11, 2016
Larry Darnell Gordon, 44, identified as Berrien County courthouse shooter
16. LAS CRUCES, NM August 12, 2016
Hanes to face federal charges next year
The website we used for a reference to see if any cases were omitted is the Officer Down Memorial Page. It is searchable by year, as well as by cause of death. There are 64 officer memorials on the website that indicated a death by gunfire in 2016. Following the chronological list on the Officer Down Memorial Page it is apparent the person who designed this meme intentionally passed over some incidents to present a skewed racial makeup of people who had killed police officers.
For the purpose of examining the basic claim of this meme, the search was limited to gunfire. Killings of officers by other means may be absent.
The Officer Down Memorial Page describes its mission this way:
The Officer Down Memorial Page, Inc., (ODMP) is a non-profit organization dedicated to honoring America's fallen law enforcement officers. More than 24,000 officers have died in the line of duty in the United States since 1776 and ODMP is honored to preserve their memories and give friends, family, other officers, and citizens alike the opportunity to remember the fallen and honor their sacrifices.
We compiled a new collage of 16 mugshots. This does not represent the full year of 2016, it only goes to May 9. Articles associated with the additional incidents are listed below.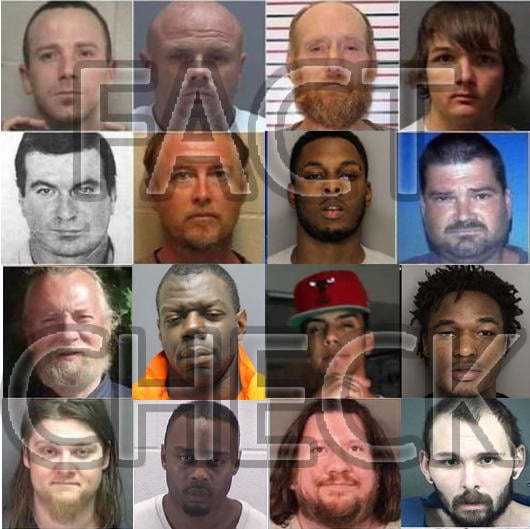 Pictures of people who killed police officers between January 1, and May 9, 2016
RIVERDALE, GA February 12, 2016
Suspect charged in Georgia lawman's shooting death
MANASSAS, VA February 27, 2016
Ronald Hamilton gets 7 life terms for killing wife, rookie police officer Ashley Guindon
EULESS, TX March 1, 2016
Family: Sexual abuse, drugs altered man who killed Euless officer
GREENVILLE, SC March 18, 2016
Officer Allen Jacobs shot, killed; Teen shooter killed self, police say
RICHMOND, VA March 31, 2016
Gunman in Fatal Shooting of Virginia Trooper ID'd as James Brown III
KANSAS CITY, KS May 9, 2016
Preliminary hearing is set for accused killer of KCK police detective Brad Lancaster