STORY UPDATED: check for updates below.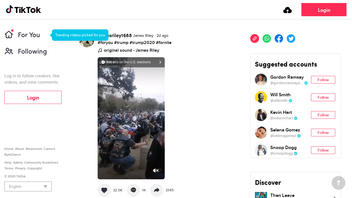 Does a video uploaded on TikTok by user James Riley show bikers praying for President Trump at Walter Reed hospital? No, that's not true: the video was first uploaded by Riley on September 12, 2020, well before the President was diagnosed with Covid-19 and taken to Walter Reed. The confusion might have arisen after Riley re-uploaded the video two days ago with the hashtags "#foryou #trump #trump2020 #fornite". The video appears to actually show an event that took place in South Africa on August 29, 2020.
Shortly after President Trump was admitted to hospital, copies of the video started appearing on social media claiming to show bikers praying for the President at Walter Reed hospital, for example in this Facebook post:
(Source: Facebook screenshot taken on Sun Oct 4 08:01:02 2020 UTC)
The re-uploaded video (archived here) can be seen on TikTok here with the hashtags:
#foryou #trump #trump2020 #fornite
Here is an embedded copy of the video:
But if you look at the username embedded in the video you will see that it appears superimposed over an earlier watermark with the username, which indicates this video is not the original: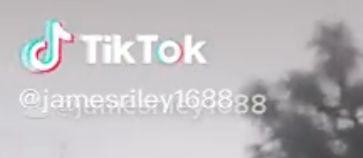 And indeed, by scrolling through the timeline of @jamesriley1688 on TikTok we were able to determine he originally uploaded the same video (archived here) several week ago on September 12, 2020:
The comments on that video seem to indicate the event where the video was filmed was about remembering 9/11.
However it appears the video was actually filmed in Pretoria, South Africa. The artillery piece and the building that can be seen in the first few frames of the video match exactly with those found near Union Building in Pretoria, South Africa: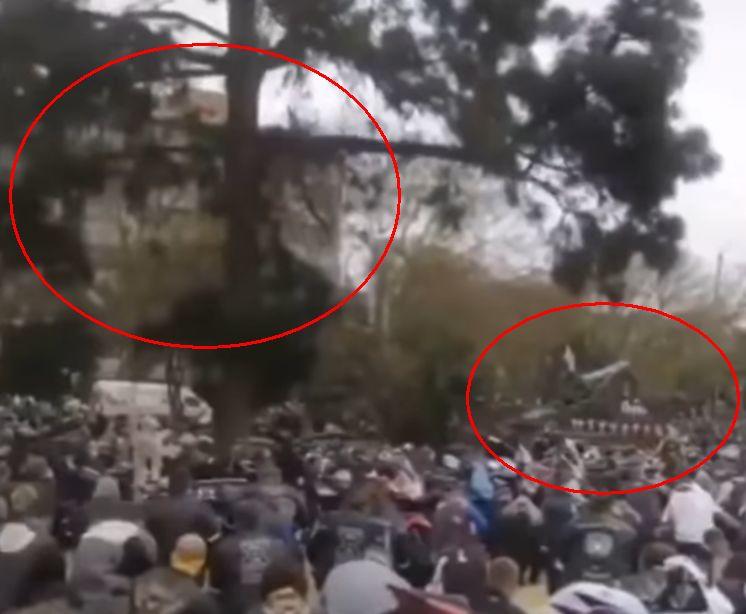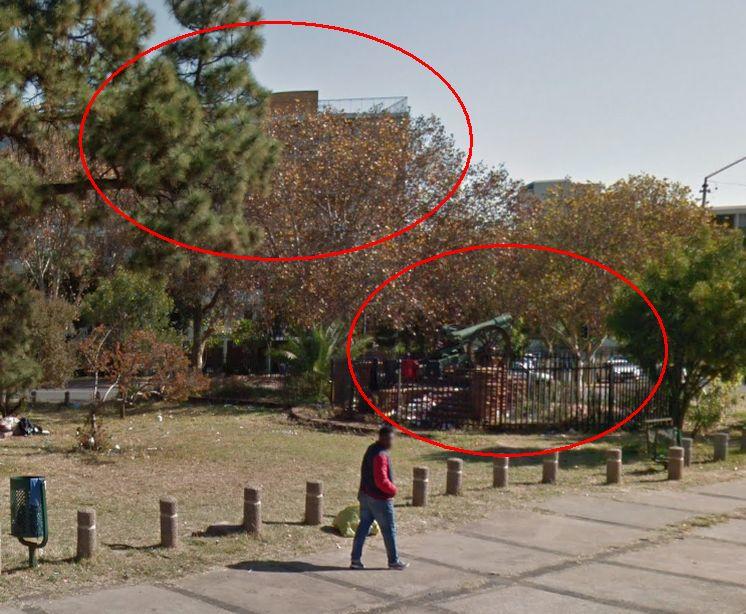 It appears to be the South Africa Heavy Artillery Memorial. On August 29, 2020 thousands of bikers in South Africa took part in a protest against farm murders, it appears the video is footage from that event. That would explain the distinct lack of American flags and Trump campaign signs. Here is more footage from the event (archived here), up close to the monument:
None of this means there was no show of support from President Trump's supporters outside the hospital. A crowd did gather, as evidenced by this video published on Twitter by Dan Scavino, the President's Deputy Chief of Staff for Communications:
𝙏𝙃𝘼𝙉𝙆 𝙔𝙊𝙐 to all of the Great American Patriots who have come out tonight, in support of @realDonaldTrump at Walter Reed Medical Center. We'll all get through this, TOGETHER! #MAGA🇺🇸🦅 pic.twitter.com/MkM1XWSpdQ

-- Dan Scavino🇺🇸🦅 (@DanScavino) October 4, 2020
Both the official Trump campaign Twitter account @TrumpWarRoom (who retweeted it) and President Trump's son Eric (who quote tweeted it) were taken in by the falsely labeled video.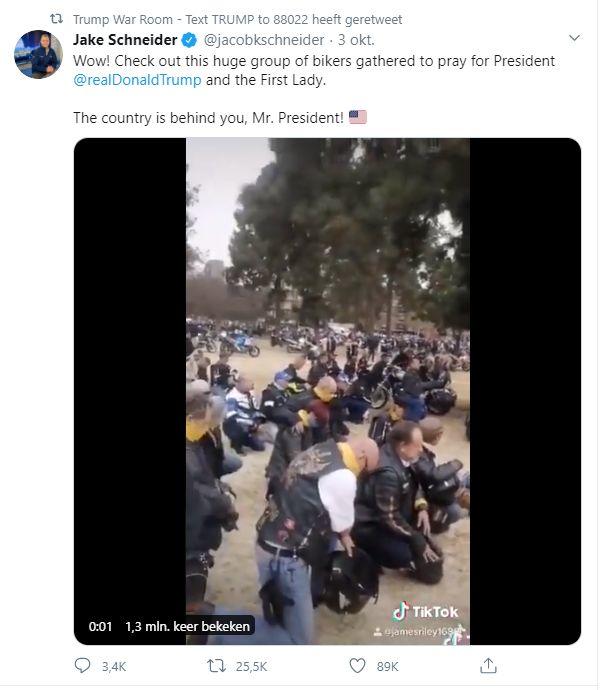 Amazing! https://t.co/qeocGSCk1R

-- Eric Trump (@EricTrump) October 4, 2020
2020-10-05T08:41:09Z

2020-10-05T08:41:09Z

Added info about the Trump campaign and Eric Trump being fooled by the falsely labeled video.

2020-10-05T08:31:24Z

2020-10-05T08:31:24Z

Added info about the South African origin of the video.

2020-10-04T11:28:20Z

2020-10-04T11:28:20Z

Added Dan Scavino video