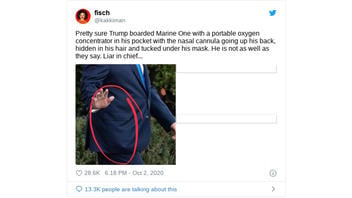 Did President Trump carry a portable oxygen concentrator in his coat pocket to help him breathe as he walked from the White House to Marine One on his way to Walter Reed National Military Center on October 2, 2020? No, that's not true: A close examination of videos shot by news cameras does not support the claim that the president had such a device in his pocket, and there is no nasal cannula visible to deliver oxygen under his mask.
The claim appeared in a tweet (archived here) posted on October 3, 2020, showing low-resolution screenshots of a TV broadcast, with the message:
Pretty sure Trump boarded Marine One with a portable oxygen concentrator in his pocket with the nasal cannula going up his back, hidden in his hair and tucked under his mask. He is not as well as they say. Liar in chief...
This is what the post looked like on Twitter at the time of writing:
(Source: Twitter screenshot taken on Sat Oct 3 18:22:46 2020 UTC)
Since Twitter quickly suspended the account that posted the claim, this is a screenshot at the time of writing: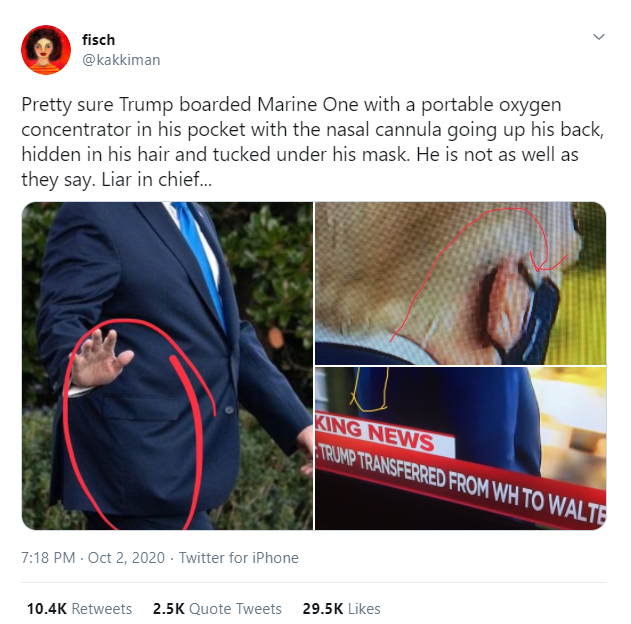 We examined two videos, including one that gave the best view of Trump's head to see if there was a tube running up his neck and under his mask to deliver oxygen and another that showed Trump's coat pocket to see if it may have held a portable oxygen concentrator.
This is a typical nasal cannula, a tube that carries oxygen to a patient's nostrils.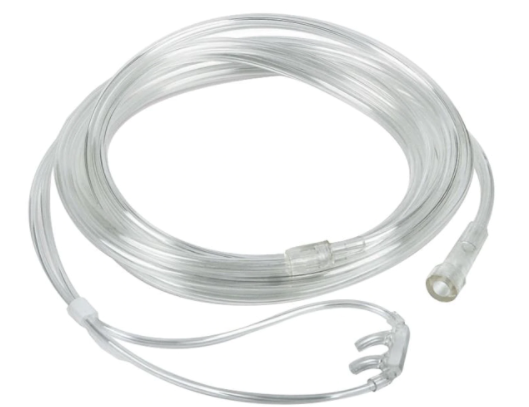 Watch this raw video of the president leaving the White House for evidence of a nasal cannula on his neck or leading under his mask:
This is a short clip edited by Lead Stories to show a more stable view of Trump's head:
We examined individual frames of the neck, head and mask. This shows the approximate frame used in the tweet to claim that there is a tube running up the neck. This is a string of hair that might be confused for a tube in a low-resolution image: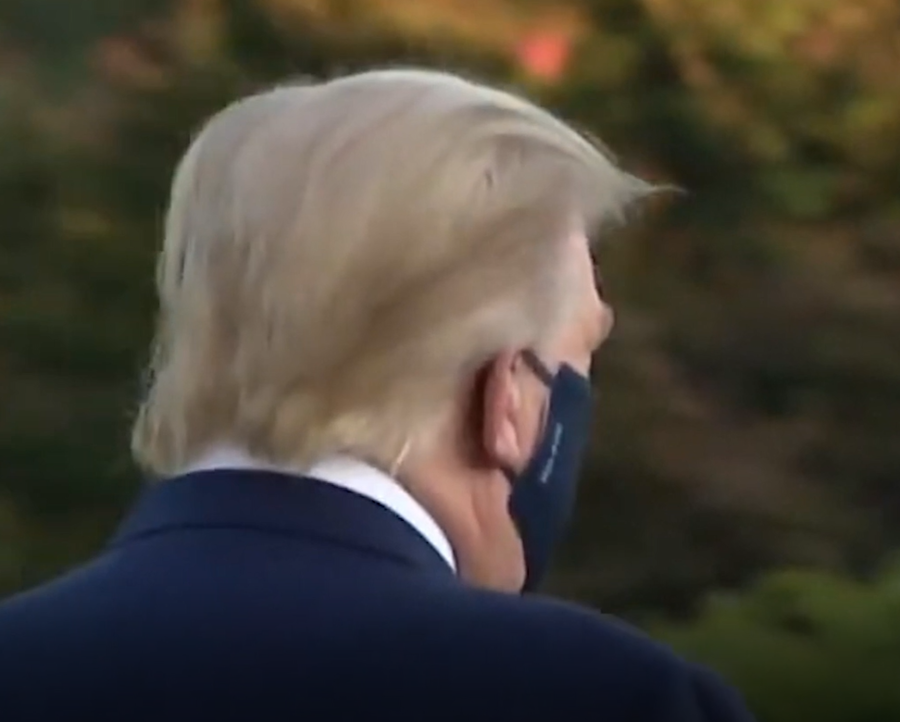 But a short time later, we see a side view that reveals it is just hair and there is no tube: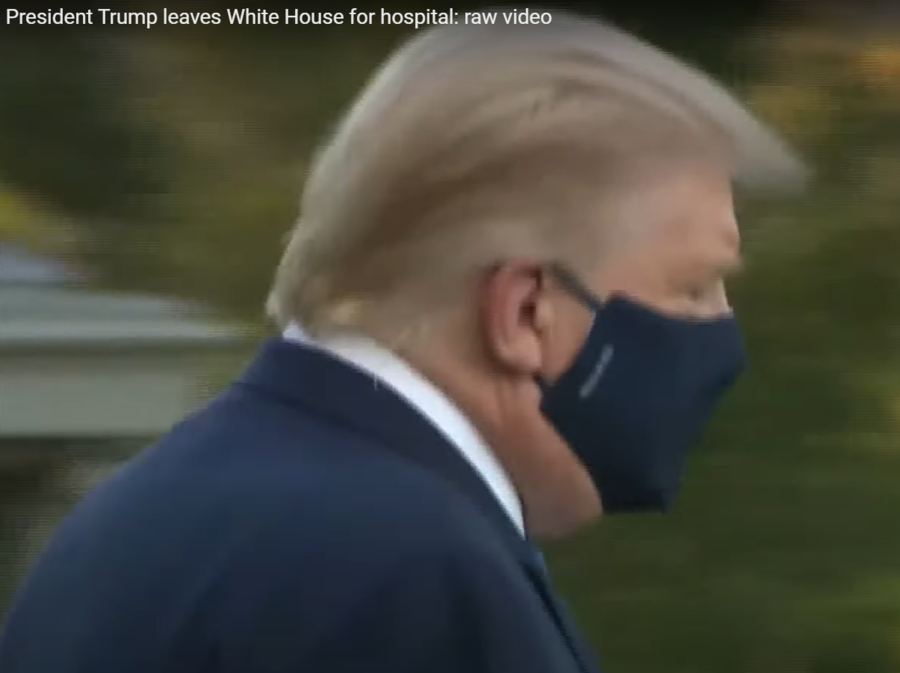 Look at the other angle. You will not see a tube on the neck, head, or running into the mask.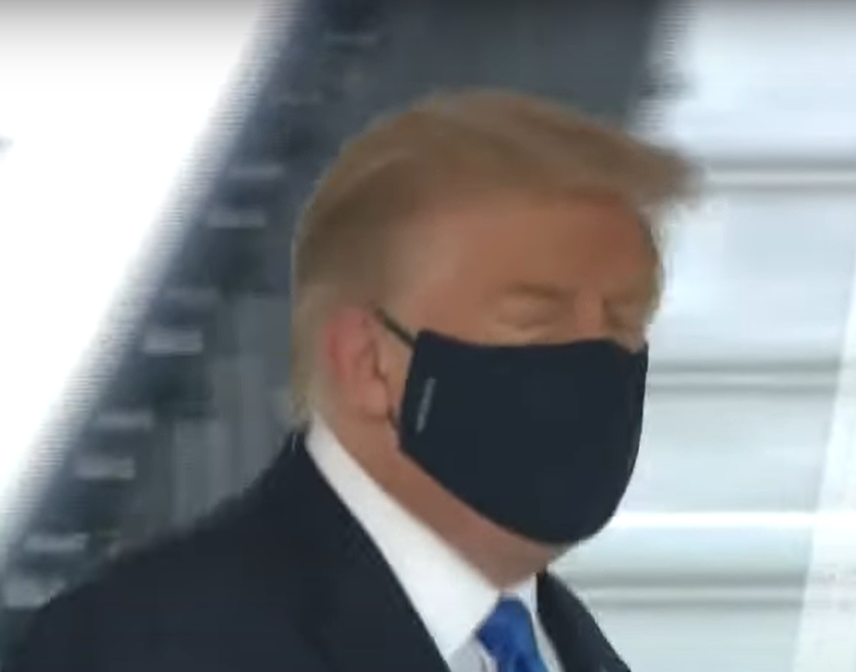 The next area of examination is the coat pocket, where Trump allegedly carried a portable oxygen concentrator. A medical supply website described the device:
An oxygen concentrator is a medical device that helps deliver oxygen therapy to people who have low levels of oxygen in their blood. These individuals require higher oxygen concentration than available in ambient air. Portable oxygen concentrators are smaller in size that stationary home oxygen concentrator units and are therefore more mobile. They are small enough to carry around, most are FAA-approved for air travel, and can operate on a battery for added flexibility.
While the devices keep getting smaller, we could find none that would fit in a suit coat pocket and not be obvious. This Inogen One G4 Portable Concentrator is advertised as the smallest on the market: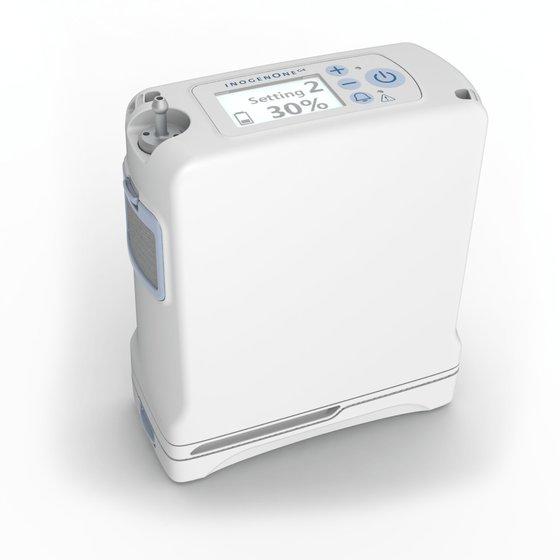 As the smallest, it still weighs nearly 3 pounds and measures 5.91 inches wide, 2.68 inches deep and 7.2 inches high. The opening on a men's suit coat pocket is typically about six inches. No one could stuff this device in the pocket, certainly without it being easily noticed.
With this in mind, watch this CNN video of Trump leaving the White House:
This is a frame from that video showing a side view of Trump, with the pocket visible: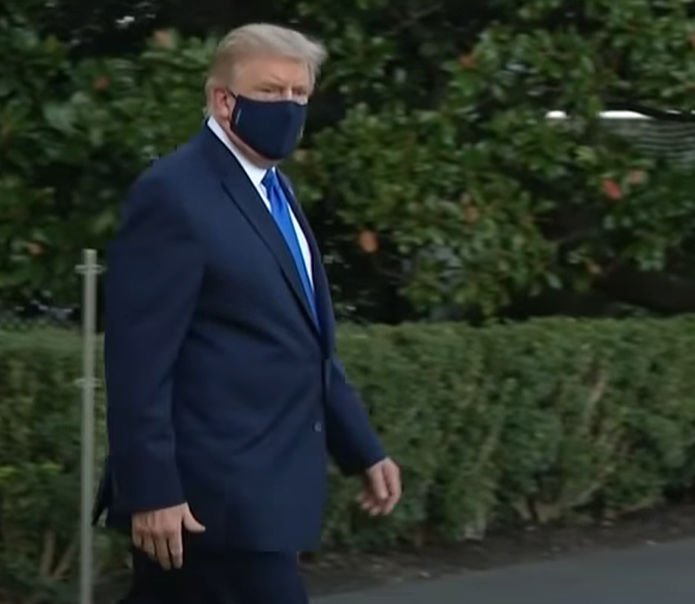 And now see a zoomed shot of the same frame: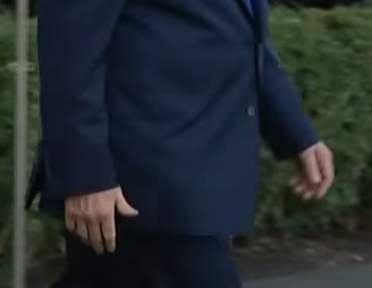 We see nothing buldging from the coat. But let's check another frame: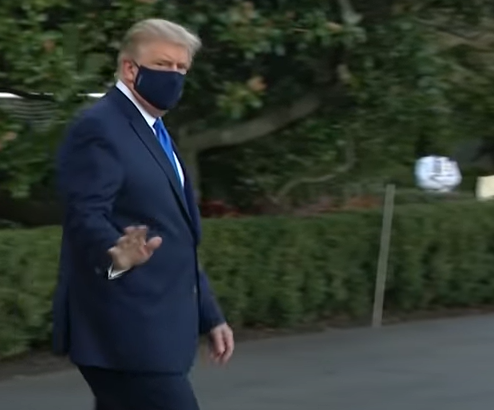 And we zoom in on this one: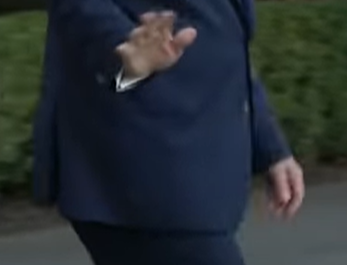 Again, no device indicated. For the skeptics, we offer one more screenshot: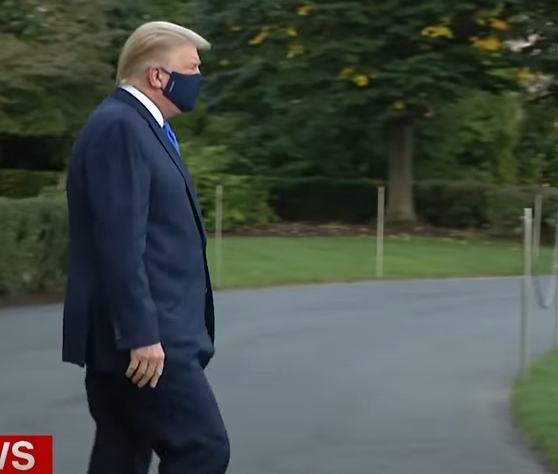 And the close up: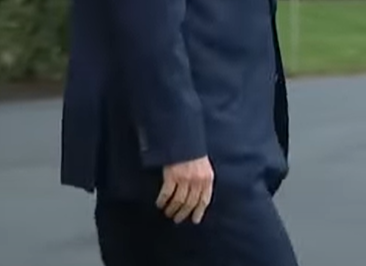 Nothing to see here.
And the kicker: Why would the president try to sneak a portable oxygen concentrator by the gaggle of journalists with high-powered cameras as he walked just 40 seconds from the White House to the helicopter? If he is that sick, then he has bigger worries. We can assume the doctor on the helicopter with him would have any devices he needed on board.