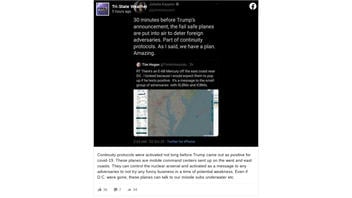 Was an airborne command center of the type Boeing E6A (or E6B) Mercury readying for any kind of invasion when it took off even before President Trump announced he and the First Lady tested positive for COVID-19? No, there is no current evidence to support that assumption, which is flying around social media. Some reporters and experts have taken to social media to counter the assumption, noting the planes have flown routinely every day over the past month. As of now, there is no evidence the planes, capable of controlling the U.S. nuclear arsenal, were preparing for attack in the aftermath of the COVID announcement by President Trump. Instead, U.S. Strategic Command told reporters it was "purely coincidental."
An example of the claim can be found in a post (archived here) put up on Facebook on October 2, 2020 on the page of "Tri-State Weather". The post, with a screenshot of a Twitter post below it, read:
Continuity protocols were activated not long before Trump came out as positive for covid-19. These planes are mobile command centers sent up on the west and east coasts. They can control the nuclear arsenal and activated as a message to any adversaries to not try any funny business in a time of potential weakness. Even if D.C. were gone, these planes can talk to our missile subs underwater etc.
This is what the post looked like on Facebook at the time of writing:
(Source: Facebook screenshot taken on Fri Oct 2 12:28:30 2020 UTC)
Here is a screenshot of the post, which is easier to see and read;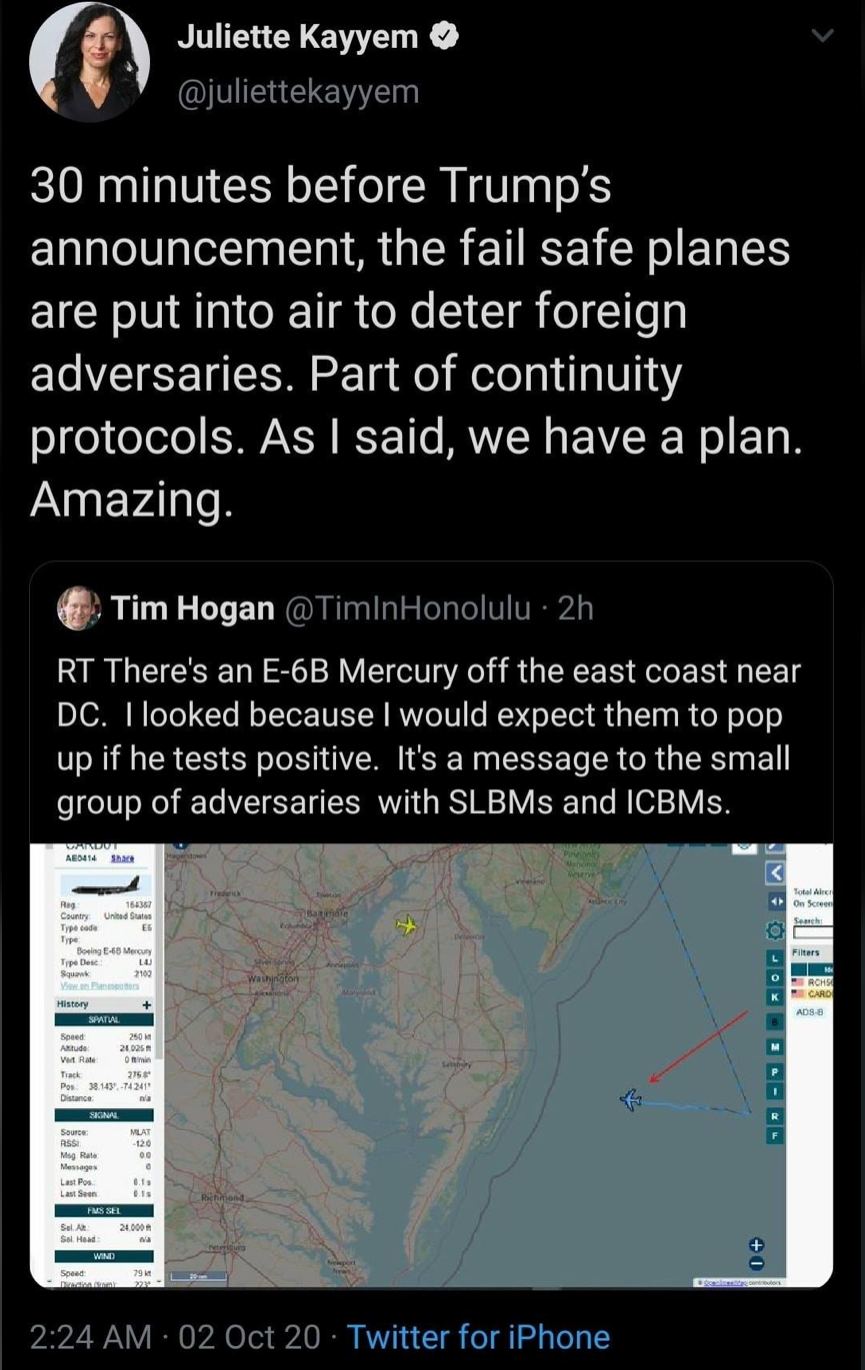 Here is the President's tweet announcing the test results that sent the speculation flying:
Tonight, @FLOTUS and I tested positive for COVID-19. We will begin our quarantine and recovery process immediately. We will get through this TOGETHER!

-- Donald J. Trump (@realDonaldTrump) October 2, 2020
Here is the tweet that started the rumor:
RT There's an E-6B Mercury off the east coast near DC. I looked because I would expect them to pop up if he tests positive. It's a message to the small group of adversaries with SLBMs and ICBMs. pic.twitter.com/3ta9PmPxZD

-- Tim Hogan (@TimInHonolulu) October 2, 2020
Hogan probably knew that President Trump was being tested after seeing the news about Hope Hicks that President tweeted earlier:
Hope Hicks, who has been working so hard without even taking a small break, has just tested positive for Covid 19. Terrible! The First Lady and I are waiting for our test results. In the meantime, we will begin our quarantine process!

-- Donald J. Trump (@realDonaldTrump) October 2, 2020
U.S. Strategic Command has yet to answer our query, but we will update once it is received. Still, Strategic Command told Fox News that the flights were "purely coincidental." From Fox on Oct. 2:
Two Boeing E-6B Mercury planes were detected flying along both coasts of the U.S. mainland early Friday, around the time President Trump announced he and first lady Melania Trump were diagnosed with coronavirus -- but the flights were "pre-planned" and the timing was "purely coincidental," a U.S. Strategic Command spokesman told Fox News.
As of now, there is no evidence to support any suggestion that the COVID announcement had prompted the flights to ready for an attack on the U.S. The planes -- reported to be two Boeing E-6B Mercury aircraft-- make routine flights.
Consider this tweet from Christiaan Triebert of The New York Times:
There's a lot of chatter about those "airborne nuclear command centers", but these two Boeing E6A Mercury aircraft were indeed flying almost daily since over the past month, publicly available flight data shows: the AE0414 flew at least on 20 days, and the AE0415 at least 14. https://t.co/5oe0biHDIF

-- Christiaan Triebert (@trbrtc) October 2, 2020
The thread continued with this:
And here's more, from @Aviation_Intel. Thanks @AllyMenthol for flagging. https://t.co/anJFvayCne

-- Christiaan Triebert (@trbrtc) October 2, 2020
This post from @southpaw also notes the routine missions:
From what I understand, these aircraft fly daily missions. So you could almost always point to one on a radar screen, make a coin flip prediction about some other US govt thing in the news, and collect your retweet winnings if it comes true. There's no evidence of any linkage. https://t.co/QGfQzMBxtl

-- southpaw (@nycsouthpaw) October 2, 2020
Triebert is a visual investigative reporter at the Times. Tyler Rogoway, who also tweeted about the planes being up at the time, is the editor of The War Zone:
E-6B TACAMOs showing up on ADS-B tracking sites means nothing. They are up all the time. Could their posture have changed a bit, possibly, but there is no real evidence of that. I have a piece coming on the strategic implications of POTUS getting COVID, stay tuned.

-- Tyler Rogoway (@Aviation_Intel) October 2, 2020
Early on Oct. 2, he posted a story to the site, which included this:
A huge part of continuity of government operations, in particular those related to the resilience of the President and his cabinet, have to do with being able to be quickly whisked away in a crisis to a safer location that is equipped with advanced command and control capabilities. HMX-1, the Marine squadron that flies Marine One, is on standby at Naval Support Facility Anacostia, located just three miles from the White House, ready to scoop-up the President and move them to a number of alternative operating locations, including Raven Rock, Mount Weather, Camp David, Air Force One, or an E-4B Advanced Airborne Command Post, among others.

In this particular case, this would require the President carrying a highly infectious disease to fly in enclosed aircraft and to operate in facilities that are by their very nature 'buttoned up' in order to keep the pandemic from taking the entire facility offline, which would be an unthinkable weakness in America's security. You can read all about the extreme measures that have been put in place at these highly-secure hardened command centers in the age of COVID-19 in this past War Zone exclusive. As such, bringing an infected President into such an environment would compromise its very mission and set up a ticking clock, since it could eventually be unable to execute that mission for some time due to contamination and illness among its staff.

The reality is that even for far less extreme crises and emergency situations, the same issues apply. During a less severe incident, the President would occupy the Situation Room, which is not a highly hardened facility, but it is notoriously cramped and crammed with the Executive Branch's key decision-makers and military leadership. During an event where the White House would need to elevate its security posture, the President, their cabinet, and their family will descend into the Presidential Emergency Operations Center (PEOC). This is an actual bunker buried beneath the White House. You can read all about the PEOC and its expansion in this past post of ours. In the case of the PEOC, you are living inside a tight, fully enclosed environment, with the top leadership of the country working shoulder to shoulder. It is tight quarters on a normal day. It would be an absolute nightmare during a pandemic that has penetrated into the White House."