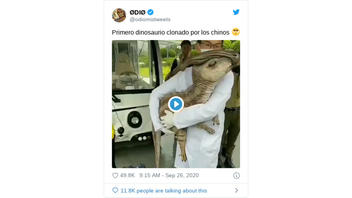 Is this a video of a cloned live dinosaur? No, that's not true: This is a very life-like puppet, although the blinking eyes and the small roars are definitely a tad convincing.
The claim appeared in a tweet (archived here) published on September 26, 2020, with the Spanish-language caption:
Primero dinosaurio clonado por los chinos
In English, this caption reads, "First dinosaur cloned by the Chinese." This is what the post looked like on Twitter at the time of writing:
(Source: Twitter screenshot taken on Fri Oct 2 16:11:51 2020 UTC)
This video was previously posted by the Twitter account @JurassicOutpost, on September 25, 2020. Jurassic Outpost is one of the largest fan-run news websites dedicated to covering the Jurassic Park and Jurassic World franchise.
Real baby dinosaurs?

Check out this young Parasaurolophus new to Jurassic World the Exhibition! pic.twitter.com/BtSO7Hld9L

-- Jurassic Outpost (@JurassicOutpost) September 25, 2020
"It is indeed not a real dinosaur and not being advertised as one. The real dinosaur phrase in the tweet was tongue in cheek as it is a life-like puppet created for the 'Jurassic World: The Movie Exhibition'," said Josh Evans, a writer and researcher at Jurassic Outpost. This exhibition is currently taking place in Chengdu, China.
The video does not make it clear that the man in the video is actually the puppet master, as both of his arms appear to be holding the dinosaur. But that's just the trick -- one of those arms is fake and his real arm is actually inside the puppet. The following is another video using the same technique: