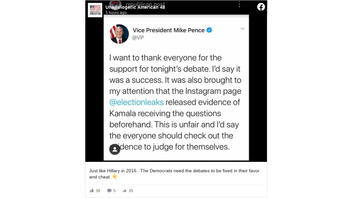 Did Vice President Mike Pence tweet that there was "evidence of Kamala receiving the questions beforehand" about their debate? No, that's not true. A fake Pence tweet claimed Sen. Kamala Harris, the Democratic nominee for vice president, received the October 7, 2020, debate questions "beforehand." Pence did not post the tweet on his personal account nor on his official government account.
The claim appeared as a post (archived here) where it was published on Facebook on October 8, 2020. It opened:
Just like Hillary in 2016...The Democrats need the debates to be fixed in their favor and cheat.
October 8, 2020
This is what the post looked like on Facebook at the time of writing:
(Source: Facebook screenshot taken on Thu Oct 8 18:03:23 2020 UTC)
The tweet is fake. While the picture of Pence and the name mirrors what his official account says, the tweet does not say "US Government Account," which is on Pence's official account @VP.
The fake tweet read:
I want to thank everyone for the support for tonight's debate. I'd say it was a success. It was also brought to my attention that the Instagram page @electionleaks released evidence of Kamala receiving the questions beforehand. This is unfair and I'd say the everyone should check out the evidence to judge for themselves."
This is a screengrab of the fake tweet.
The tweets sent for the last 30 days from @VP have all been retweets of either President Donald Trump or from his personal account @Mike_Pence.
The fake tweet mentions @electionleaks which goes to a private Instagram page with an image of a person in a Guy Fawkes mask with an American flag. That account has 97,000 followers and is the place where the fake tweet was originally posted.
This is one of the tweets sent from Pence's personal account on October 8, 2020.
Thank you for the warm welcome, Nevada! 🇺🇸 pic.twitter.com/prVGyNG8pY

-- Mike Pence (@Mike_Pence) October 8, 2020