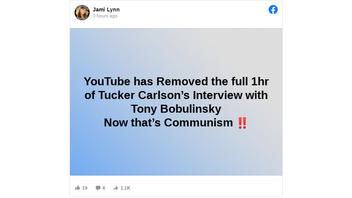 Did YouTube remove the video of Tucker Carlson's full interview with Tony Bobulinski, Hunter Biden's ex-business partner? No, that's not true: Fox News never posted the full interview, only a 17-minute clip. People who reposted the video without rights to the footage may have had their post removed.
The claim appeared in a Facebook text post (archived here) shared on October 29, 2020. The post read:
YouTube has Removed the full 1hr of Tucker Carlson's Interview with Tony Bobulinsky




Now that's Communism
This is what the post looked like on Facebook at the time of writing:
(Source: Facebook screenshot taken on Thu Oct 29 20:22:10 2020 UTC)
Fox News only posted a 17-minute clip to its YouTube channel. And it has NOT been deleted:
The caption on this video opens:
Tony Bobulinski joins Tucker Carlson to discuss his alleged dealings with Hunter and Joe Biden. Watch the rest of the interview here: https://video.foxnews.com/v/620511600000, https://video.foxnews.com/v/620512105...
The link above leads YouTube users to the Fox News site, presumably to drive up traffic and engagement on the site. The latter part of the interview was never posted to YouTube, only posted to the Fox News site.
Carlson interviewed Bobulinski because Bobulinski claimed that Joe Biden and his family are "compromised," a belief that he bases on his business dealings with a Chinese oil company with Hunter Biden. It has not been verified that Joe Biden was involved in these business ventures with the Chinese companies.