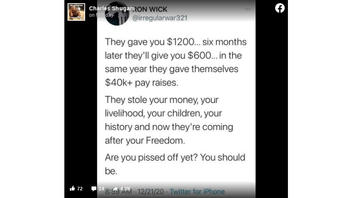 Did the members of Congress give themselves a pay raise as part of the spending bills aimed at stimulating the economy and providing relief to those harmed by the COVID-19 pandemic? No, that's not true: The claim is posted without evidence. The omnibus spending bill passed December 22, 2020, only mentions congressional pay in a section that prohibits a pay raise for members of Congress in 2021. In August of 2020, the Congressional Research Service's report noted there has been no pay raise for members of the House and Senate since 2009. The U.S. Senate's official report on member pay shows the same rate -- $174,000 per year -- in 2020 as in the prior 11 years.
The claim appeared in a meme (archived here) published on Facebook December 21, 2020, under the title "They gave you $1200..."
It continued:
six months later they'll give you $600...in the same year they gave themselves $40k+ pay raises. They stole your money, your livelihood, your children, your history and now they're coming after your Freedom. Are you pissed off yet? You should be.
This is what the post looked like on Facebook at the time of writing:
(Source: Facebook screenshot taken on Wed Dec 23 18:09:02 2020 UTC)
Lead Stories conducted several searches of an official digital copy of the 5,000-page bill passed by the House and Senate, using terms related to congressional pay and found only this provision, which prohibits in fiscal year 2021:
SEC. 7. ADJUSTMENTS TO COMPENSATION.
Notwithstanding any other provision of law, no adjustment shall be made under section 601(a) of the Legislative Reorganization Act of 1946 (2 U.S.C. 4501) (relating to cost of living adjustments for Members of Congress) during fiscal year 2021.
That provision looks like this in the bill Congress voted on: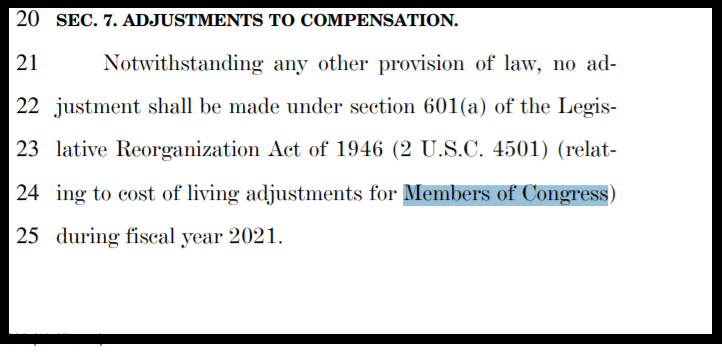 The Congressional Institute, a non-profit organization established to educate Americans about Congress, says in an article about Congressional salaries that Congress often turns down pay raises.
Federal law theoretically allows an annual cost-of-living adjustment, but Congress usually votes to decline the raise. In fact, the last time Congress accepted the raise was for 2009...According to the Congressional Research Service, between 1991 and 2018, Congress accepted the adjustment 13 times, but rejected it 15 times.
Lead Stories has reached out to the Congressional Research Service if any other language in the bill affects congressional pay and will update this report, as appropriate, when they respond. The CRS' August of 2020 report on Congressional pay can be found here.