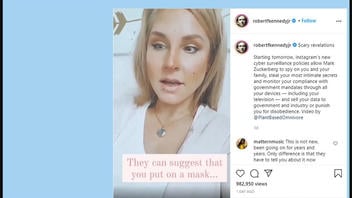 Did Instagram institute a new set of policies on December 20, 2020, that remarkably changed the way the platform operates and that opens users up to a type of surveillance never seen before? No, that's not true: Instagram's new terms of service that went into effect on December 20, 2020, represent a clarification, but not a big change in the social media platform's established operation. A video of a woman reading through the terms of use and data policy has gone viral and a misinterpretation of the word "mask" -- thinking it means medical face masks rather than augmented reality camera filter options -- led to an alarmist conclusion. Many of the policies mentioned in the video are from the data policy that has been in effect since at least April 19, 2018.
The video by @PlantbasedOmnivore was reposted (archived here) by the verified Instagram account of Robert F. Kennedy Jr. on December 19, 2020, with this caption:
Scary revelations
Starting tomorrow, Instagram's new cyber surveillance policies allow Mark Zuckerberg to spy on you and your family, steal your most intimate secrets and monitor your compliance with government mandates through all your devices -- including your television -- and sell your data to government and industry or punish you for disobedience. Video by @PlantBasedOmnivore
Here is what the post with the video looked like at the time of writing:
The almost-15-minute-long video by @PlantBasedOmnivore is a read-through of some of the details in Instagram's Terms of Use which were updated on December 20, 2020. Many of the elements that appear to have alarmed the narrator are ordinary aspects of the way that platforms like Instagram and Facebook provide functionality, make recommendations, tailor a feed and target ads. These data collection methods were not introduced on December 20, 2020, although the dramatic reading makes it sound that way.
Some of the things that she refers to as 'data security breaches' are designed to protect the platform and its users by detecting fraud and spam. Knowing which other accounts are used on the same device helps detect spam accounts or helps to find out the real identity behind fraudulent accounts. Metadata like the GPS location can add location captions to pictures and this can be turned off by the user in their settings. This type of information can also show who liked a post, and allow video streaming to other devices.
Instagram explains how their service is funded and how collecting a user's personal data is a part of that in
the terms of use
:
How Our Service Is Funded
Instead of paying to use Instagram, by using the Service covered by these Terms, you acknowledge that we can show you ads that businesses and organizations pay us to promote on and off the Facebook Company Products. We use your personal data, such as information about your activity and interests, to show you ads that are more relevant to you.
We show you relevant and useful ads without telling advertisers who you are. We don't sell your personal data. We allow advertisers to tell us things like their business goal and the kind of audience they want to see their ads. We then show their ad to people who might be interested.
'Masks,' not masks
Only one minute into the video, a big misunderstanding is revealed. The narrator reads from Instagram's Data Policy and interjects her own comments as she goes along:
... It can also include what you see through features we provide, such as our camera...
So- whatever they are seeing from the camera that you use on Instagram, they are tracking and recording. OK?
...so we can do things like suggest masks and filters that you might like...
So- if I'm recording this and I am in a sea of people and I'm not wearing a mask, and everybody else is- They can be like, "Hey Kathryn- You need to put a mask on!" So you are going to be getting those kinds of notifications now through your IG app.
...Or give you tips on using camera formats our systems automatically process content and communications you and others provide to analyze context and what's in them for the... (video cut: purposes described below.)
Although her own video is using a filter that has added dark speckles, the narrator seems unfamiliar with filters and has misunderstood and misrepresented the phrase, "we can do things like suggest masks and filters that you might like." The masks mentioned are not face masks to help prevent the spread of COVID-19, but a type of AR (Augmented Reality) filter, called masks, which can add features and special effects automatically to photos and videos in real time with the Instagram user's camera when that feature is selected. The hashtag,
#instagrammask
will bring up many examples of AR masks. This phrase in the data policy has nothing to do with spying on a person through their camera to see if they are in compliance with a local mask mandate. This phrase about masks and filters has
been in Instagram's data policy since at least April 19, 2018
.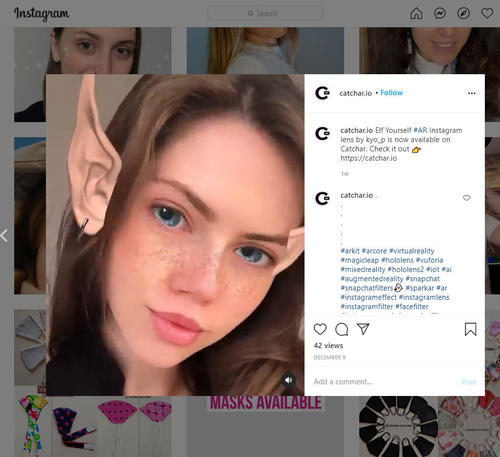 Source: Instagram Screenshot 12/21/2020 AR Mask example by @Catchar.io
Instagram's data policy doesn't specifically mention monitoring for compliance with government mandates but it does mention when data can be shared with regulators, law enforcement or others, this section has been unchanged since at least April 19, 2018:
VIII. How do we respond to legal requests or prevent harm?
We access, preserve and share your information with regulators, law enforcement or others:

In response to a legal request, if we have a good-faith belief that the law requires us to do so. We can also respond to legal requests when we have a good-faith belief that the response is required by law in that jurisdiction, affects users in that jurisdiction, and is consistent with internationally recognized standards.

When we have a good-faith belief it is necessary to: detect, prevent and address fraud, unauthorized use of the Products, violations of our terms or policies, or other harmful or illegal activity; to protect ourselves (including our rights, property or Products), you or others, including as part of investigations or regulatory inquiries; or to prevent death or imminent bodily harm. For example, if relevant, we provide information to and receive information from third-party partners about the reliability of your account to prevent fraud, abuse and other harmful activity on and off our Products.

Information we receive about you (including financial transaction data related to purchases made with Facebook) can be accessed and preserved for an extended period when it is the subject of a legal request or obligation, governmental investigation, or investigations of possible violations of our terms or policies, or otherwise to prevent harm. We also retain information from accounts disabled for terms violations for at least a year to prevent repeat abuse or other term violations.
The post by Robert F. Kennedy Jr. increased the viral spread of the video to his anti-vaccine and mask-skeptical followers.
Madonna made her own video from her dressing room, reading the caption from Robert F. Kennedy's post, and finishing with her own comments:
This is scary s***. The dictatorship had begun. Beware. I feel sick.

Instagram's PR team posted this announcement to their Twitter account:
It looks like our terms update is causing some confusion - there are claims floating around that our policies are changing to allow us to spy on people, but this isn't true. We're only making changes to help explain our terms more clearly and keep our community informed.

-- Instagram Comms (@InstagramComms) December 20, 2020
The PR team posted this clarification about sex workers a few days earlier:
We're seeing some confusion that our Terms of Use update is targeted at sex workers. We want to reassure our community that this isn't true, and nothing will change about the way we enforce our policies on 12/20. (1/2)

-- Instagram Comms (@InstagramComms) December 16, 2020
Review Instagram's policies
Lead Stories recently published a fact checking article about another false claim: that Instagram's updates were going to result in the deletion of all Fan Page Accounts.
(Editors' Note: Facebook, which owns Instagram, is a client of Lead Stories, which is a third-party fact checker for the social media platform. On our About page, you will find the following information:
Since February 2019 we are actively part of Facebook's partnership with third party fact checkers. Under the terms of this partnership we get access to listings of content that has been flagged as potentially false by Facebook's systems or its users and we can decide independently if we want to fact check it or not. In addition to this we can enter our fact checks into a tool provided by Facebook and Facebook then uses our data to help slow down the spread of false information on its platform. Facebook pays us to perform this service for them but they have no say or influence over what we fact check or what our conclusions are, nor do they want to.)