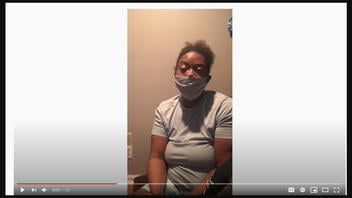 Did a registered nurse in Nashville, Tennessee claim in a video that she develop Bell's Palsy three days after receiving the COVID-19 vaccine? No, that's not true: The name the woman gave in a video making the claim is not listed in the official state database of registered nurses, or in any of the other 49 states, the District of Columbia, or the U.S. territories. Lead Stories found two Facebook profiles for the woman and neither indicate she is a RN. Her most recent job is listed as a bakery worker in Nashville. The YouTube channel where the video was initially uploaded also gave no indications she was a medical worker. The only previous video showed the woman calling for a race war in America in the wake of the George Floyd killing. Only medical workers were administered the Pfizer COVID-19 vaccine in Nashville during the days she claimed to have gotten the injection.
The video was originally posted on YouTube on December 21, 2020, (archived here) with the title "**COVID19 Vaccine SideEffects" and the description "I took the shot and Now I am diagnosed with Bell Palsyia😭😢". The woman, sitting in a dimly-lighted room and wearing a face mask (which she removed while speaking) said:
Hi. I am a registered nurse in Nashville, Tennessee and my name is Khalila Mitchell. I am reaching out to everyone about the Covid-19 vaccination. I recently took the Covid-19 vaccination. I've posted maybe two or three videos before and I also put a before and after picture.
After the shot I felt fine, but within three days I went to the doctor because I had problems with my face, the whole left side of my face actually.
I have Bell's Palsy now and as you can see I can't smile. I'm trying to smile. I'm just kind of embarrassed of it.
But I just want everyone to know that I think this vaccination is the worst thing ever and I would not give this to anybody, even my worst enemy.
Please America, they do not care about us. Do not take this vaccination.
This is what the post looked like on YouTube at the time of writing:
While the original video only had a few hundred views after nine days, other versions were virally shared. It was copied and Greek subtitles were added. The Greek version translated by Andreas Mikedis is hosted on Newtube.app channel called 'Fake_Pandemic' and that link was shared in Facebook posts such as this one in the group Patriot News. The post (archived here) was published on December 25, 2020. The post was simply captioned, "NURSE SPEAKS OUT ABOUT VACCINE."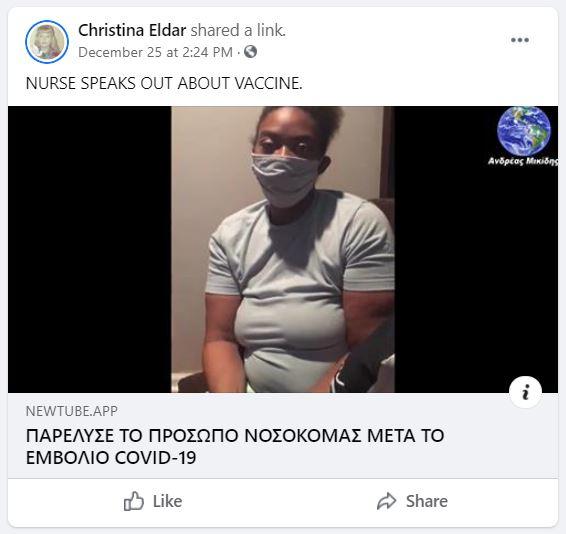 (Source: Facebook screenshot taken on Wed Dec 30 12:50:48 2020 EST)
This video has also been translated with subtitles for French audiences and has been circulated in Italian and Indian anti-vaccine groups as well. Many copies of the video are being reposted on other platforms.
Lead Stories contacted the Tennesee Board of Nursing by telephone to see if there was a Registered Nurse in Tennessee by the name Khalila Mitchell. There is no registered nurse by that name in Tennessee. Lead Stories also searched an online database of registered nurses state by state and did not find a registered nurse by that name in any of the other 49 states, territories or the District of Columbia.

The YouTube channel, 'Shirt Boy' where the video was first uploaded on December 21, 2020 only has three videos. One titled, "George Floyd!! Race War" was posted on June 15, 2020. The other video titled, "** Before I took the Covid 19 Vaccine" was posted on December 25, 2020 to show what she looked like before the onset of the Bell's Palsy.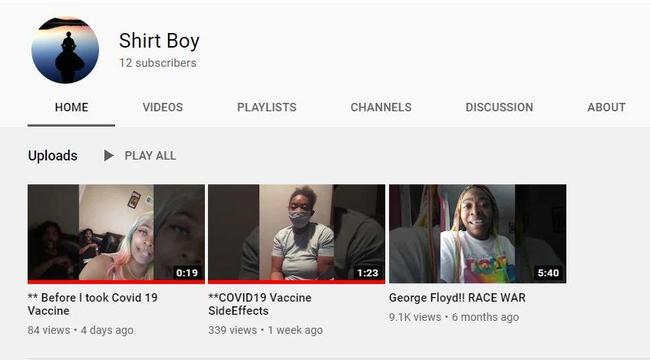 Lead Stories has identified two Facebook accounts belonging to the woman who appears in these videos. The publicly visible information on these accounts does show ties to Nashville, but does not show any evidence of being a registered nurse or working in a hospital. We have reached out to Khalila Mitchell through her social media and have not had a reply.

The first dose of the Pfizer Covid-19 vaccine was administered in Nashville on the afternoon of December 16, 2020, to a surgeon, Dr. William Polk. This was reported in the Tennessean, "Tennessee's first COVID-19 vaccination occurs as hospitals wait for Pfizer shipment." The following day, 1455 people working in healthcare were vaccinated. The distribution of the Covid-19 vaccine across Tennessee is documented in this PDF dashboard that is updated by the Tennessee Health Department daily.
(Source: Screenshot Tennessee Health Department Covid Dashboard 12/29/2020)
Khalila Mitchell said in the video that she developed problems with her face and went to the doctor within three days of getting the vaccine. Her video was posted to YouTube on December 21, Following that timeline backwards, there is a possibility that she was one of about 9,500 people to receive the vaccine on the first and second day the Pfizer vaccine was available to certain Tennessee healthcare workers. Some hospital employees who recieved the vaccine were not licenced healthcare practioners.
What is Bell's Palsy and is it associated with the Covid-19 Vaccine?

The Mayo Clinic describes Bell's Palsy this way:
The symptoms of Bell's palsy include sudden weakness in your facial muscles. In most cases, the weakness is temporary and significantly improves over weeks. The weakness makes half of your face appear to droop. Your smile is one-sided, and your eye on that side resists closing.

Bell's palsy, also known as acute peripheral facial palsy of unknown cause, can occur at any age. The exact cause is unknown. It's believed to be the result of swelling and inflammation of the nerve that controls the muscles on one side of your face. Or it might be a reaction that occurs after a viral infection.

For most people, Bell's palsy is temporary. Symptoms usually start to improve within a few weeks, with complete recovery in about six months. A small number of people continue to have some Bell's palsy symptoms for life. Rarely, Bell's palsy can recur.
The National Institute of Neurological Disorders and Stroke describes the prognosis for recovering from Bell's Palsy:
The prognosis for individuals with Bell's palsy is generally very good. Clinical evidence of improvement occurs spontaneously within three weeks in 85 percent of cases, and most individuals eventually recover normal facial function. Some individuals may be left with mild residual facial weakness or show moderate to severe deficits. Bell's palsy can have consequences from a previous injury or condition, such as involuntary mouth movements when trying to blink the eyes or incomplete recovery of facial muscle weakness resulting in trouble speaking or forming words (dysarthria).
During the trials of both the Pfizer and Moderna Vaccine, cases of Bell's Palsy did occur. In the Pfizer vaccine study, four people developed Bell's Palsy. One person developed symptoms more than a month after the first dose of the vaccine was administered and the other three, after the second dose.
Throughout the safety follow-up period to date, Bell's palsy (facial paralysis) was reported by four participants in the Pfizer-BioNTech COVID-19 Vaccine group. Onset of facial paralysis was Day 37 after Dose 1 (participant did not receive Dose 2) and Days 3, 9, and 48 after Dose 2. No cases of Bell's palsy were reported in the placebo group. Currently available information is insufficient to determine a causal relationship with the vaccine.
The FDA reports that during the trials of the Moderna vaccine there were also four study participants who developed Bell's Palsy, three of them had been administered the vaccine and one had been given the placebo. The three people who developed Bell's Palsy after receiving the vaccine did not develop the Bell's Palsy symptoms until weeks after the second dose.
Page 37
Bell's palsy - Vaccine n=3, placebo n=1 - Occurred 17 after dose 1 (placebo recipient); 22, 28, and 32 days after dose 2 (vaccine recipients) - Observed rate consistent with background rate in general population - No clear basis upon which to conclude a causal relationship at this time

Page 41
As of the scheduled final analysis, 3 cases of Bell's palsy were reported in vaccine recipients, and one in placebo recipients. Although there is no clear basis upon which to conclude a causal relationship at this time, FDA recommends further surveillance if vaccine is authorized for widespread use.
In the FDA's report on Non-serious adverse events in the Pfizer study, the FDA recommends continuing to monitor for cases of Bell's Palsy as the vaccine rolls out, but explains that the incidence which was observed is similar to what is found in the general population.
Page 38
Bell's palsy was reported by four vaccine participants and none in the placebo group. These cases occurred at 3, 9, 37, and 48 days after vaccination. One case (onset at 3 days postvaccination) was reported as resolved with sequelae within three days after onset, and the other three were reported as continuing or resolving as of the November 14, 2020 data cut-off with ongoing durations of 10, 15, and 21 days, respectively. The observed frequency of reported Bell's palsy in the vaccine group is consistent with the expected background rate in the general population, and there is no clear basis upon which to conclude a causal relationship at this time, but FDA will recommend surveillance for cases of Bell's palsy with deployment of the vaccine into larger populations.
Dr. Stephen M. Hahn, the Commissioner of Food and Drugs at the FDA, has recently posted this video, explaining that the FDA will continue to monitor the safety of the vaccines even after the vaccines received emergency approval to begin to be administered in the USA.
In @HHSgov's Tell Me More video series, FDA Commissioner @SteveFDA talks about how the FDA knows that a new vaccine is safe. pic.twitter.com/NWPzwkpIOz

-- U.S. FDA (@US_FDA) December 29, 2020