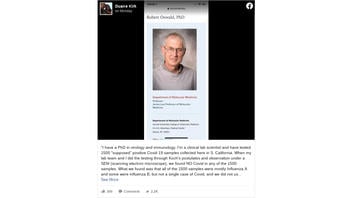 Did a Cornell professor say "COVID-19 does not exist and is fictitious?" No, that's not true: A diatribe has gone viral that credits Robert Oswald, a real person and a Cornell professor, as claiming coronavirus is "just another flu strain," and that he believes it is a "COVID hoax," created by "China and the globalists." Oswald did not make these claims and released a statement that read, "COVID-19 is real. Any Facebook post that suggests otherwise is a hoax and is not true. Wear a mask, practice social distancing, and get the vaccine when it becomes available."
The claim appeared as a post (archived here) where it was published on Facebook on December 28, 2020. It opened:
"I have a PhD in virology and immunology. I'm a clinical lab scientist and have tested 1500 "supposed" positive Covid 19 samples collected here in S. California. When my lab team and I did the testing through Koch's postulates and observation under a SEM (scanning electron microscope), we found NO Covid in any of the 1500 samples.
This is what the post looked like on Facebook at the time of writing:
(Source: Facebook screenshot taken on Tue Dec 29 18:23:51 2020 UTC)
Robert Oswald is a professor in the Department of Molecular Medicine at Cornell University in New York.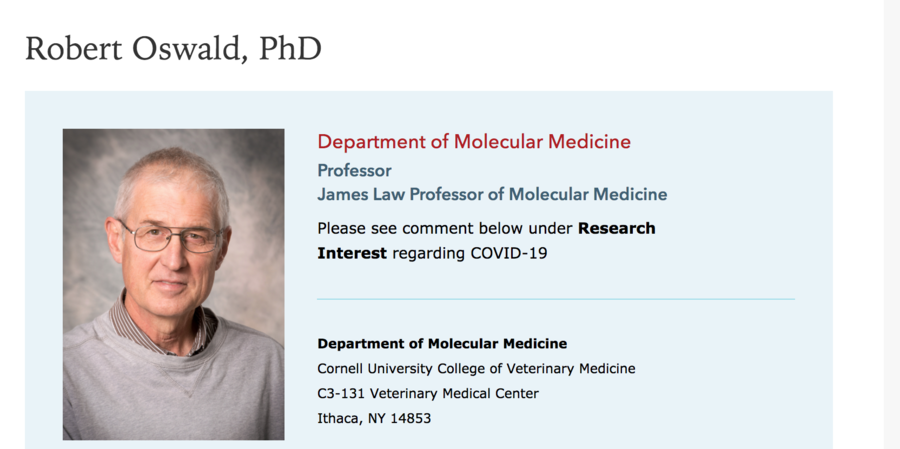 However, he did not write the post.
The post claimed Oswald dismissed the veracity of COVID-19, even claiming the "hoax" was connected to "massive election fraud." This is from the post:
So what we're dealing with is just another flu strain like every year, COVID 19 does not exist and is fictitious. I believe China and the globalists orchestrated this COVID hoax (the flu disguised as a novel virus) to bring in global tyranny and a worldwide police totalitarian surveillance state, and this plot included massive election fraud."
Snopes.com debunked the claim that Oswald was the author of the comments, citing a comment that was posted on Wadeburleson.org on December 6, 2020 with the same wording as the Facebook post, but without the attribution of Oswald's name.
Oswald told Snopes he was not the author of the comment and disagreed with the details:
I certainly did not write this and am rather horrified by the contents.
[...]
It lists the author as a virologist and immunologist living in southern California-neither of these descriptions fit me. Also, it mentions Cornell and a supposed lawsuit against the CDC. Cornell has been at the forefront of COVID research and testing, committing huge resources into maintaining the spread of the virus. To attempt to link Cornell to the contents of this letter is disappointing to say the least."
Oswald also explained why the coronavirus claims in the post are incorrect:
The contents are just completely wrong. The virus is incredibly well studied with many full genome sequences from patients, contrary to the suggestion that only 40 or so nucleotides have been sequenced. You can see the vast extent of the work as compiled by the National Library of Medicine: https://www.ncbi.nlm.nih.gov/sars-cov-2/
Not only that, but the molecular structure of at least the spike protein of the virus has been solved by cryo-EM (one of our former students is an author on this work): https://science.sciencemag.org/content/367/6483/1260
So to suggest that no virus actually exists is just false."