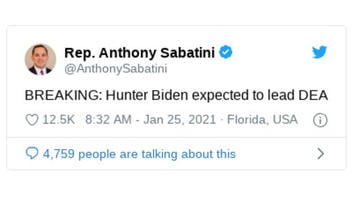 Is Hunter Biden expected to lead the DEA? No, that's not true: There is no publicly available evidence Hunter Biden will be leading the Drug Enforcement Agency (DEA) in his father's administration. Republican state Rep. Anthony Sabatini of Florida tweeted the false information about President Biden's only living son, Hunter, who has struggled with drug addiction, but provided no source nor evidence. Biden said during the campaign that no member of his family will work for his administration.
The claim appeared as a post published by Rep. Anthony Sabatini on Twitter January 25, 2021, (archived here) which opened:
"BREAKING: Hunter Biden expected to lead DEA"
This is what the post looked like on Twitter at the time of writing:
(Source: Twitter screenshot taken on Mon Jan 25 20:43:16 2021 UTC)
Other social media users tweeted false information along the same lines.
I'm sure you will be delighted with everyone Biden picks! Hunter for head of DEA.

-- LynnM2 🇺🇸 (@Lynn52674523) January 11, 2021
Sabatini is a state representative for District 32 in Florida and he posted the politically charged false statement in the wake of media reports about Hunter Biden's past drug use.
The DEA declined to comment but confirmed to Lead Stories that D. Christopher Evans is the acting administrator at the DEA, taking over for Tim Shay who left on January 20, 2021.
"No one in my family will have an office in the White House, will sit in on meetings as if they are a cabinet member, will, in fact, have any business relationship with anyone that relates to a foreign corporation or a foreign country. Period. Period. End of story," Biden told reporters in Iowa in 2019 during the presidential campaign, according to USA TODAY.
During the first presidential debate in 2020, then-President Trump attacked Hunter Biden, saying he was "thrown out of the military," and "dishonorably discharged." Hunter failed a drug test in 2013 and was discharged from the Navy Reserve in 2014. He was not dishonorably discharged, it was an administrative discharge, TODAY reported.
"My son, like a lot of people at home, had a drug problem," Biden said during the debate. "He's overtaking it. He's fixed it. He's worked on it. And I'm proud of him. I'm proud of my son."
Lead Stories reached out to Rep. Sabatini for comment and will update the story when a response is received.