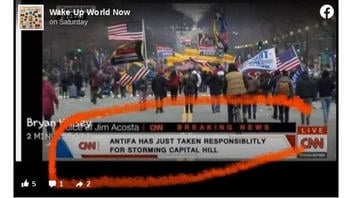 Did CNN report in a caption that antifa had taken responsibility for storming the United States Capitol on January 6, 2021? No, that's not true: Lead Stories did a reverse image search for the picture that claims to show CNN's news coverage the day of the insurrection and did not find such a caption. The actual video of the news network's live coverage on January 6, 2021, shows a chyron, or broadcast caption, that neither mentions antifa nor the storming of the Capitol. Antifa is a left-wing, anti-fascist political movement.
The claim appeared in a Facebook post (archived here) published January 23, 2021. The Facebook post shows a photo or screenshot taken from actual CNN coverage of Trump supporters marching to the Capitol on January 6, 2021. Many of them are waving either the U.S. flag or flag-like Trump banners. The chyron in the post reads:
Jim Acosta|CNN BREAKING NEWS

ANTIFA HAS JUST TAKEN RESPONSIBLITLY [sic] FOR STORMING CAPITAL [sic] HILL
This is what the post looked like on Facebook at the time of writing:
(Source: Facebook screenshot taken on Mon Jan 25 18:58:48 2021 UTC)
On January 6, 2021, then-President Donald Trump's supporters stormed the Capitol in a failed attempt to prevent Congress from approving then-President-elect Joe Biden's Electoral College win. CNN did live coverage of the day's events, including Trump supporters marching to the Capitol, and coverage continued as many of them participated in storming the building while the House of Representatives and the Senate were in session to vote on certifying the vote of the Electoral College. The 2:48-minute video, from which the photo or screen shot in the Facebook post is taken, is on cnn.com in the Politics section under a January 6, 2021, entry titled "Top House Republican urges protesters to "remain peaceful." As the title of the post suggests, Trump supporters, and not members of Antifa, were the subject of the coverage.
Even without viewing the actual CNN video, the misspellings of "responsibility" and "Capitol" Hill in the Facebook post are a strong giveaway that the chyron is a fake. Also, the graphics and font types in the post do not match those used by CNN.
This is what the chyron in the actual CNN video of the live coverage states:

Voice of Jim Acosta| CNN Chief White House Correspondent

THE PRESIDENTIAL ELECTION: CONGRESS COUNTS THE VOTE

This is what the video looked like on CNN.com at time of writing:

(Source: CNN.com screenshot taken on Mon Jan 25 20:07:58 2021 UTC)