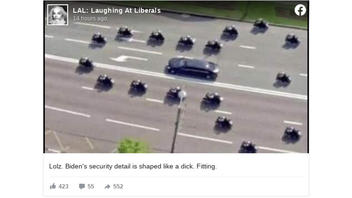 Did the motorcycle escorts in President Biden's security detail ride in a phallic formation? No, that's not true: This altered image has been circulating since 2014, and comes from televised footage of the motorcade carrying Russia's President Vladimir Putin in Moscow on his inauguration, May 7, 2012. Originally the photoshopped meme did identify it as Putin's motorcade, but in 2017 the altered photo was relabeled as President Donald Trump's Motorcade. Now, in 2021, it has surfaced again labeled as President Joe Biden's motorcade.
The picture reappeared in a post (archived here) where it was published by 'LAL: Laughing At Liberals' on January 20, 2021. It was captioned:
Lolz. Biden's security detail is shaped like a dick. Fitting.
This is what the post looked like on Facebook at the time of writing:
(Source: Facebook screenshot taken on Thu Jan 21 16:42:35 2021 UTC)
An early edition of the photoshopped image was debunked in a November 10, 2014 Buzzfeed article, "Sadly Vladimir Putin Hasn't Been Driving Round In A Motorcade Shaped Like A Penis" Even at the time it was presented as old news:
Right, let's put this one to bed quickly. The Vladimir Putin penis motorcade has done the rounds many times before.
Snopes debunked it again on June 13, 2017, that article is titled, "Did President Trump Ride in a Penis-Shaped Motorcade?"
This embedded video shows the footage from Moscow. The point where the original photo was captured is at about 22:04 minutes in. The translated caption of the video says:
Broadcast from Moscow. May 7, 2012.
Live stream from satellite. Full version 1st channel.
Solemn ceremony of inauguration of the President of the Russian Federation