STORY UPDATED: check for updates below.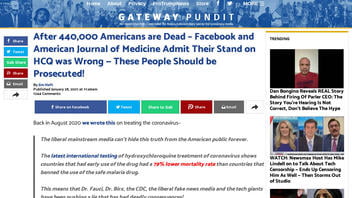 Did Facebook and the American Journal of Medicine "admit" they were wrong about a malaria drug's effectiveness against COVID-19? No, that's not true: The claim refers to a Facebook Oversight Board ruling that contains no endorsement of the medical effectiveness of hydroxychloroquine. The editor and managing editor of the American Journal of Medicine say their scholarly publication has taken no position on hydroxychloroquine. The U.S. Food & Drug Administration in June, 2020 withdrew authorization for use of hydroxychloroquine against COVID-19 and has not changed its position as of the time this was written.
The claim originates in an article published by The Gateway Pundit on January 28, 2021, titled "After 440,000 Americans are Dead - Facebook and American Journal of Medicine Admit Their Stand on HCQ was Wrong -- These People Should be Prosecuted!" (archived here) which opened:
Back in August 2020 we wrote this on treating the coronavirus- The liberal mainstream media can't hide this truth from the American public forever.
Users on social media only saw this title, description and thumbnail:
Back in August 2020 we wrote this on treating the coronavirus- The liberal mainstream media can't hide this truth from the American public forever. The latest international testing of hydroxychloroquine treatment of coronavirus shows countries that had early use of the drug had a 79% lower mortality rate than countries that banned the use of...
But Facebook's Advisory Board did not "admit" anything about hydroxychloroquine's effectiveness as a COVID-19 treatment. That wasn't the point of the Board's ruling. It chided Facebook for vague rules about content that can harm health. Where the Board said Facebook erred was in blocking a post by a person advocating for hydroxychloroquine policy change. The Board ruled that post would be unlikely to result in people taking the drug without proper medical advice:
The combination of medicines that the post claims constitute a cure are not available without a prescription in France and the content does not encourage people to buy or take drugs without a prescription. Considering these and other contextual factors, the Board noted that Facebook had not demonstrated the post would rise to the level of imminent harm, as required by its own rule in the Community Standards.
Nothing in the Advisory Board's ruling declares hydroxychloroquine is a cure for COVID-19.
At the American Journal of Medicine, editors said The Gateway Pundit has attributed an admission of fault where no admission exists.
In a February 16, 2021, email response to Lead Stories' questions, American Journal of Medicine managing editor Timothy Baird said the journal's editor-in-chief has publicly said American Journal of Medicine does not support or oppose the use of hydroxychloroquine to treat COVID-19 because that's not the medical journal's role. Baird wrote:
The article was accepted before many current studies were published; this recommendation is still being debated. The AJM has also published material opposing the use of this drug for COVID patients.
The article Gateway Pundit cited as an admission of error is not a hydroxychloroquine study. It is a review of the problems facing researchers hoping to document effective non-hospital, non-clinic therapies. The section on hydroxychloroquine is about 320 words of the 3,100-word article. Published in August, 2020, it mentions hydroxychloroquine as one of several potential treatments under study:
1) when started late in the hospital course and for short durations of time, antimalarials appear to be ineffective,

2) when started earlier in the hospital course, for progressively longer durations and in outpatients, antimalarials may reduce the progression of disease, prevent hospitalization, and are associated with reduced mortality.

...A typical HCQ regimen is 200 mg bid for 5 days and extended to 30 days for continued symptoms. A minimal sufficient dose of HCQ should be used, because in excessive doses the drug can interfere with early immune response to the virus.
In claiming the medical establishment politicized hydroxychloroquine in order to undermine then-President Donald Trump, The Gateway Pundit cites "CovidAnalysis," a website that declares the effectiveness of hydroxychloroquine against COVID-19. CovidAnalysis, with no named responsible person, complains it has been blocked by Twitter without explanation.
Lead Stories reached out to Twitter's corporate communications staff, via Twitter on February 10, 2021, and will update this report, as appropriate, if Twitter responds. Twitter has in the past blocked the posting of false claims about COVID-19's origins, treatment and lethality.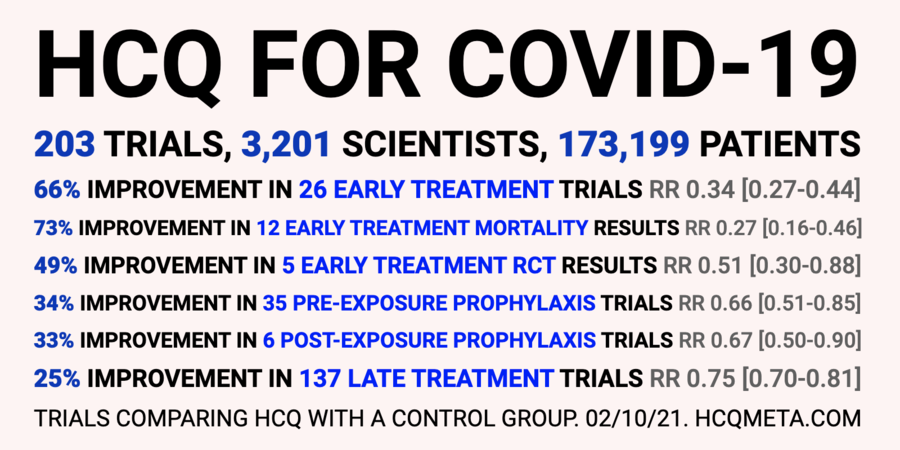 12/27: Twitter has censored our account @CovidAnalysis. There was no notification, no explanation, no warning, they have deleted all our contacts and messages, and they do not respond to support requests. We only posted COVID-19 medical studies and never received any kind of warning.
The site provides no names of contributors or owners of the site:
Who is @CovidAnalysis? We are PhD researchers, scientists, people who hope to make a contribution, even if it is only very minor. You can find our research in journals like Science and Nature. For examples of why we can't be more specific search for "raoult death threats" or "simone gold fired". We have little interest in adding to our publication lists, being in the news, or being on TV (we have done all of these things before but feel there are more important things in life now).
The Committee on Publication Ethics, a training organization upholding a standard ethical code for people who publish scientific papers, strongly discourages such anonymity:
...authors must be prepared to take the responsibility...authors have to be prepared to stand by what they report and therefore they must sign as authors.
Similarly, the Society of Professional Journalists, which focuses on news writers and editors, declares in the industry's standard code of ethics that ethical publishers should identify themselves:
Be Accountable and Transparent: Ethical journalism means taking responsibility for one's work and explaining one's decisions to the public.
Lead Stories has collected here its reporting on claims about the effectiveness of hydroxychloroquine are found at this link.
NewsGuard, a company that uses trained journalist to rank the reliability of websites, describes thegatewaypundit.com as:
A partisan conservative website that regularly publishes hoaxes, conspiracy theories, and unsubstantiated claims, including those related to the COVID-19 pandemic.
According to NewsGuard the site does not maintain basic standards of accuracy and accountability. Read their full assessment here.
(Editors' Note: Facebook is a client of Lead Stories, which is a third-party fact checker for the social media platform. On our About page, you will find the following information:
Since February 2019 we are actively part of Facebook's partnership with third party fact checkers. Under the terms of this partnership we get access to listings of content that has been flagged as potentially false by Facebook's systems or its users and we can decide independently if we want to fact check it or not. In addition to this we can enter our fact checks into a tool provided by Facebook and Facebook then uses our data to help slow down the spread of false information on its platform. Facebook pays us to perform this service for them but they have no say or influence over what we fact check or what our conclusions are, nor do they want to.)
2021-02-23T18:08:03Z

2021-02-23T18:08:03Z

Updated to add a search/archive link for staff training purposes.