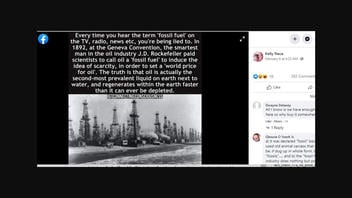 Did 19th century industrialist John D. Rockefeller pay scientists at the 1892 Geneva Congress on Organic Nomenclature to have petroleum designated a fossil fuel to make it appear scarce, to drive the price up? No, there's no evidence that he did that: Despite the fact that this allegation has been making the rounds since at least 2015, no one has cited a source or offered attribution. More significantly, though, the Rockefeller Archive Center says it does not have any records with references to the Geneva Congress.
The claim appeared in a post (archived here) published on Facebook on February 6, 2021. It opened:
Every time you hear

the

term

'

fossil fuel

' on the

TV

,

radio

,

news etc

,

you're being lied

to. In 1892, at the Geneva Convention, the smartest man in the oil industry JD Rockefeller paid scientists to call oil a "fossil fuel" to induce the idea of scarcity, in order to set 'a world price for oil.'
This is what the post looked like on Facebook at the time of writing:
(Source: Facebook screenshot taken on Tue Feb 9 21:00:26 2021 UTC)
There are three main fossil fuels, which the National Geographic simply identifies this way:
Petroleum, also called crude oil, is a fossil fuel. Like coal and natural gas, petroleum was formed from the remains of ancient marine organisms, such as plants, algae, and bacteria. ... Coal, natural gas, and petroleum are all fossil fuels that formed under similar conditions.
A more-detailed definition can be found here.
Fossil fuel is a term that had been used since at least the 1700s, but it referred to coal. The Louisiana Department of Natural Resources notes petroleum did not become a significant fuel source until the mid- to late-1800s:
Until the late 19th century, an oil find often was met with disinterest or dismay. Pioneers who settled the American West dug wells to find water or brine, a source of salt; they were disappointed when they struck oil.

Several historical factors changed that. The kerosene lamp, invented in 1854, ultimately created the first large-scale demand for petroleum. (Kerosene first was made from coal, but by the late 1880s most was derived from crude oil.)
It is not clear when and by whom petroleum came to be designated a fossil fuel. But there are no indications that it happened at the 1892 Geneva Congress on Organic Nomenclature. And, likewise, there are no indications that Rockefeller had anything to do with the Geneva Congress.
Michelle Hiltzick Beckerman, assistant director for reference at The Rockefeller Archive Center, told Lead Stories in a February 9, 2021, email:
I have searched our online catalogue DIMES to see if there was any reference to the Geneva Congress in the folder titles or description of material in our collections. I have not found any references to the Geneva Congress. I have also searched Ron Chernow's biography of John D. Rockefeller Sr., Titan but did not find any references to the Geneva Congress
According to the Biography website, Rockefeller began in the oil business in the 1860s but turned his attention elsewhere some 30 years later:
Rockefeller was a devout Baptist, and once retired from the daily operations of running one of the world's largest businesses (in 1895, at age 56), he kept himself busy with charitable endeavors, becoming one of the more respected philanthropists in history.
PBS American Experience states an even more significant reason Rockefeller was likely not involved in the purported scheme to label oil a fossil fuel -- he became sick and didn't really need any more money:
During 1891-92 all the evidence suggests that Rockefeller had a partial nervous breakdown from overwork. He lost all of his hair, including his eyebrows, and suffered from ill health in the early 1890s.

During this period Rockefeller's wealth had increased to such an extent that his major problem was what to do with it all. He solved this problem by hiring Frederick T. Gates in September of 1891 as a full-time manager of his fortune. By this time, Rockefeller was literally inundated with appeals from individuals and charities for funds. Gates not only removed this burden; he also oversaw all of Rockefeller's investments, which were becoming huge in their own right.
The exact date of his retirement is in question, but there's no doubt Rockefeller was not interested in the oil business by the mid-1890s. PBS notes:
By 1896, Rockefeller stopped going to his office daily and in 1897 he retired, at the age of 58. He took part in some management activity until 1899 but none to speak of thereafter. John Archbold ran Standard Oil from the mid-1890s onward.