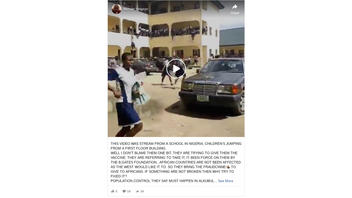 Did students in a school in Nigeria jump from a balcony to get away from a mandatory vaccine? No, that's not true: This is video of a May 2019 incident at the Community Secondary School in Oroworukwo, in Port Harcourt, Nigeria. The stampede was caused by the detonation of a canister of tear-gas that had been brought to school by a student. This incident happened about eight months before the Coronavirus pandemic and had nothing to do with a mandatory vaccine.
The 2019 video resurfaced as a post (archived here) where it was published on January 30, 2021 with this caption:
THIS VIDEO WAS STREAM FROM A SCHOOL IN NIGERIA, CHILDREN'S JUMPING FROM A FIRST FLOOR BUILDING.

WELL I DON'T BLAME THEM ONE BIT, THEY ARE TRYING TO GIVE THEM THE VACCINE. THEY ARE REFERRING TO TAKE IT, IT BEEN FORCE ON THEM BY THE B,GATES FOUNDATION...AFRICAN COUNTRIES ARE NOT BEEN AFFECTED AS THE WEST WOULD LIKE IT TO. SO THEY BRING THE FRAUDCINNE

TO GIVE TO AFRICANS. IF SOMETHING ARE NOT BROKEN THEN WHY TRY TO FIXED IT?

POPULATION CONTROL THEY SAY MUST HAPPEN IN ALKUBULAN 3BILLIONS MUST GO.

FACT FINDERS FOR FB ARE DELETING THE VERY MENTION TAHAT GATES MADE SAYING IF FALSE HE DIDN'T SAY IT. MOST OF YOU HAVE SEEING ALL THE PROGRAM OF TELL LIE VISION WITH HIS OWN MOUTH SAYING WHAT HE SAID ABOUT POPULATION IN CONTROL IN AFRICA, NOW THESE LYING KOCKROACHES BEEN TOLD ANY MEANT OF IT MUST BE FLAGGED UP REMOVE BLOCK ARE DELETED...WE ARE BLACK, NOT STUPID!
This is what the post looked like on Facebook at the time of writing:
(Source: Facebook screenshot taken on Mon Feb 8 18:04:45 2021 UTC)
On May 26, 2019 Guardian.ng published an article, "17-year-old student questioned for tear gas detonation," and reported that it was a student who was responsible for bringing the tear gas to school and an accidental detonation which led to the panic:
A 17-year-old student who detonated a tear gas canister that left several students injured at Community Secondary School, Oroworukwo, Port Harcourt, Rivers State has been questioned by the police.

The Rivers State Police Command spokesperson, Nnamdi Omoni, told The Guardian that the student had got to school with the canister on Thursday. According to him, it was while he and others were fiddling with it that it exploded.
A video posted to the YouTube channel of TVC News Nigeria on May 27, 2019 includes an interview with Rivers State Police Command spokesperson, Nnamdi Omoni who explained that the incident was not related to terrorism or cultism. The tear gas had been police-issued equipment of a deceased police officer who was the uncle of the student. There was a police investigation into how the 17-year-old student came to possess the tear gas canister and internal investigation why this item had not been collected after the officer's death as the department would usually do any time an officer is dismissed or deceased.
Currently there is no Covid-19 Vaccine being administered in Nigeria, but the National Primary Healthcare Development Agency will have updates as the vaccines are ready to be distributed.
Q: Is the #COVID19 vaccine in Nigeria?

A: Not yet. @NigeriaGov through @NphcdaNG is leading Nigeria's efforts to access safe and effective vaccines.

Visit https://t.co/Zd6gvypc32 for more information on vaccines.

For more FAQs:https://t.co/y7LzA4AE6r#TakeResponsibility pic.twitter.com/QfQME1onHV

-- NCDC (@NCDCgov) February 8, 2021