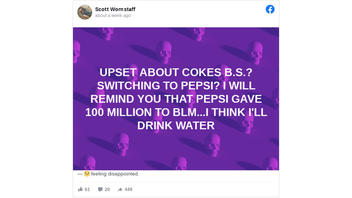 Did PepsiCo give $100 million to BLM? No, that's not true: False rumors that circulated in summer 2020 and were debunked at that time resurfaced in March 2021. In summer 2020 several large corporations pledged large sums of money to racial equality initiatives. Some posts on social media misrepresented these corporate pledges as donations that were going directly to The Black Lives Matter Global Network Foundation, or "BLM," when the pledges were funding a wide variety of organizations and programs over several years. In early March 2021 these false claims about PepsiCo resurfaced when a controversy surrounding Coca-Cola was a trending topic.
The claim appears in a post (archived here) where it was published on March 3, 2021. It opened:
UPSET ABOUT COKES B.S.?




SWITCHING TO PEPSI? I WILL REMIND YOU THAT PEPSI GAVE 100 MILLION TO BLM...I THINK I'LL DRINK WATER
This is what the post looked like on Facebook at the time of writing:
(Source: Facebook screenshot taken on Wed Mar 10 18:53:19 2021 UTC)
This claim that PepsiCo gave $100 million to BLM is not backed up by publicly available information. PepsiCo issued a press release in June 2020 outlining PepsiCo's "Journey To Racial Equality," which promised to invest more than $400 million over five years to address issues of inequality and to create opportunity. An infographic accompanying the announcement outlined how those millions were to be distributed.
PepsiCo printed the words "Black Lives Matter" in bold lettering at the bottom of the document. This is a statement, not a PepsiCo pledge to The Black Lives Matter Global Network Foundation. At the time this fact check was written, no one owned trademark rights to the phrase, according to the US Patent and Trademark database.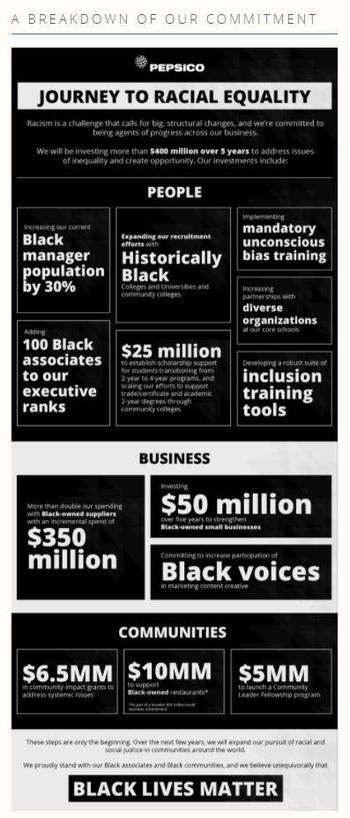 (Source: screenshot taken on Wed Mar 10 20:22:19 2021 UTC)
On February 21, 2021 Newsweek.com published an article titled, "Coca-Cola, Facing Backlash, Says 'Be Less White' Learning Plan Was About Workplace Inclusion." It is that Coca-Cola controversy that was behind the meme design of the early March 2021 reintroduction of the old disinformation. PepsiCo is the new target. One of the memes with almost identical wording falsely claims that the recipient of the $100 million donation was antifa.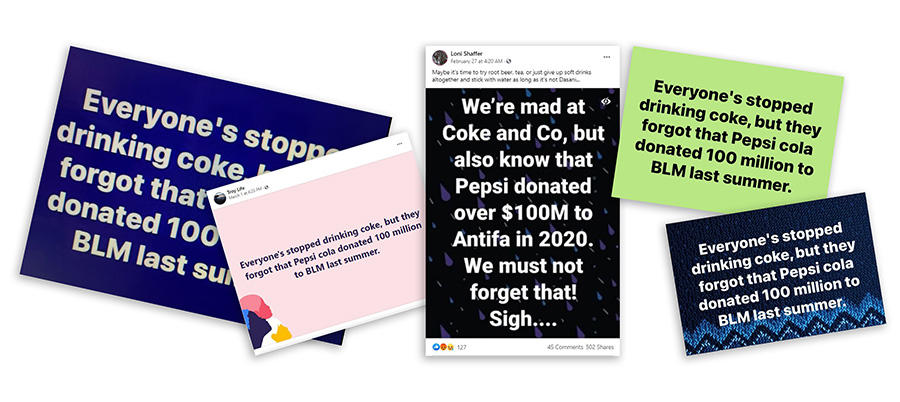 In late August 2020 both Snopes and USA Today published fact checks regarding the claim that PepsiCo gave $100 million to Black Lives Matter. Lead Stories addressed a similar false claim about Walmart on August 15, 2020.
Lead Stories reached out by email to the Media Relations Office at PepsiCo and will update this fact check, as appropriate, when PepsiCo replies.