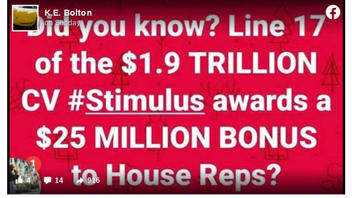 Did the COVID-19 stimulus bill give members of the U.S. House of Representatives a $25 million bonus? No, that's not true: The $1.9 trillion bill, known as the American Rescue Plan, does not give bonuses or raises to House members. The claim states that "Line 17" awards the bonus. The 628-page bill has a line 17 on almost every page, but none of them grant bonuses to House members, who have not had a pay increase since 2009.
The claim appeared in a Facebook post (archived here) published on March 7, 2021. It read:
Did you know? Line 17 of the $1.9 TRILLION CV

#Stimulus

awards a $25 MILLION BONUS to House Reps?
This is what the post looked like at the time of writing:
(Source: Facebook screenshot taken on Thu Mar 11 14:25:26 2021 UTC)
Lead Stories combed through the legislation, which can be seen here, searching for "$25 million." Although that figure appears several times in the bill, there is no instance of it in connection with any pay bump for House members. The post's reference to "Line 17" is a nonsensical citation, as almost every page of the 628-page bill has a line 17.
We reached out to Evan Hollander, communications director for the House Appropriations Committee, to confirm our reading of the legislation. In an email to Lead Stories, dated March 11, 2021, he wrote:
There is no funding in the bill for either the House or the Senate.
According to the Congressional Research Service, the last time members of Congress received a pay adjustment was in January 2009. At that time, their salaries were increased to $174,000 per year, where they have sat ever since.
The Congressional Institute, a non-profit organization established to educate Americans about Congress, says that members often vote against pay increases. In a 2019 article, it stated:
Federal law theoretically allows an annual cost-of-living adjustment, but Congress usually votes to decline the raise. In fact, the last time Congress accepted the raise was for 2009 ... According to the Congressional Research Service, between 1991 and 2018, Congress accepted the adjustment 13 times, but rejected it 15 times.
Lead Stories debunked a claim like the one in the post in December 2020, when Congress passed an omnibus spending bill. See our reporting here. Similarly, there was nothing in that legislation that gave members of Congress a raise.