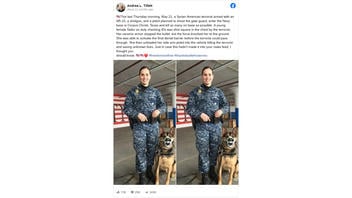 Did this U.S. Navy K-9 handler help prevent a terrorism-related attack on Naval Air Station Corpus Christi in Texas? No, that's not true: Although a female sailor did help stop the May 21, 2020, attack, that sailor was not a K-9 handler and is not the sailor shown in the post.
The claim appeared as a Facebook post (archived here) on May 25, 2020. The post stated:
This last Thursday morning, May 21, a Syrian-American terrorist armed with an AR-15, a shotgun, and a pistol planned to shoot the gate guard, enter the Navy base in Corpus Christi, Texas and kill as many on base as possible. A young female Sailor on duty checking IDs was shot square in the chest by the terrorist. Her ceramic armor stopped the bullet, but the force knocked her to the ground. She was able to activate the final denial barrier before the terrorist could pass through. She then unloaded her side arm pistol into the vehicle killing the terrorist and saving unknown lives. Just in case this hadn't made it into your news feed, I thought you
should know. #freedomisntfree #thankstoallwhoserveu
This is what the post looked like on Facebook on April 13, 2021:
(Source: Facebook screenshot taken on Tue Apr 13 20:59:54 2021 UTC)
While the post does not directly link the sailor and the military working dog in the picture to the attack, the post implies that the two were involved. They were not. The picture features Amber Boyd, a master-at-arms K-9 handler. Lead Stories tried to reach Boyd via LinkedIn on April 13, 2021, to confirm whether she is still a service member but received an error message.
The picture was posted on January 7, 2016 on the website for dog training company Tarheel Canine Training, Inc. It showed off a custom muzzle made for Omar, a military working dog Boyd worked with. The picture's caption said:
US Navy K9 Handler Amber Boyd and K9 Omar were recipients of a custom painted muzzle awarded by a drawing by Working Dog Dry Goods. The muzzle was sponsored by Stefanie Suddeth our Pet Obedience Trainer and member of Tarheel Canine PSA club! Stefanie and Working Dog Dry Goods thank Amber for her service! Way to go Stefanie we are proud of your kindness and wish Amber and Omar a safe tour overseas!
A screenshot is included below: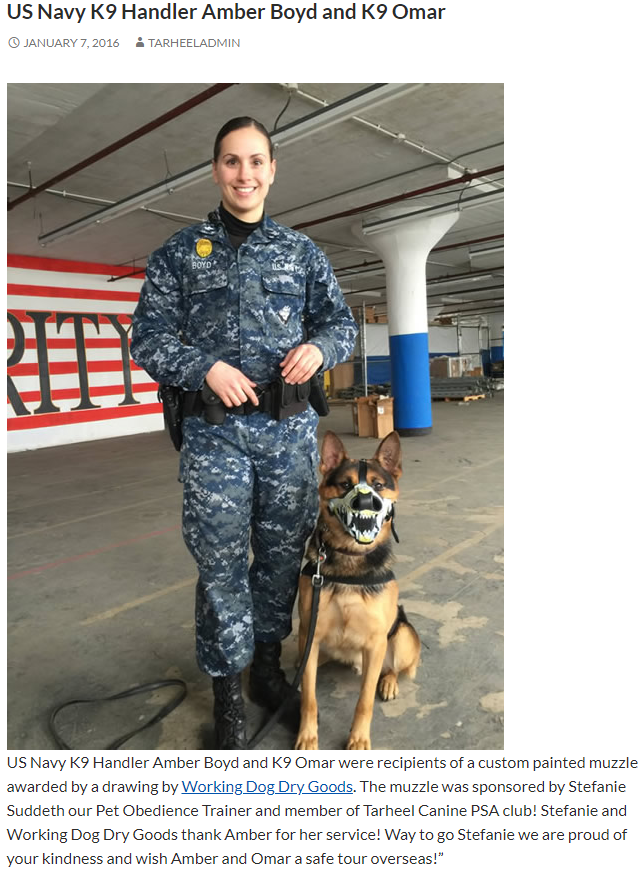 (Source: Screenshot of Tarheel Canine article taken on Tue Apr 13 18:02:41 2021 UTC)
A spokesperson for the Navy also debunked a version of the meme that featured Boyd and Omar, telling USNI News in May 2020 that Boyd was not the sailor involved in the attack.
The attack on the base was carried out by 20-year-old Adam Salim Alsahli. The New York Times reported he had made social media posts that expressed interest in terrorist organizations such as Al-Qaeda and the Taliban. According to the Navy's website, the suspect drove to a checkpoint of the base and opened fire with a handgun, striking Yaisa Coburn, a Naval Security Force (NSF) sailor. Hit in her protective vest, Coburn still managed to access a switch that activated a barrier that blocked the suspect from entry. Coburn and another NSF sailor killed the suspect before he could gain access to the base. Coburn suffered minor injuries.
Coburn, 10 other NSF personnel and a civilian were honored on October 8, 2020, for their swift action in preventing the attack.