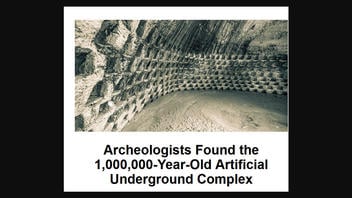 Did archaeologists find a one million year-old artificial underground complex? No, that's not true: the archaeological site in question consists of approximately 3,500 well-studied underground chambers across various complexes, which extend across what is now central Israel. The claim offers no peer-reviewed scholarship in support of the idea of a million-year-old stucture and leading archaeological institutions say the man-made caves are only a few thousand years old. Human relatives alive one million years ago would not have had the tools to create the structures found in the cave.
The claim, circulating since 2016, appeared as an article (archived here) where it was published by Online Updates on March 1, 2021 under the title "Archeologists Found the 1,000,000-Year-Old Artificial Underground Complex."
Users online saw this undated graphic: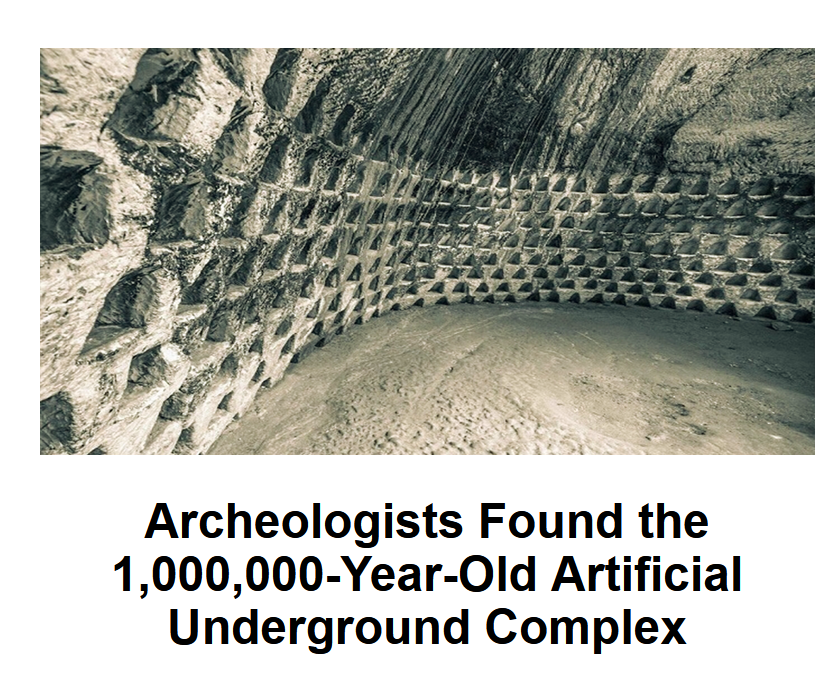 The recycled claim has appeared in multiple forms, with articles and videos alike discussing its validity. The assertions are based on claims made by Alexander Koltypin, the self-described "director of the Scientific Center of Fundamental Researches in Natural Science at the International Independent University of Environmental and Political Sciences," an institution that appears, online, to be based in Moscow, Russia, but for which standard information about faculty and programs is not readily available. The Online Updates article stated Koltypin's primary claim regarding the underground complexes:
...mankind is by far more than 10-12,000 years old, as many scholars would have you believe, and he is proud to state that he has found evidence of this in the form of the ruins of Horvat Burgin in the Adullam Grove Nature Reserve near central Israel. Below these ruins is an underground complex, supposedly about 500,000 and 1,000,000 years old, and the explanation why the experts are against it is because the ruins of the Horvat Burgin themselves are nowhere near as old as that.
David Ilan, the director of the Nelson Glueck School of Biblical Archaeology at the Hebrew Union College in Jerusalem, said in an April 1, 2021 email to Lead Stories:
No, there are no such 1,000,000 year old underground complexes. At that point in time we are talking about Homo erectus, who could fashion course stone tools and perhaps light a fire, but there is zero evidence for carving stone or creating architecture.
The Smithsonian National Museum of Natural History website features an interactive "Human Family Tree" chart that describes the capabilities of each species in the homo genus. Corrobrating Ilan's summary, the Smithsonian site says homo erectus existed approximately 1.89 million to 110,000 years ago but had not yet created tools that could complete the architectural feats seen in the complexes in Israel.
As for the purpose of the complexes, Ilan explained that their usage was far from ordinary but hardly suggestive of a one million-year-old history:
What you see in the picture is a typical columbarium (dovecote) of the Hellenistic, Roman or Byzantine period (ca. 200 BCE - 650 CE). It would be dated by coins and other diagnostic material culture.

These subterranean complexes were carved in the chalk (a soft sort of limestone) in a staged process with several aims: (a) to quarry building stone, (b) to quarry chalk that would then be crushed to make plaster, (c) to create chambers that could serve as water cisterns, tombs, and cool-storage facilities. In their later iteration many were converted to columbaria from which guano would be collected to fertilize the fields. People also ate the doves. Ca. 130-135 CE some of these complexes were used as hiding places by Jews who rebelled against Rome in the time of Hadrian.
Described in a similar fashion by the United Nations Educational, Scientific and Cultural Organization (UNESCO), the caves of Maresha and Bet-Guvrin in the Judean Lowlands were declared a World Heritage Site in June 2014. The UNESCO online descriptions track the other archaeologists' statements of the age of the caves.
In a March 31, 2021 email to Lead Stories, Rami Arav, an associate professor in the department of philosophy and religion and the department of history at the University of Nebraska at Omaha, concurred with his peers' assessments:
The picture you have sent is a picture of a Hellenistic Roman period Columbarium, meaning, a place for growing doves. This is a very common find in the Hellenistic Roman periods.