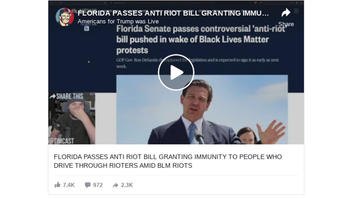 Did Florida pass a law granting immunity to people who drive through rioters amid BLM riots? Yes, but it only grants civil immunity, not criminal immunity. HB1, signed by Gov. Ron DeSantis on April 19, 2021, grants an "affirmative defense" that will provide people with immunity from civil liability if they kill or injure a protester with their car, according to the ACLU of Florida. The bill does not grant criminal immunity in such a case, as Republican state senator and sponsor of the measure Danny Burgess said during a debate about the bill.
The claim appeared as a post (archived here) where it was published on Facebook on April 17, 2021. It opened:
FLORIDA PASSES ANTI RIOT BILL GRANTING IMMUNITY TO PEOPLE WHO DRIVE THROUGH RIOTERS AMID BLM RIOTS
This is what the post looked like on Facebook at the time of writing:
(Source: Facebook screenshot taken on Mon Apr 19 21:09:54 2021 UTC)
Gov. DeSantis, a Republican, signed HB1 on April 19, 2021. The bill uses the language "affirmative defense" to grant immunity in a civil action. There is no mention of criminal immunity in the language:
870.07 Affirmative defense in civil action; party convicted of riot.-- (1) In a civil action for damages for personal injury, wrongful death, or property damage, it is an affirmative defense that such action arose from an injury or damage sustained by a participant acting in furtherance of a riot. The affirmative defense authorized by this section shall be established by evidence that the participant has been convicted of a riot or an aggravated riot prohibited under s. 870.01, or by proof of the commission of such crime by a preponderance of the evidence. (2) In a civil action in which a defendant raises an affirmative defense under this section, the court must, on motion by the defendant, stay the action during the pendency of a criminal action that forms the basis for the defense, unless the court finds that a conviction in the criminal action would not form a valid defense under this section."
"It is accurate that under the bill's broad language counter-protesters and/or vigilantes are provided with an affirmative defense that will be able to shield them from civil liability if they kill or injure protesters with their car (or by any other means), even intentionally," Casey Bruce-White, director of communications, ACLU Foundation of Florida, told Lead Stories via email on April 19, 2021. She confirmed the bill addresses civil cases only, not criminal cases.
The Florida Bar News published an article on April 16, 2021 titled, ANTI-RIOT BILL HEADED TO GOV. DESANTIS, and described the immunity:
The bill strengthens punishments for violence or property damage committed during a riot, provides that those arrested for violent rioting cannot be released from jail until they have appeared in court, allows a state attorney or city council member to appeal a police budget cut to the Cabinet, and provides an affirmative defense in a civil action for drivers who feared for their safety and hit protesters with their cars.
State Sen. Danny Burgess, R-Zephyrhills, a sponsor of the Senate version of the bill said the bill does not provide immunity against criminal charges, according to the Orlando Sentinel.
Burgess was questioned by Sen. Janet Cruz, D-Tampa, about whether James Fields, a white supremacist who killed Heather Heyer during protests at Charlottesville, Va., in 2017, would have been granted civil immunity for her death under the bill.
Burgess noted the bill wouldn't prevent criminal charges and the provision would only apply to people defending themselves from protesters, not those deliberately targeting them. Fields was convicted of murder and sentenced to life in prison in 2019.
"That person rammed a vehicle into those people to hurt them ... he wasn't defending himself," Burgess said. "That is in no way protected in this bill."