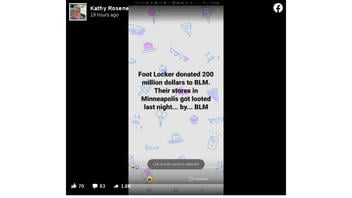 Did Foot Locker donate "200 million dollars to BLM"? No, there is no evidence the company made a donation to Black Lives Matter. The athletic gear company made an announcement in 2020 that it was "committing $200 million over the next five years towards enhancing the lives of our team members and our customers in the Black Community through Economic Development and Education. " The press release did not specifically mention "BLM," which is an abbreviation for Black Lives Matter, a nonprofit organization. Lead Stories searches of the Foot Locker and Black Lives Matter websites did not surface evidence of any direct donation from Foot Locker to Black Lives Matter.
The claim appeared as a post (archived here) published on Facebook on April 12, 2021. It opened:
Foot Locker donated 200 million dollars to BLM...Their stores in Minneapolis got looted last night... by... BLM
This is what the post looked like on Facebook at the time of writing:
(Source: Facebook screenshot taken on Tue Apr 13 20:37:02 2021 UTC)
Duante Wright, a 20-year-old Black man, was shot and killed by a police officer outside Minneapolis, Minnesota, on April 11, 2021. On Monday, April 12, 2021, several stores, including a Foot Locker, were ransacked following a protest about the police shooting, according to Yahoo News. However, the meme published on April 12, 2021, makes a false claim about the Foot Locker financial pledge.
According to the June 2020 press release by Foot Locker, announced after the death of George Floyd by a police officer in Minneapolis, the company was pledging to put $200 million into the community to "fight racial inequality and injustice."
CEO Richard Johnson listed efforts in the categories of Education and Economic Development with specific initiatives and groups targeted, but BLM, or Black Lives Matter, was not listed as an organization to which the company was donating.
Economic Development​
Invest in Black-owned businesses within youth culture
Purchase more products from Black-owned brands
Donate to organizations creating economic development and advancement opportunities for minorities - many of which will be based in the communities we serve
Increase marketing spend with Black-owned companies, entrepreneurs, creators and collaborators
Diversify global supplier and agency investments to Black-owned businesses

Education
Extend our existing Foot Locker Scholar Athletes program and other partnerships to benefit additional Black students
Fund training for Black Creatives at Pensole Footwear Design Academy
Implement internship, mentorship, and community outreach programs for Black team members and communities
Invest in relevant education programs for Black team members with our Black Employee Resource Group called B.U.I.L.D
Direct a portion of the funding from Foot Locker Foundation's annual "On Our Feet" gala to beneficiaries supporting the Black community, including building upon our long-standing partnership with UNCF


This is a screengrab of the Foot Locker press release: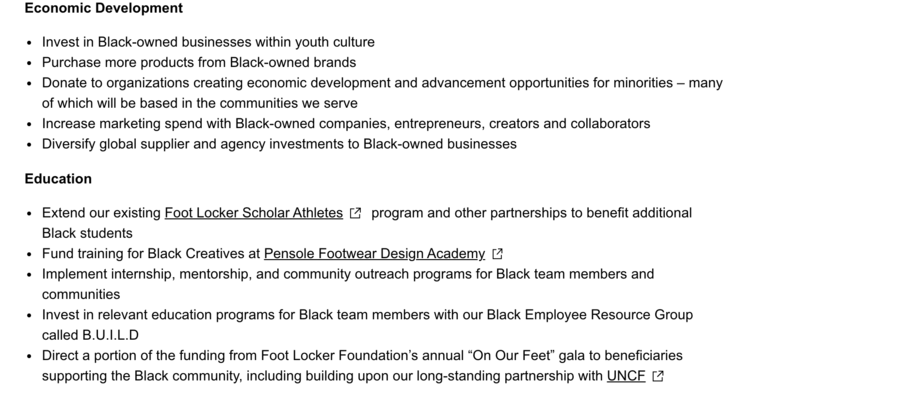 (Source: Way Back Machine screenshot taken on Tue Apr 13 45:35:09 2021 UTC)
Black Lives Matter Foundation is a nonprofit and only major donations are disclosed in their IRS Form 990 reports. However, there is no evidence that Foot Locker donated to BLM, or Black Lives Matter. Lead Stories reached out to Foot Locker for comment and will update the story when a response is received.