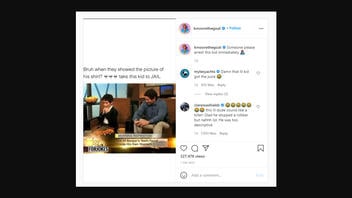 Did an 8-year-old boy named Lucas Armitage shoot and mutilate a home intruder? No, that's not true: The 2009 clip is a production of The Onion satirical digital media company and that child is just an actor. The clip also contains a watermark in the bottom left-hand corner that reads "FORJOKES," another Instagram account that posts humorous content.
The claim appeared in an IGTV post (archived here) where it was published by Instagram user @kmoorethegoat on April 6, 2021. The caption states "Someone please arrest this kid immediately 🤦🏽‍♂️." The video clip includes text that reads:
Hero eight-year-old uses's dad's gun to stop burglar.
This is how the post appeared at the time of writing:
The full video, titled "Little Boy Heroically Shoots, Mutilates Burglar," was posted to The Onion's website on September 23, 2009 and to its YouTube channel on September 24, 2009. As of April 8, 2021, the YouTube video has more than 3.6 million views.
The Onion's YouTube channel About page does not explicitly state that it is a satirical media company. However, in the Frequently Asked Questions section of the company's website, it advises readers what to do if they decide to sue the company:
What if I want to sue The Onion?

Please do not do that. The First Amendment protects satire as a form of free speech and expression. The Onion uses invented names in all of its stories, except in cases where public figures are being satirized. Any other use of real names is accidental and coincidental. The Onion is not intended for readers under 18 years of age.
The Onion has also been identified as a satirical media company by several entities including the U.S. Library of Congress:
The Onion is an American satirical digital media company and newspaper organization that publishes articles on international, national, and local news. The company is based in Chicago but originated as a weekly print publication on August 29, 1988 in Madison, Wisconsin. In 2013, The Onion ceased publishing its print edition.
"Today Now" was The Onion's satirical take on a morning news show. According to the available videos on The Onion's website, the show began in 2005 and continued its short episodes until 2015.