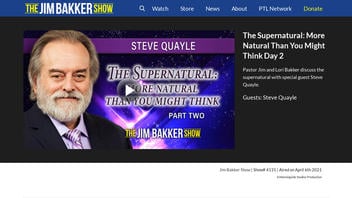 Are zombies created by COVID-19 and do the world's richest people drink the blood of tortured children? No, that's not true. A guest on the show of disgraced televangelist Jim Bakker, conspiracist Stephen Quayle, peddles multiple untrue claims about COVID-19. Lead Stories has previously debunked claims Quayle has made as well as claims about zombies, COVID-19 and accusations that the world's elite drink the blood of sex trafficked children.
The claims were made in a video (archived here) published by "The Jim Bakker Show" on April 6, 2021 under the title "The Supernatural: More Natural Than You Might Think Day 2." It opened:
Pastor Jim and Lori Bakker discuss the supernatural with special guest Steve Quayle.
This screengrab shows Quayle on the show:

The one-hour episode with Quayle, described as a documentary filmmaker and "End Times expert," recycles multiple debunked conspiracy theories about "CV-19," as he calls COVID-19, including that it's a bioweapon. Lead Stories will focus on just a few of them.
At 11 minutes into the video, Quayle claims Federal Emergency Management Agency (FEMA) "camps" are equipped with 250,000 guillotines. Lead Stories previously debunked that claim, which is a recycled hoax published by a website known to run bizarre fiction submitted by the general public. The authors had offered no support of why then-President Donald Trump would have internment camps operated by FEMA stocked with an 18th-century device to execute thousands of Americans by chopping off their heads.
There are multiple claims about zombies in the video. "This zombie thing is not what we think. It is literally like a COVID thing, like a disease," Bakker says in the video, without offering evidence for the existence of creatures that die and then reanimate.
At 13 minutes, 30 seconds, Quayle claims without evidence that zombies are created by biological weapons such as COVID-19. At 17 minutes, 50 seconds, he cites the "Zombie Preparedness" statement on the Centers for Disease Control and Prevention (CDC) website and says zombies are life forms with a taste for human flesh. The CDC does include a clickbait page on its website about "Zombie Preparedness." However, Quayle's claims of a "zombie as a literal life form that has animation but if you see them they're not all there and they have a taste for human flesh," is not supported by credible evidence from any quarter.
From the CDC website:
Wonder why zombies, zombie apocalypse, and zombie preparedness continue to live or walk dead on a CDC web site? As it turns out what first began as a tongue-in-cheek campaign to engage new audiences with preparedness messages has proven to be a very effective platform. We continue to reach and engage a wide variety of audiences on all hazards preparedness via "zombie preparedness."
Quayle makes the claim at 18 minutes, 40 seconds that zombie technology is being designed to kill 7.4 billion people, approximately the entire human population of Earth. The use of COVID-19 (and zombies) for mass extermination of humans is not backed by credible witnesses, documents or peer-reviewed scholarship.
Lead Stories previously debunked the claim that COVID-19 vaccines are being used as weapons of mass destruction.
Bakker addresses the far-fetched zombie correlation in the video at 32 minutes, 30 seconds.
I know my audience are having a hard time with zombies. I grew up that zombies were something out of motion pictures. Here's what he's saying I believe. Is zombisim is really a disease. Zombies that are on the earth are a disease like any other disease that affects people and they become like zombies."
But Quayle doesn't change his tune and shares not only his zombie belief but discusses an illogical blood drinking conspiracy theory.
There is no rationale with a zombie. The best way to explain zombie blood lust is the appetite of demons expressed through humans. It should be astonishing that the richest people in the world, not all of them but some of them, are into occult ceremonies where they have to drink blood that is extracted from a tortured child. Now that's sick."
This claim is among the QAnon fictional claims that satanic Hollywood elites, Democratic elected officials and business leaders are running a secret international child sex trafficking ring and drinking children's blood to get adrenochrome and achieve immortality. No immortality effect exists, and adrenochrome is a readily available chemical that has no psychedelic effect when ingested.
Lead Stories has debunked multiple claims made by QAnon supporters, including false interpretation of commonplace items as coded messages to QAnon followers and the notion that John F. Kennedy, Jr. is not really dead. Lead Stories has also debunked the conspiracy theory that elites achieve immortality by drinking adrenochrome from children, that Lady Gaga drank blood on TV and other lurid false claims about gory secret ceremonies.
Bakker is the former PTL Ministries televangelist, famous for false prophecies and predictions, who resigned his post in 1987 over an affair with a church secretary, then served time in prison for misuse of church funds. The Charlotte Observer won a 1988 Pulitzer Prize for uncovering Bakker's financial misdeeds.