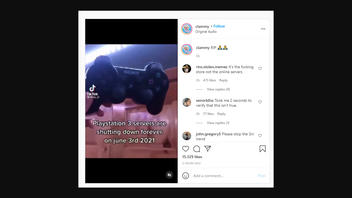 Is Sony PlayStation "shutting down forever" its PlayStation 3 (PS3) servers on June 3, 2021? No, that's not true: at the time of this writing on May 11, 2021, PlayStation has made no announcement saying that PS3 servers will shut down in their entirety. The gaming company previously announced that the PlayStation Stores on the PS3, PSP and PS Vita gaming devices would close down during the summer of 2021. After fans criticized the decision, PlayStation decided to keep the PS3 and PS Vita stores open while shutting down the remaining purchase functionality for the PSP on July 2, 2021, as originally planned.
The claim appeared in an Instagram post (archived here) that was published on May 10, 2021. The post featured a TikTok video which opened:
Playstation 3 servers are shutting down forever on june 3rd 2021
This is what the post looked like on Instagram at the time of writing:
(Source: Instagram screenshot taken on Mon May 10 20:50:20 UTC)
Lead Stories could not find publicly available evidence that all PS3 servers would be shutting down. According to the online PS3 User's Guide, the console's media server connection is called the Digital Living Network Alliance (DLNA), which is
...a standard that enables digital devices such as personal computers, digital video recorders, and TVs to be connected on a network and to share data that is on other connected, DLNA-compatible devices.
The DLNA's servers are meant to "distribute media such as image, music, or video files." PlayStation has a published list of decommissioned servers for its various devices but does not list the PS3 as having been shut down entirely.
Adrienne Shaw, an associate professor in the department of media studies and production at Temple University who has studied game culture, said in an email to Lead Stories on May 11, 2021:
I haven't seen any press releases on Sony indicating the servers are shutting down.
The first report of the PS3, PSP and PS Vita PlayStation store device closures was published by TheGamer on March 22, 2021. PlayStation had officially announced the decision by March 29, 2021, via its "Important notices regarding PlayStation® products and services" page (information about the closures are archived here). The announcement answered potential questions about the closures and opened:
We are closing PlayStation™Store on PlayStation®3 consoles on 2nd July 2021 and on PlayStation®Vita devices on 27th August 2021. Additionally, the remaining purchase functionality for PSP™ (PlayStation®Portable) will also retire on 2nd July 2021.
Jim Ryan, president and CEO of Sony Interactive Entertainment, suggested that fans of the affected PlayStation devices were voicing their discontent. So on April 19, 2021, Ryan posted an announcement to the PlayStation blog that backtracked the decision. The announcement opened:
Recently, we notified players that PlayStation Store for PS3 and PS Vita devices was planned to end this summer.

Upon further reflection, however, it's clear that we made the wrong decision here. So today I'm happy to say that we will be keeping the PlayStation Store operational for PS3 and PS Vita devices. PSP commerce functionality will retire on July 2, 2021 as planned.
As of October 19, 2020, customers could not make purchases on the web and mobile PlayStations stores for PS3, PSP and PS Vita content, themes or avatars: such purchases could only be made through each device.
Lead Stories reached out to Sony PlayStation for comment regarding any future plans to shut down its PS3 servers or to close the PlayStation stores for the PS3 and PS Vita devices. We also asked whether the company's "Important notices" page would reflect the PSP decision. We will update this story if we receive a response.