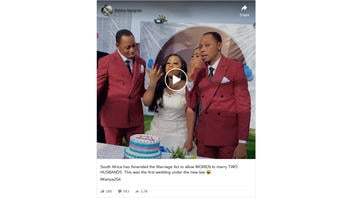 Did South Africa approve a new marriage act that allows women to marry multiple men, and did such a marriage already occur? No, that's not true: The South African government is considering such an option in its Green Paper on Marriages in South Africa. This green paper discusses the possibility, among other potential changes to the country's marriage laws, of individual women marrying more than one man.
The claim appeared in a Facebook post (archived here) on May 18, 2021. It featured a video with a woman in a bridal gown and two men in matching suits, all dancing together around a cake. The caption read:
South Africa has Amended the Marriage Act to allow WOMEN to marry TWO HUSBANDS. This was the first wedding under the new law 😂
#Kenya254
This is what the post looked like on Facebook on May 21, 2021:
(Source: Facebook screenshot taken on Fri May 21 19:00:13 2021 UTC)
In South Africa, a green paper is a discussion document published by the corresponding ministry or department examining a particular issue. The Green Paper for Marriage was approved for public consultation in April 2021. It discusses three options for a new marriage policy, one of which includes the possibility of allowing women who are citizens of South Africa to marry multiple men, a practice known as polyandry. Polygyny -- one man marrying multiple women -- is a traditional practice that is recognized by customary law in South Africa.
The original version of the video featured in the Facebook post is from the Instagram account of Nigerian actress Moyo Lawal. The caption of the video, which was posted on May 9, 2021, read:
E choke 🙈who Dey breathe ..... what a man can do , a woman can do better!!
On @empireafrica1
Anything can happen ✌️
Stay tuned !!
The more you look ... the less you see!!
P.s if your bride is not happy like this on her wedding day , return her to her parents yooo 😂😜
Lawal teased the spontaneous "marriage" between her and twin brothers, who are CEOs, in multiple Instagram posts. She has not confirmed whether the marriage is real or not, although there is no evidence in Nigeria's Marriage Act that polyandry is legal under civil law in the country.
The public can submit comments or representation regarding the green paper until June 30, 2021. According to its road map, a new South African marriage policy could be approved by 2024. Lead Stories contacted South Africa's Department of Home Affairs, which drafted the green paper, to determine what stage the process has reached. We will update this, if appropriate, when the agency responds.
Other ideas in the green paper include recognizing the legality of marriages between individuals of the same sex, marriages involving transgender and gender non-conforming individuals and marriages of individuals of various religions including Hinduism, Islam, Rastafarianism and Judaism.
"E choke" is Nigerian slang used to express that something you've just seen is amazing. "Who dey breet" or "Who they breathe" is another form of the same idea: something is so amazing you are gasping.