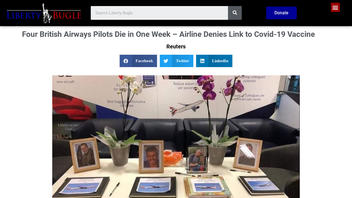 Did four British Airways pilots die in one week after getting the COVID-19 vaccine? No, that's not true. Four pilots for the airline did pass away but they did not all die within one week, and there is no proof they died from a COVID-19 vaccine. "There is no truth whatsoever in the claims on social media speculating that the four deaths are linked," BA told Lead Stories.
The claim appeared as an article published by Liberty Bugle on June 18, 2021, titled: "Four British Airways Pilots Die in One Week - Airline Denies Link to Covid-19 Vaccine" (archived here) which opened:
Four young and healthy British Airways pilots recently passed away and the airline is claiming there is no link to the Covid-19 vaccine.
Users on social media only saw this title, description and thumbnail:
The article implies that the four pilots who died did so within a week and from the COVID-19 vaccine. But, two passed away in June 2021, one died in May 2021 and there is no public confirmation of the fourth pilot's date of death. According to the BA statement emailed to Lead Stories on June 22, 2021, there is no link to vaccines in the four deaths.


Sadly four members of our pilot community passed away recently. Our thoughts are with their family and friends. However, there is no truth whatsoever in the claims on social media speculating that the four deaths are linked.
A social media post showed condolence books for four BA pilots.
Sadly four members of our pilot community passed away recently. Our thoughts are with their family and friends. However, there is no truth whatsoever in the claims on social media speculating that the four deaths are linked. Julie

-- British Airways (@British_Airways) June 17, 2021

The airline did not identify the four. Lead Stories has reached out to British Airways for more information, and this story will be updated as warranted if a response is received.
The airline has not mandated the COVID-19 vaccine its for pilots.
Although the airline did not name the pilots, two of the deaths received coverage in various news outlets. Those deaths occurred under very different circumstances.
The Liberty Bugle article claimed the pilots were "young and healthy," which was not the case for Nicholas Synnott, a BA pilot who died at age 60. He was released from a Houston, Texas, hospital in December 2020 where he spent 243 days being treated for COVID-19, according to Yahoo News. He passed away in June 2021 in the UK.

British Airways pilot Edward Brice-Bennett, 33, died on a mountain trail bike park on June 2, 2021. There was no mention of a COVID-19 vaccine in an article published by the New Valley News. "A post mortem examination showed two conditions, abdominal trauma and haemoperitoneum, but no cause of death had yet been ascertained," the publication reported.

Haemoperitoneum Is "a type of internal bleeding in which blood gathers in your peritoneal cavity. This is the space between your organs and the inner lining of your abdominal wall," according to WebMd. One cause could be, "Falling onto objects, like falling on handlebars."
While Synnott and Brice-Bennet both died in early June. The third pilot publicly identified was Senior First Officer Grant Mercer, who passed away on May 4, 2021. His fundraising pages notes any leftover funds will be donated to the charity CALM: "Campaign Against Living Miserably (CALM) is leading a movement against suicide. Every week 125 people in the UK take their own lives. And 75% of all UK suicides are male. CALM exists to change this."
The Liberty Bugle article shared a tweet with a 1-minute recording of what seems to be a male voice claiming to have insider information about BA pilots' deaths and a government investigation into the situation:
June 17, 2021

Things are getting crazy. I don't know if I told you but my friend who's a BA pilot has just told me they've had the third BA pilot die in the last seven days, yeah? Third pilot dead in the last week. The first two guys were in their forties and fifties; this guy, mid-thirties, perfectly fit, no underlying conditions. He gets his second jab and he's dead within days of the second jab, same with the first two.
Because of this, BA are now in crisis talks with the government about whether to allow vaccinated pilots to fly. The issue with that of course is that about 80%, according to my friend in BA, 80-85% of the pilots been vaccinated, it's not a vaccine, have been injected. You might be down to something of 10% of pilots will be able to fly. Small number, eh? That's a serious issue."
The UK's Medicines and Healthcare Products Regulatory Agency (MHRA) denied there was a crisis with pilots dying from the vaccine and denied the agency was in discussion with the airline regarding pilots who have had COVID-19 vaccine flying. The agency released a statement to Reuters fact checkers:
We have not been made aware of deaths of BA pilots after receiving the Covid-19 vaccine and have not had discussions with BA or other airlines, about preventing pilots from flying after receiving the COVID-19 vaccine," said Dr. Sarah Branch, the director of vigilance and risk management of medicines for the MHRA. "There are currently no restrictions on aviation or other industries and activities post vaccination. Our advice remains that the benefits of the vaccine outweigh the risks in the majority of people. It is still vitally important that people come forward for their vaccination and for their second dose when invited to do so.  We ask anyone who suspects they have experienced a side effect linked with their COVID-19 vaccine to report it to the Coronavirus Yellow Card website."