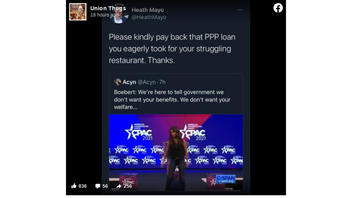 Did U.S. Rep. Lauren Boebert, who has made disparaging remarks about government assistance, receive a Paycheck Protection Program (PPP) loan for her restaurant Shooters Grill? No, that's not true: a restaurant with a similar name as the Colorado representative's establishment received a PPP loan. The assistance has no connection to her business.
The claim appeared in a Facebook post (archived here) published on July 12, 2021. The post was a screenshot of a tweet describing comments made by Boebert at the Conservative Political Action Conference on July 10, 2021, during which she said "We're here to tell government we don't want your benefits, we don't want your welfare." In the screenshot, the tweet was quoted by another Twitter user and read:
Please kindly pay back that PPP loan you eagerly took for your struggling restaurant. Thanks.
This is what the post looked like on Facebook on July 13, 2021:
(Source: Facebook screenshot taken on Tue Jul 13 15:22:57 2021 UTC)
ProPublica, a nonprofit investigative newsroom, maintains a database of every company that has received a PPP loan. Boebert's restaurant, Shooters Grill, is an open-carry establishment located in Rifle, Colorado. According to the ProPublica data at the time of writing, there is no record of Shooters Grill receiving a PPP loan. Lead Stories conducted searches on the database using the exact name of the restaurant and the restaurant's zip code and found nothing related to the establishment.
CNN published a fact-check of the claim on July 12, 2021, that potentially identified the source of the confusion. A restaurant in Ohio named Shooters Sports Grill LLC received a PPP loan for $233,305, which was first approved on April 8, 2020. The loan amount mirrored the loan amount that the Twitter account for the podcast No Lie with Brian Tyler Cohen, previously claimed that Boebert's restaurant received. The podcast account tweeted an apology for the error, which is included below:
Deleted this tweet. The PPP check was for a bar of the same name in a different state. My job is to stop misinformation, not spread it; no excuse for getting this wrong. I apologize to the congresswoman and you all. pic.twitter.com/NX3qIAYGtE

-- No Lie with Brian Tyler Cohen (@NoLieWithBTC) July 11, 2021
(Source: Twitter screenshot taken on Tue Jul 13 15:33:35 2021 UTC)
Lead Stories searched the Shooters Sports Grill LLC website and the Ohio establishment's business filings and did not find any connection to Boebert or to her establishment, Shooters Grill in Colorado.